Commentary
Wings win, but is there anything left?
DETROIT -- Darren Helm with the game winner. Brett Lebda with two assists. Chris Chelios flying like it was 1984.
The Detroit Red Wings are finding new ways to win.
"I was a wreck just watching that game," injured captain Nicklas Lidstrom told ESPN.com before leaving Joe Louis Arena on Wednesday night. "What a game."
Helm's goal 3:58 into overtime lifted an injury-plagued Wings club past the pesky Chicago Blackhawks 2-1 in a fifth and deciding game, sending Detroit back into the Stanley Cup finals for a rematch with the Pittsburgh Penguins.
But the Wings will need to get healthy in a hurry to defend that NHL championship. The Winged Wheel has a few dents.
[+] Enlarge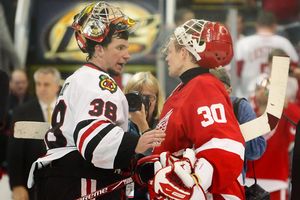 Jerry Lai/US PresswireCristobal Huet, left, made key stops late in regulation, but Chris Osgood's Wings won out.
Marian Hossa was wearing an ice pack on his right knee after Wednesday's drama-filled affair. Jonathan Ericsson had an emergency appendectomy in the afternoon. Lidstrom missed a second straight game with a lower-body injury. Pavel Datsyuk has missed three games with a foot injury. Kris Draper has been out two games with a groin injury. Andreas Lilja remains out (concussion), as does Tomas Kopecky (orbital bone).
Take a short breather Detroit, the puck drops Saturday for Game 1 of the Cup finals.
"Hopefully, you're going to get some guys back," Wings coach Mike Babcock said of his own team. "Normally when you win in five games, you get this little break. But I think they're trying to jam. I don't know if we're making up for lost time in the previous three series by jamming this all in 10 days or whatever we're doing. They don't ask me these questions."
It's certainly a tough break for the banged-up Wings, who will get only two days to recharge, then will open with three games in four nights, including back-to-back contests Saturday and Sunday.
We asked Lidstrom whether he would play Saturday night, and he said, "We'll see."
We asked Hossa, and he smiled and said, "We'll see."
Yeesh, this could be tough finals start for Detroit. But, as the Wings showed Wednesday night, don't count them out no matter who isn't in the lineup.
"Most teams could deal with injuries to a couple guys like me, but when you're losing your superstar players, we're graced with some depth," said veteran checker Kirk Maltby. "Guys definitely stepped up and did a great job."
The Wings outshot the Blackhawks 46-31 on Wednesday night despite all the key injuries, with Helm and Hossa playing huge games up front, and the foursome of Lebda, Niklas Kronwall, Brian Rafalski and Brad Stuart played their lungs out on the blue line. Even 47-year-old Chelios had some impressive moments in his 10:26 of ice time.
"When you lose caliber players like that, you need guys to step up, and that's what good teams are made of -- depth and guys that can fill roles," said Stuart, who played 27:51.
Then, there's Chris Osgood. Game by game, the veteran netminder continues to quiet his long-standing critics. He was superb Wednesday in a game in which his talented but banged-up teammates needed him more than usual.
"Ozzie was just terrific again tonight," said veteran forward Dan Cleary, who opened the scoring for the Wings.
So was Cristobal Huet. The Blackhawks' backup netminder erased any memory of Sunday's disastrous start in Chicago when he got pulled. He made 44 saves on the night, including a jaw-dropping stop on Johan Franzen with 17 seconds to go in the third period as a flopped-down Huet flipped up his right pad to rob the Swedish star and give his team one more chance in overtime.
Then, the Wings showed their experience. They were dead tired at the end of the third period and knew that if they were going to win, they had to do it early in overtime. They came out and swarmed the Hawks' zone until Helm batted in a loose puck behind Huet.
It was bedlam at Joe Louis.
"I was standing there, hoping we would score right away and we did," Osgood said. "So I was real happy about that."
The winner came from Helm, who had to play a bigger role with Datsyuk out again. Centering the third line after being on the fourth line most of the playoffs, Helm was dynamite all night long. One specific short-handed shift in the second period had people in media row buzzing.
"He's ducking and diving down in the corner, he almost scored; it was a great penalty kill for him and a great game for him," Maltby said. "It was kind of fitting that he got the game winner. He's blessed with such skating ability, and when he has the puck, he can hang on to it. He's strong."
Babcock's trust in the young player is growing. And that's no small feat on a team loaded with veterans.
"He's played with great tempo all series," Babcock said. "He's gotten better each and every game. Obviously, with people we've had out, he's got more and more opportunity. … He's like the Energizer Bunny: He hits the ice, his feet are going full out."
The Red Wings might need that energy come Saturday night. Their tank is near empty.
Pierre LeBrun covers the NHL for ESPN.com.
ESPN Senior Writer
Covers the NHL for ESPN.com and TSN in Canada
Six years on the "Hockey Night In Canada" Hotstove panel
13 years at The Canadian Press national news agency
EDITORS' PICKS
Boston dealt a blow to Florida, while other Eastern playoff contenders looked to keep pace.
Inside the NHL

While it's too late for this season, the Blue Jackets are getting healthy and showing how tough they will be moving forward.
LeBrun »

Marc-Andre Fleruy has to prove he can dominate in the playoffs before anyone will expect the Penguins to make noise this spring.
Inside the NHL
MOST SENT STORIES ON ESPN.COM