Commentary
A fitting end to an exciting postseason
PITTSBURGH -- A great movie needs a great ending, and these NHL playoffs are Oscar-bound with Friday night's seventh game of the Stanley Cup finals.
Amid the backdrop of troubled franchises in Phoenix, Atlanta and Florida, among other cities, the NHL's on-the-ice product has delivered a magical spring.
"I still have time to watch hockey, and let me tell you, it's been freakin' incredible," Hall of Famer Lanny McDonald told ESPN.com on Wednesday. "Might have been the best hockey I've seen in years."
The legal mess in Phoenix easily could have overshadowed the game, but it has not, at least outside the Toronto area. The quality of playoff hockey has helped mask some of the game's off-the-ice struggles, at least for eight weeks.
[+] Enlarge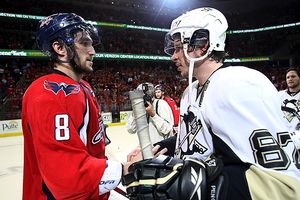 Bruce Bennett/Getty ImagesThe second-round tilt between Washington and Pittsburgh had all the drama and talent of a Cup finals series.
"Relative to the other years, most nights you can turn on the television and there's a really strong chance that you're going to get a very competitive and exciting game," former Philadelphia Flyers captain Keith Primeau told ESPN.com on Wednesday. "From the viewers' vantage point, it really is exciting. Watching Washington-Pittsburgh, that was a great series to watch because of the talent level, and the talent shone through.
"That's what we're also seeing in the Cup finals. And that's why it's going seven games. It's just tremendous to see."
The memorable moments have piled up since the puck dropped April 15. Time to buy a second scrapbook. There was the electricity in playoff hockey's return to St. Louis, playoff hockey's appearance in Columbus, the anthem at the United Center as Chicago roared its Original Six passion, the plucky Ducks' knocking off No. 1 seed San Jose, Beantown's making hockey count again and relishing a sweep of rival Montreal, the Hurricanes' stunning the Devils late in Game 7, a seven-goal third period in Chicago in the clinching game against Vancouver and, of course, the dueling hat tricks from Alex Ovechkin and Sidney Crosby in Game 2 of a playoff series that produced Stanley Cup finals electricity.
"I think it's been real good," Red Wings coach Mike Babcock said Wednesday. "Number one, there are great young stars in the game, and they've now come of age a little bit where they get to play in the playoffs. I think of Rick Nash or [Evgeni] Malkin or Crosby or Ovechkin, that group there. And that's a great thing. Obviously, [Pavel] Datsyuk and [Henrik] Zetterberg, guys like this are at the forefront. So I think that's really important. There have been some great series and really good battles and some Game 7s and some real good excitement."
The NBA has outdone the NHL for many years by successfully marketing its stars. Well, you can't have it any better than this year for the NHL. Babcock mentioned some of the stars, but he was just scratching the surface. He didn't list Jonathan Toews and Patrick Kane in Chicago, Eric Staal and Cam Ward in Carolina, Milan Lucic and Phil Kessel in Boston, the Sedin twins in Vancouver, Ryan Getzlaf and Corey Perry in Anaheim … the list goes on.
"I just think, when I look at the whole thing, we're doing a real good job of selling a great game, and we have a great game," Babcock said. "We've got to continue to do that. But I think all sport is driven in some ways by star power, and I like the fact that the star power in our game right now is at a high, high end."
The stars are shining because the game is allowing them to. The 2003 Cup finals between New Jersey and Anaheim come to mind because that was the last series when the home team won every game, which also has been the case so far in this year's Cup finals. Except that's where the comparison ends. The difference in the quality of hockey is night and day. The 2003 finals were a snorefest that was decided by the opening goal in a Game 7 that will not go down in history. It was rodeo on ice, dump and chase, hooking and holding galore. Looking back, it's amazing there wasn't more of an outcry.
The 2004-05 lockout gave the league and its players a chance to revamp the product, and the package of rules that came out of it has made the game better than ever.
"The game today is so much faster," Blues president John Davidson told ESPN.com on Wednesday. "And when it's faster, things happen at a higher speed that brings people out of their seats. The hitting is remarkable, the goaltending, all of it is remarkable. From top to bottom, your lineup is more skilled than it used to be. You've got four lines out there now that can do a lot of damage. And obviously the coaching is exceptional."
Four years after those rule changes, the players have fully adjusted, and we're seeing the end product.
"You can tell everyone has been acclimated, and it's made a difference, especially for the skilled players, to be able to really shine," Primeau said. "At the end of the day, that's what people want. They want to see the best players in the world be the best players, and they've been able to do that with the rule changes."
Aside from an opening game that wasn't terribly exciting, the rest of the Cup finals has been downright breathtaking.
"You think Pittsburgh has Detroit on its heels after that amazing Game 4, but the Wings don't miss a beat in Game 5 and put on their own show. I mean, Datsyuk has talent coming out the yin-yang," said McDonald, a 500-goal scorer who captured a Cup in 1989 with the Calgary Flames.
"And who's going to be the hero in Game 7? That's what you dream of as a kid, playing in Game 7 of a Stanley Cup final. Anything can happen. I can't wait."
Neither can we.
Pierre LeBrun covers the NHL for ESPN.com.
ESPN Senior Writer
Covers the NHL for ESPN.com and TSN in Canada
Six years on the "Hockey Night In Canada" Hotstove panel
13 years at The Canadian Press national news agency
EDITORS' PICKS
Boston dealt a blow to Florida, while other Eastern playoff contenders looked to keep pace.
Inside the NHL

While it's too late for this season, the Blue Jackets are getting healthy and showing how tough they will be moving forward.
LeBrun »

Marc-Andre Fleruy has to prove he can dominate in the playoffs before anyone will expect the Penguins to make noise this spring.
Inside the NHL
MOST SENT STORIES ON ESPN.COM