Commentary
Penguins have steep hill to climb
CANONSBURG, Pa. -- The difference in math terms between a series being tied 1-1 and being 2-0 seems small, as small as can be.
But ask the Pittsburgh Penguins and the Vancouver Canucks and you will know that such an equation represents the steepest of climbs and solving that equation will take a monumental effort in the coming days.
Both teams were considered favorites to at least emerge from the opening round of the Stanley Cup playoffs if not march all the way to the final confrontation. But now they both find themselves in short order being down 2-0, having lost two straight home games.
Such a deficit marks the Rubicon in the playoff landscape. Go down 3-0 and history tells you that unless the hockey gods suddenly turn wildly benevolent, you are cooked. Close the gap to 2-1 and, well, the world takes on a different complexion, doesn't it?
That is the great part of the playoffs -- how despair and hope intermingle and how despair can trump hope in a heartbeat.
The Penguins are currently familiar only with the despair side of that equation, and they are likewise familiar with the rapidity with which such despair can arrive.
The sexy pick of many (including this scribe, who also picked the Canucks to beat the Kings), the Penguins have done much right but in the end too much wrong against their cross-state rivals, the Philadelphia Flyers. They have outscored the Flyers 6-1 in the first period but still lost 4-3 in overtime in Game 1 and dropped an 8-5 decision in Game 2 on Friday night.
A little more than 12 hours later at the team's suburban practice facility, the Penguins were trying to come to grips with not just being down to a Flyers team that is icing five rookies (six when Marc-Andre Bourdon is healthy), but how they got there.
"When you've given up the leads in games, gone into third periods with leads, you feel like you've, you know, let things slip away," coach Dan Bylsma said.
The golden rule of hockey postmortems, especially in the playoffs, is to not dwell on the losses and to consider them as all one great stinking pile of garbage regardless of how they unfolded.
But the elephant in the Penguins' dressing room is that they led Game 1 3-0 after the first and were up 3-1 after the first in Game 2. And in both games, they scored late first-period goals that one might have expected to deflate the Flyers. They didn't, of course, and the Flyers made the Penguins pay for what seemed like every single miscue from that point on, outscoring the Pens 11-2 after the first period in the first two games combined.
"When you think of playoff games and it being tight, the last couple of games, I think for the most part, have kind of caught us off guard as to what you expect, some of the chances given up," said defenseman Paul Martin, who scored late in the first period to give the Pens a 3-1 lead in Game 2.
"You like to pride yourself on keeping it tight and not giving up too many odd-man rushes and opportunities. But I think we know the type of team that we are and the type of guys that we have from top to bottom and the chances we have, as far as when we play the right way. I think the hardest part is we spend too much time trying to figure out why we let the lead slide."
For any team that falls behind in a best-of-seven series by a 2-0 count, the specter of a short run looms large. With the Flyers playing inspired hockey, a Penguins team that twice rebounded from 2-0 series deficits en route to a Stanley Cup in 2009 is about to find out whether such karma still lingers in its dressing room.
"We've proven time after time we do react well in those situations," offered captain Sidney Crosby. "All those things you go through, there's a reason why you have that confidence. You've shown you can come through it and you can be successful. Yeah, I think that's something good that we know that."
Hockey writer for ESPN.com
10 years at Toronto Sun, Windsor Star and National Post
Wrote best-selling true crime book "Deadly Innocence"
SPONSORED HEADLINES
MORE NHL HEADLINES
MOST SENT STORIES ON ESPN.COM
2012 STANLEY CUP PLAYOFFS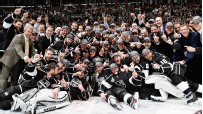 Follow the NHL on ESPN: Twitter / Facebook
STANLEY CUP FINALS
Los Angeles 4, New Jersey 2