Commentary
Pens' collars getting tighter
PHILADELPHIA -- Peel away the mayhem, discount the cheap shots, strip away the bizarre, and at the very heart of this Eastern Conference quarterfinal series is a shocking disintegration of one of the league's most talented teams and some of the game's marquee players.
With the Philadelphia Flyers assuming juggernaut status after pouring eight more goals past the Pittsburgh Penguins in an 8-4 victory Sunday to establish a shocking 3-0 series lead, the Penguins stand in stark contrast.
With the mocking chants of the orange-clad Flyers faithful ringing in their ears for much of the third period and as the final seconds ticked away -- "You can't beat us," clap, clap, clap, "you can't beat us" -- the reality seems to be that the fans are exactly right.
A Pittsburgh team that looked built for another long playoff run with captain Sidney Crosby back and healthy and two-time NHL scoring champ Evgeni Malkin has melted down defensively and been outscored 20-12 through three games. Perhaps more shocking is that this team's identity seems completely estranged from the identity of the team that went to back-to-back Stanley Cup finals in 2008 and 2009, winning a championship the second time. The core remains the same but where there was a swagger that carried through adversity, there is merely puzzlement and frustration.
"I don't have a good reason for that. There have been some abnormal things that we've seen in pretty much every game we've played. From Game 1 to this game it's just some strange situations," head coach Dan Bylsma said after Game 3, before the Penguins returned home to lick their wounds before heading to Philadelphia on Wednesday for Game 4. "We've made some mistakes and they've cost us in every game."
Sunday marked yet another curious contest in this series, although this one was shot through with a much nastier edge than the first two games.
For the third straight game, the Penguins opened the scoring early, this time with Jordan Staal's first goal of the series. But following a now well-worn pattern, the Flyers shrugged off the early deficit and poured four goals past a shaky, tentative Marc-Andre Fleury on 19 first-period shots.
The first was particularly demoralizing, an ugly shorthanded goal by old pal Max Talbot that erased the only lead the Penguins would have.
"Just screw-up. I don't know, it was just bouncing straight into my glove and I … put it in, stupidly," a subdued Fleury said after.
By the end of the second period Fleury was gone, having allowed six goals on 28 shots. In all he has allowed 17 goals on 84 shots in this series and has now lost six straight postseason games dating back to last spring, when the Pens blew a 3-1 series lead against Tampa and lost in seven.
A reporter asked Fleury if he was frustrated.
"No, I'm happy. Really happy," he deadpanned.
Bylsma refused to blame his netminder and insisted Fleury would return for Game 4 and beyond.
"I know Marc-Andre's going to be the guy in our net for the next four games," Bylsma insisted, although someone mockingly tweeted shortly after that it seemed surprising that Bylsma would be planning his lineup for next season's preseason schedule already.
Although this series had managed to avoid the ugliness that has colored too much of this year's playoff schedule, that ended Sunday.
After the Flyers took a 3-1 lead, the game turned first surreal and then just plain ugly.
A long scrum just past the midpoint of the first period saw two of the league's most talented players, Claude Giroux and Crosby, going toe-to-toe. A few feet away, two of these teams' most talented defensemen, Kimmo Timonen and Kris Letang, were pounding away on each other. The defensemen were banished for the afternoon for having been involved in a second fight during the same stoppage of play.
Then, 2:13 later, rookie Brayden Schenn buried Paul Martin along the boards in the Penguins' zone. Former Flyer Arron Asham then cross checked Schenn in the face and punched him in the back of the head as Schenn lay dazed on the ice.
This is the same Asham who earlier this season famously feigned sleeping after leaving Washington's Jay Beagle in a bloody puddle on the ice after a fight. Schenn did return to the game but it's hard to imagine Asham won't face some sort of supplemental discipline.
About the only positive for the Penguins was that Philadelphia didn't score on the ensuing power play.
For three games now, the Penguins have been kept off balance by the quick-strike capabilities of the Flyers. In a game that anyone with even a passing knowledge of the sport understood was a must-win if the Pens had any hope of erasing the stain of losing two at home to start, they held a lead for exactly 2:52.
Every time the Pens closed the gap, the Flyers responded.
When James Neal made it 3-2 late in the first, it took Matt Read 23 seconds to come out from behind the Penguins' goal unimpeded and restore a two-goal lead.
In the second period twice the Penguins pulled to within a goal and twice Chris Kunitz took ill-advised penalties that the Flyers converted into power-play goals.
Under Bylsma, the Penguins' penalty kill has been among the tops in the league. It was so again this season when they were third overall. The Flyers, though, have had their way in this series, going 6-for-10 with the man advantage and chipping in three shorthanded markers.
"Pretty much terrible out there. We've been letting in timely goals that hurt our team, including myself and the guys we got to do a better job," Staal said.
"I think what we've tried still hasn't been our best. It hasn't been our game. We still haven't played the way we can. And until we do that, we're not going to win games. We've got to find a way to play our game. We've seen it through all the regular season what we can do. We've just got to find it in the playoffs," the big center added.
By the time the game wound down, the Penguins' frustration bubbled over once again. Late in the third Neal, the best Penguin on the ice in Game 3, exploded into an unsuspecting Sean Couturier, who had his head down and was nowhere near the puck. The rookie, who has been so good in this series with three goals and an assist in Game 2, had to be helped from the ice. No penalty was called but he did not seem to be seriously injured.
"It's hard to watch. We've got a young player on the ice who is playing some great hockey. It's difficult to see that," Flyers coach Peter Laviolette said.
For the next two days we will be bombarded by the typical 3-0 series clichés from both sides of the puck. The Flyers will stay respectful and downplay the fact history says this series is over. The Penguins will insist on thinking about only one game, nothing more.
"No one is quitting here. No one is showing any signs of giving up in here. You can't look at it as having to win four. You have to look at it as having to win one," Crosby said.
In the end, though, it's not so much about the Penguins quitting as it is about being different. Very different.
Hockey writer for ESPN.com
10 years at Toronto Sun, Windsor Star and National Post
Wrote best-selling true crime book "Deadly Innocence"
2012 STANLEY CUP PLAYOFFS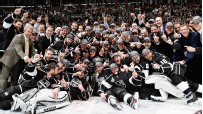 Follow the NHL on ESPN: Twitter / Facebook
STANLEY CUP FINALS
Los Angeles 4, New Jersey 2