Raffi Torres suspended 25 games
Updated:
April 21, 2012, 7:05 PM ET
ESPN.com news services
NEW YORK -- Raffi Torres of Phoenix was suspended 25 games by the NHL on Saturday for a late hit in Game 3 of the Western Conference first-round series with Chicago that resulted in Blackhawks forward Marian Hossa being taken off the ice on a stretcher.
The punishment was announced on Saturday morning, a day after Torres had his hearing with the league in New York City.
The Coyotes, with a 3-1 series lead, host the Blackhawks in Game 5 on Saturday night.
Torres appeared to jump into the hit at 11:51 of the first period, lowering his shoulder against the head of Hossa, who no longer had the puck.
Torres issued a statement Saturday through the NHL Players' Association.
"My main concern is for the healthy recovery of Marian Hossa, and I hope that he will be able to get back on the ice to compete again soon. I sincerely regret injuring Marian," Torres said. "Regarding the severity of the suspension issued, I will take the next few days to decide whether or not to appeal the decision."
The Blackhawks' forward did not play in Game 4, and already was ruled out for Game 5.
More On The Suspension

Raffi Torres' 25-game suspension is a start, but it doesn't erase the fact these have been an especially violent postseason, Pierre LeBrun writes. Story
---
ESPN Insider Neil Greenberg examines the suspensions doled out by Brendan Shanahan and Colin Campbell and finds that top point-producers tend to receive lighter sentences than other players. Story

"We take a little satisfaction in seeing some justice there, but Marian Hossa is still at home, not feeling like himself," Blackhawks captain Jonathan Toews said. "It doesn't bring him back into our lineup and feel ready."
Torres was not penalized during the game for the hit, and Blackhawks coach Joel Quenneville called the officiating a "disgrace," which garnered him a $10,000 fine.
Torres' suspension is the longest since New York Islanders forward Chris Simon was banned 30 games for stomping on the ankle of Jarkko Ruutu in December 2007.
"A lot of us were kind of surprised by it. A lot of us thought he was going to get 10 games or somewhere in that area," Blackhawks forward Patrick Kane said. "To see 25, it shows the NHL wants to crack down on these kind of hits."
This is the third time in the past 13 months that Torres has been suspended by the NHL for a questionable hit. He had a goal and an assist and averaged more than 19 minutes of ice time in the first three games of the series.
"The ruling is very severe for Raffi and our hockey club," Coyotes general manager Don Maloney said in a statement. "Raffi plays a hard, physical game yet this contact crossed the line on what is acceptable in our game today. We hope Marian Hossa makes a full and speedy recovery as we all enjoy watching him perform. The Club accepts the NHL's decision and will focus on our game tonight."
List of Ignominy
Coyotes winger Raffi Torres is one of eight players in NHL history to receive a suspension of 21 games or more. Another four players have 20-game suspensions to their name.
Life
Billy Coutu, Bruins, April 1927: Assaulted two referees and started a Stanley Cup bench-clearing brawl. Ban dropped after 2½ years, but he never played in the NHL again

30 games
Chris Simon, Islanders, Dec. 19, 2007: Slammed skate into foot of Penguins forward Jarkko Ruutu

25 games
Jesse Boulerice, Flyers, Oct. 12, 2007: Cross-checked Canucks center Ryan Kesler across the face in a game Oct. 10
Chris Simon, Islanders, March 11, 2007: Two-handed stick attack to the face of Rangers forward Ryan Hollweg

23 games
Marty McSorley, Bruins, Feb. 2000: Knocked out Canucks' Donald Brashear with stick-swinging hit
Gordie Dwyer, Lightning, Sept. 19, 2000: Abused officials, came out of penalty box to fight in exhibition game against Capitals.

21 games
Dale Hunter, Capitals, May 1993: Blindside check of Islanders' Pierre Turgeon in playoff game.

If the 25 games aren't exhausted during the playoffs -- the Coyotes would need to play four straight seven-game series to complete the suspension -- the ban carries over into the next regular season. Torres would not be able to play in any preseason games in that case.
As a repeat offender, Torres would forfeit $21,341 in salary for every regular-season game he sits out. Torres served the first game of the suspension Thursday while waiting for Friday's hearing with league disciplinarian Brendan Shanahan.
Shanahan said in a statement on Saturday that Torres' hit violated three rules: interference, charging and illegal check to the head. Shanahan said two factors figuring into the length of the suspension were that "this violent and dangerous hit caused a severe injury" and that Torres' "extensive supplemental discipline history consists mainly of acts very similar to this one -- including two this season."
"Despite knowing that Hossa no longer has the puck, Torres decides to finish his check past the amount of time when Hossa is eligible to be body-checked," Shanahan said.
"While we acknowledge the circumstances of certain hits may cause a player's skates to come off the ice," he added, "on this hit, Torres launches himself into the air before making contact.
"The position of Hossa's head does not change just prior to or simultaneous with this hit. The onus, therefore, is on Torres not to make it the principal point of contact. By leaping, Torres makes Hossa's head the principal point of contact."
Torres received a two-game suspension on Jan. 2 for charging Minnesota Wild defenseman Nate Prosser. And at the end of the 2010-11 regular season, while with the Vancouver Canucks, Torres served a four-game suspension for a hit to the head of Edmonton Oilers forward Jordan Eberle.
In late December, Torres was fined $2,500 for elbowing Colorado Avalanche defenseman Jan Hejda.
After one of the least-penalized regular seasons in the NHL's modern era, Torres is the ninth player to be suspended during what's been an out-for-blood playoffs so far.
"I think it's a precedent," Blackhawks center Brendan Morrison said. "We've been talking about it for so long over the course of the last couple of years and there has been more suspensions, but the message isn't getting through to guys. I don't know how it can't get through after this."
Shanahan has been criticized for being inconsistent in doling out punishment in what's been the most penalty-filled playoffs since 1998 -- 18 penalty minutes per game, according to STATS LLC.
Early in the playoffs, Shanahan fined Nashville captain Shea Weber the league maximum $2,500 for being "reckless" in punching and then shoving Detroit's Henrik Zetterberg head-first into the glass in Game 1 of their series. Zetterberg wasn't hurt, but questions were raised on whether Weber should have been suspended.
The series between the state rival Flyers and Penguins was more like a UFC fight at the start, the teams racking up 282 penalty minutes the first four games. The Coyotes-Blackhawks series has been testy, too; Chicago rookie Andrew Shaw was suspended three games for running over Phoenix goalie Mike Smith in Game 2 before Torres' hit on Hossa.
"You never know what they're calling," Coyotes defenseman Derek Morris said. "You don't know what's going to be a hard hit, what's going to be a penalty. There's been plays you look at and you think, well that one should have been more, that one should have been less. You just don't know how it's going to be called so I don't know how you can adjust the game."
The league made big strides in preventing head injuries this season after numerous stars -- Pittsburgh's Sidney Crosby, Vancouver's Daniel Sedin and Toews among them -- missed games because of concussion-related injuries. The regular season was the least-penalized in 23 years, according to STATS, with teams averaging 11.2 penalty minutes per game.
That's all changed in the playoffs and the league, along with many of the players, seems to have had enough.
"I'm sure a lofty suspension like that would make any player kind of rethink their actions," Toews said. "Maybe he doesn't think it was such a normal hockey play anymore."
Information from ESPNChicago's Jesse Rogers and The Associated Press was used in this report.
SPONSORED HEADLINES
MORE NHL HEADLINES
MOST SENT STORIES ON ESPN.COM
2012 STANLEY CUP PLAYOFFS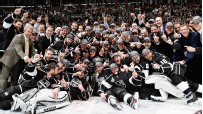 Follow the NHL on ESPN: Twitter / Facebook
STANLEY CUP FINALS
Los Angeles 4, New Jersey 2