Commentary
Five storylines for the second round
1. Shanahan And The Officiating
When I sat down to pen the first-round storylines, I started with
Brendan Shanahan
and the officiating, never imagining that the head of discipline would be staying up late making video after video. He suspended nine players, including handing down a whopping 25-game sentence to Phoenix head-hunter
Raffi Torres
. The Torres suspension wasn't intended to compensate for some of the other curious calls by Shanahan, but his failure to suspend
Shea Weber
for driving
Henrik Zetterberg
's head into the glass at the end of a game remains a mystifying embarrassment. But here we are headed for the second round, and our guess is things will even out on the supplemental discipline front. Still, there remain serious questions about the on-ice officiating, given missed and questionable calls that had a direct impact on the outcomes of series -- whether it was
Danny Briere
's wildly offside goal in Game 1 of the Pittsburgh-Philadelphia series; the questionable goaltender interference call against Ottawa that gave the Rangers a 5-on-3 that turned the tide in Game 6; or the overtime goal in Game 7 in Boston, which some observers believe should have been disallowed and seen
Mike Knuble
called for goaltender interference. Here's hoping the officiating will become less of a story as this most curious of springs continues.
Five Things For Postseason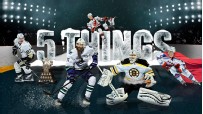 • Five Conn Smythe candidates
• Five storylines to watch
• Five playoff traditions
• Five injuries with most impact
• Five rookies to watch
• Five top in-season acquisitions
• Five unlikely heroes
• Five players under most pressure
• Five excuses we'll hear
• Five goalies on hot seat
• Five best home-ice advantages
• Five players we'd love to see win
2. Where Are The Big Boys?
So no Detroit, Pittsburgh, Boston, Vancouver or San Jose as we head into the second round. In the Western Conference, the four remaining teams -- St. Louis, Phoenix, Nashville and Los Angeles -- have combined for zero Stanley Cup wins. The last time any of the four advanced to a Stanley Cup finals was Los Angeles, in 1993. We always wonder out loud whether the league is happy or unhappy with a certain matchup (i.e., not sure there were many cartwheels being done in 2006 when Edmonton and Carolina arrived at the final showdown), but that's life. Unfortunately, lamenting the loss of high-profile teams will become a constant backbeat in the coming days, but so what if the television ratings fall off the map? The hockey will undoubtedly remain compelling, and fans who have been hungry for success in Phoenix, St. Louis, L.A. and Nashville won't feel much sympathy for the aforementioned absent high-profile teams. Nor should they.
3. Renaissance Men With Masks
Just imagine for a minute who won't be playing in the coming days:
Sidney Crosby
,
Evgeni Malkin
, the Sedin twins,
Jonathan Toews
,
Patrick Kane
,
Tim Thomas
,
Zdeno Chara
et al. In the place of the marquee teams and their marquee players are the boys from nowhere and, specifically, the goaltenders from nowhere. The first round was all about proving the cliché true that you don't go anywhere without good goaltending.
Mike Smith
was dominant for Phoenix as the Coyotes upended Chicago in spite of long stretches when the Blackhawks dominated puck possession and quality scoring chances. A year ago it looked like Smith's career might be over, and here he is, one of the early Conn Smythe Trophy candidates. Likewise,
Brian Elliott
, who had bounced around from Ottawa to Colorado and ended up in St. Louis on a two-way deal last fall, has come on in relief of the injured
Jaroslav Halak
to lead the Blues into the second round. As was the case in the regular season, Elliott's numbers are outstanding, as he boasts a .949 save percentage. Rookie
Braden Holtby
of Washington is among this crew of top-end, low-profile netminders, having outdueled defending Vezina Trophy and Conn Smythe Trophy winner Thomas. Throw in first-time Vezina nominee
Jonathan Quick
of Los Angeles and you've got an impressive group of players marking their territory. Now, who will remain standing when the dust clears at the end of this second round?
4. The Trade Plus 10 Months
It's not like the Kings and Flyers are necessarily on a collision course for a Stanley Cup finals clash, but the probability is more likely than it was a week ago. This brings into focus one of the biggest trades of recent memory and the impact it had on both teams. For a long time, it looked like Philadelphia GM Paul Holmgren got the better of his big deals when he dispatched
Jeff Carter
to Columbus and captain
Mike Richards
to Los Angeles for a series of young players, including
Wayne Simmonds
,
Brayden Schenn
,
Jakub Voracek
and draft picks that would include
Sean Couturier
. Those players all played important roles in the Flyers' six-game victory over Pittsburgh. But the Kings -- having acquired Carter at the trade deadline -- have made that deal look a lot more even as they dispatched the Presidents' Trophy winners from Vancouver in five games. Richards was a presence in the series with a goal and two assists, while Carter, who has struggled to score in the playoffs, has two assists. Both have interesting second-round matchups, but it sure isn't a stretch to imagine these two teams squaring off in just a few weeks for all the marbles.
5. Close As They Come
Boston and Washington played seven straight one-goal games. Ottawa and New York played seven games and were separated at the end by just one lonely goal. Phoenix and Chicago played five straight overtime games. On it went. If you were watching a game (outside the Philly-Pittsburgh series), you were watching a game that went down to the wire. Given the goaltending prowess and defensive coaching minds who will do battle in the second round -- minds that include Ken Hitchcock, Dave Tippett, John Tortorella and Barry Trotz -- don't expect things to change much. Goals will be at a premium, and tension will be through the roof.
Hockey writer for ESPN.com
10 years at Toronto Sun, Windsor Star and National Post
Wrote best-selling true crime book "Deadly Innocence"
SPONSORED HEADLINES
MORE NHL HEADLINES
MOST SENT STORIES ON ESPN.COM
2012 STANLEY CUP PLAYOFFS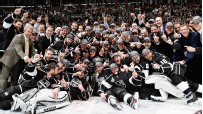 Follow the NHL on ESPN: Twitter / Facebook
STANLEY CUP FINALS
Los Angeles 4, New Jersey 2