Commentary
5 ways the Rangers can move on
Updated:
April 28, 2012, 12:36 AM ET
By
Katie Strang
| ESPNNewYork.com
The Rangers sure didn't glide through their first-round matchup against the eighth-seeded Senators. And now they have a familiar foe staring them down in the Eastern Conference semifinals. The Washington Capitals have knocked the Rangers out of the playoffs in their past two postseason appearances (2011, 2009) and are coming off a stunning upset of the defending Stanley Cup champion Boston Bruins.
Five things the Rangers need to do to avoid a Capitals-induced playoff-elimination three-peat:
1. Hank has to be Hank: If there was any doubt about Henrik Lundqvist's vital importance to the No. 1-seeded Rangers, his nomination for both the Hart and Vezina trophies should quell any skepticism. The 30-year-old netminder was terrific in leading the team to the top of the Eastern Conference standings in the regular season, and he continued to shine through the first round. Capped by a stellar 26-save performance in Game 7, Lundqvist finished the quarterfinals with a 1.70 goals-against average and a .945 save percentage. Lundqvist will have to sustain his play for the Rangers to avoid another disappointing letdown like last year, when he gave up 13 goals over five games in the team's first-round exit.
2. Gabby, get it going: The Rangers are not talented enough to make it to the conference finals without their offensive leaders. No star player is shouldering more pressure to perform than sniper Marian Gaborik. Following a 41-goal regular season, the 30-year-old winger disappeared in the team's best-of-seven set against the Sens. Gaborik has been limited to one goal and two assists thus far, and needs to be better. If he isn't, coach John Tortorella will have no problem sitting him down. When asked Friday whether he thinks big performances from young players Chris Kreider and Carl Hagelin could push the veterans, Tortorella responded: "It's going to, as far as ice time."
3. Continued rookie contributions: Gaborik's struggles have revealed a silver lining for the Rangers, particularly the emergence of rookie Kreider, 20. And if he can continue to progress as he has through his first five NHL games, the Rangers are in good shape. After scoring the game winner in Game 6 in Ottawa, the recently signed collegiate star-turned-pro delivered his finest game as a Ranger to help boost the team past the Senators in Game 7. Kreider, who has been playing on a line with second-year center Derek Stepan and captain Ryan Callahan, has also earned the trust of his coach. Tortorella used him on the power play in Game 7 and in a key defensive situation in the last minute of the game.
4. Put pressure on Holtby: Goaltender Braden Holtby, 22, was the unexpected hero of the Capitals' first-round success with his clutch 31-save performance while knocking off the Bruins in Game 7. Thrust into the starting role with injuries to Tomas Vokoun and Michal Neuvirth, Holtby has been poised and promising in goal for the Caps. If the Rangers want to get past Washington on the third try, they'll have to create traffic in front, crowd the crease and rattle his cage.
5. Contain the Caps' star power: How is this for a staggering stat: The Caps are a stunning 11-1-0 when Alex Ovechkin, Alexander Semin, Nicklas Backstrom and defenseman Mike Green all played. And while Ovechkin's ice time has been limited this postseason by the no-nonsense Dale Hunter, the Rangers will have to limit Washington's stars just as they neutralized Ottawa's top four of Milan Michalek, Jason Spezza, Daniel Alfredsson and defenseman Erik Karlsson.
ESPN.com
SPONSORED HEADLINES
MORE NHL HEADLINES
MOST SENT STORIES ON ESPN.COM
2012 STANLEY CUP PLAYOFFS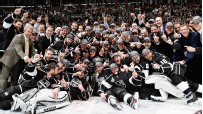 Follow the NHL on ESPN: Twitter / Facebook
STANLEY CUP FINALS
Los Angeles 4, New Jersey 2
Reebok Men's New York Rangers 2014 Nhl Stadium Series White Flexfit Hat Shop »
MORE FROM ESPN NEW YORK

Check out ESPN New York, your destination for sports coverage in the Big Apple.