Commentary
Five storylines for Stanley Cup finals
You wonder just how things would have worked out differently in the summer of 2010 had Kovalchuk taken less to play for the Kings instead of the Devils. But, of course, he didn't. It feels like just yesterday that Kovalchuk flew to L.A. to meet with GM Dean Lombardi and others in the organization during the Kings' attempt to lure him west. Truth is, while ownership was gaga for Kovalchuk, the GM wasn't crazy about the kind of terms that would be required to lock up the Russian sniper. In the end, it really wasn't all that close. The Kings were never in the same ballpark as the Devils when it came to that monster deal. The money and cap space saved by not signing Kovalchuk allowed Lombardi to eventually extend
Drew Doughty
before this season while also still having room to trade for
Jeff Carter
.
2. Zach Parise against his future team?
The Kings, we hear, are among a long list of potential suitors for the UFA-to-be winger. L.A. has long coveted the Team USA Olympian and just because it traded for Carter, that doesn't rule out the possibility of going after Parise on July 1. Then again, that's if Parise even goes to free agency. The Devils will do everything in their power -- ownership issues allowing -- to re-sign Parise before he hits the market. And you wonder if New Jersey's Cup run won't be enough to convince Parise there's no greener pasture elsewhere. Either way, the Cup finals might or might not be Parise's swan song with New Jersey and that's a storyline you can't ignore.
3. Can the Kings' power play score a darn goal?
With their 12-2 record heading into the Cup finals, there's not much to nitpick when it comes to the impressive Kings. Except for the power play. Ranked 15th out of the 16 playoff teams at a meager 8.1 percent success rate, the Kings' PP has been, well, completely brutal. Take away a pair of 5-on-3 goals scored in Game 2 of the Western Conference finals versus Phoenix, and the Kings haven't scored a traditional 5-on-4 power-play goal since Game 3 against St. Louis in the second round! In fact, the Kings have scored five short-handed goals in these playoffs to only three 5-on-4 power-play goals. Yes, yes, the
Boston Bruins
won the Cup last spring without a power play to speak of (11.4 percent success rate), but it's hardly a recipe to copy.
4. Can the Devils match the Kings' one-two punch at center?
Henrik Sedin
and
Ryan Kesler
in the first round. Ditto for
David Backes
and
Patrik Berglund
in the second round. And certainly that was the case again in the conference finals for
Antoine Vermette
and
Martin Hanzal
. Can the Devils now match up with the Kings' tantalizing one-two punch at center of
Anze Kopitar
and
Mike Richards
? It's a tall order for Devils centers
Travis Zajac
and
Adam Henrique
. If that matchup gets too tilted in favor of the Kings, as it was quite one-sided in the second and third rounds for L.A.'s top center duo, then the Devils will be hard-pressed to win the Cup. Kopitar and Richards have been 200-foot demons, equally effective at both ends of the ice and providing clutch play after clutch play.
5. Kings become focal point in La-La Land
Oh, you know Hollywood loves a bandwagon to jump on. With the Lakers and Clippers toast in the NBA, hockey gets center stage in Los Angeles for the next two weeks. We've already seen the likes of James Gandolfini and David Beckham plus other stars on hand during the playoff run. Now the glitz and glamour will go to a whole other level. All kidding aside, how will the young Kings players react to all this publicity and attention? After all, they've largely been ignored until now. Will they be able to shut that stuff out and focus on the task at hand? With Darryl Sutter running the show, we're pretty sure that's not a concern. So it's up to us to enjoy the Hollywood star sightings.
Covers the NHL for ESPN.com and TSN in Canada
Six years on the "Hockey Night In Canada" Hotstove panel
13 years at The Canadian Press National News Agency
2012 STANLEY CUP PLAYOFFS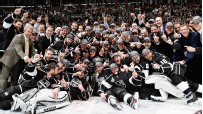 Follow the NHL on ESPN: Twitter / Facebook
STANLEY CUP FINALS
Los Angeles 4, New Jersey 2