Commentary
Dead end ahead for Devils
LOS ANGELES -- This is the dressing room of a team whose Stanley Cup dreams have been reduced to rubble.
These are the dressing room stalls of players who are staring into the abyss.
These are the New Jersey Devils, dead team walking.
As they have been throughout this postseason, the Devils were unfailingly accessible in the wake of Monday's 4-0 thrashing at the hands of the Los Angeles Kings, their third straight defeat in this final series. And yet their words, for all their bravery, had a kind of hollow quality.
That's what happens when the end is clearly in sight and it's not a particularly pleasant vista.
"The effort was there. We worked hard," offered captain Zach Parise, who might have turned in his worst performance of the postseason on Monday.
"We're not done yet. We're going to fight and we'll see what happens," added Ilya Kovalchuk, who continued his disappointing final series with another poor outing.
Defenseman Bryce Salvador suggested that the 4-0 score was misleading.
"Everyone's going to look at the score and say, 'Oh, wow, 4-0,' but the reality is at the start of the game we had some great chances and we just didn't bury them," Salvador said.
Some will point to the game's first goal, by Alec Martinez early in the second period, as the defining moment in the game. Martinez poked the puck home after netminder Martin Brodeur thought he had covered it long enough to earn a whistle but instead Dwight King jammed it free.
"It was huge," Brodeur said after. "I think we were right there. We played well up until that point. We know we can't spot any goals to these guys. They're not allowing anything. Definitely, it was as tough one."
Coach Pete DeBoer concurred.
"That's a momentum-changing call at the time. I hope he's right," he said of referee Dan O'Halloran, who made the call from the side of the net. "That's an awful big call if you're wrong."
The Devils might have a point on the goal. And was it big? For sure.
But if the Devils were entirely candid, they would admit that the seminal moment not just in Game 3 but in this series took place earlier when New Jersey's odorous power play blew 59 seconds of 5-on-3 time late in the first period.
That -- not the subsequent goal by Martinez -- was where this game and, given the history of teams facing a 3-0 series deficit, this series turned.
With a minute left in Mike Richards' elbowing penalty, teammate Jeff Carter -- who would add a power-play goal in the third period to go with his overtime winner from Game 2 -- was sent off for four minutes for high-sticking Adam Henrique.
For the Devils, who had scored just two goals in the first two games of the series and been denied on all six power-play attempts in those games, this was the moment: a gift from the hockey gods.
Score, and the Kings would have trailed for the first time in the series. Score, and the Devils' power play could shake the monkey off its back as it did in the Eastern Conference finals, when they were shut out twice in the first three games by Henrik Lundqvist and the New York Rangers.
Score, and everything changes.
Score, and they have a chance.
But they didn't. There were a couple of decent looks, but Jonathan Quick was equal to the task in the Kings' net and the Devils' top players continued to come up empty when they have been needed most.
As the 5-on-3 expired, defenseman Marek Zidlicky took a tripping penalty, and as the first period ended with the game still scoreless, you could sense that the window had closed on the Devils' chances, both in the moment and beyond.
"It's one of the turning points of the game," Brodeur said. "I think when you have opportunities, especially against a team that you're looking to break, you need to try and make them pay, and we didn't do that."
By the end of the night the Devils had managed to go 0-for-6 on the power play, bringing to an even dozen their failed man-advantage attempts in this series.
Perhaps Salvador is right. Perhaps this game was closer than the score suggested.
It's a moot point, really.
What is germane is that the Kings have established themselves as the most dominant playoff team since the lockout, and whatever slim chance the Devils had of interrupting their championship run evaporated into thin air early on in Game 3.
Even Brodeur, refreshingly candid about his team's situation, acknowledged that whatever is said between now and the end will have a familiar ring to it.
"Every team that's down 3-0 will have the same speech," he said. "It's not new. We're looking at this as one game at a time, like everybody will tell you in the last probably 20 years or so.
"We're going to work really, really hard and we're going to see where that's going to bring us. We're just facing a team that's doing everything right right now."
Hockey writer for ESPN.com
10 years at Toronto Sun, Windsor Star and National Post
Wrote best-selling true crime book "Deadly Innocence"
2012 STANLEY CUP PLAYOFFS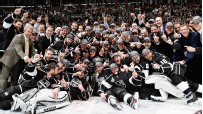 Follow the NHL on ESPN: Twitter / Facebook
STANLEY CUP FINALS
Los Angeles 4, New Jersey 2