Commentary
Brodeur gets last laugh in Game 5
NEWARK, N.J. -- So there is Martin Brodeur midway through the third period of an elimination game in the Stanley Cup finals, his hat has been knocked off, his jersey somehow pulled up over his head by Jeff Carter of the Los Angeles Kings. Players from both teams are piling on each other, sticks and gloves scattered around Brodeur's crease.
Does he melt down and give Carter a whack in the nether regions, a la Ed Belfour circa 1998?
Does he harangue the officials for a penalty?
Nope. He laughs.
"I was just tired," Brodeur quipped, still chuckling after the Devils eked out a 2-1 victory in Game 5 to become the first team since 1945 to force a sixth game after going down 3-0 in the Stanley Cup finals.
Ha, ha, ha.
If he keeps playing the way he is, the 40-year-old Brodeur may well be laughing into a Stanley Cup ring and a place in history.
On Saturday night, Brodeur was again outstanding, turning aside 25 of 26 shots to lead the Devils to their second straight victory over a Kings team that until Saturday had been undefeated on the road and had not lost two games in a row all spring.
New Jersey coach Peter DeBoer was asked whether he has to think of new ways of describing the veteran netminder's play and his importance to the Devils' playoff run every time he meets with the media.
"I wish I was that eloquent to have more ways to phrase it for you," DeBoer said. "What else can you say? His performance speaks for itself.
"It's the timing of it. The fact we're 9-1 or 10-1 in Games 4 through 7 in a series is a testament to how he enjoys that type of pressure."
The Devils are in fact 10-1 in the latter stages of their series this spring, and it's a little hard to fathom now that most observers believed that the goaltending edge was significantly on the side of the Los Angeles Kings at the outset of the series.
It wasn't that Brodeur hadn't played well, he had, especially after an up-and-down first round against the Florida Panthers. But Quick had been sensational from the get-go this spring and was 12-2 heading into the finals. And there was the fact that Brodeur had turned 40 during the playoffs.
So, the theory was that the Devils' only chance was if Brodeur could somehow saw off Quick -- a tall order to be certain especially when Quick allowed just two goals in the first three games of the finals, all Kings' victories.
Yet in the past two games, with their playoff lives on the line, it has been Brodeur that has made the difference for his team, the smiling assassin allowing just two goals in those games.
"Well, he's played well, very well, the last two nights," Los Angeles Kings coach Darryl Sutter said.
On Saturday, it was Quick who flinched, committing a rare miscue playing the puck that led to the Devils' first goal by Zach Parise -- the first New Jersey power-play goal of the series -- while Brodeur's timing was again impeccable and the difference in the contest.
With the Kings pressing from the start, he thwarted Jeff Carter on a dangerous wraparound to keep the game scoreless and allow the Devils to score the all-important first goal.
After the Kings tied the game on a Jason Williams shot from the slot, Brodeur again rose to the occasion, stopping Jarret Stoll on a partial breakaway when it looked like the Kings would take control of the game.
Then, after Bryce Salvador scored what would turn out to be the game-winner on a shot that deflected off Kings defenseman Slava Voynov, Brodeur denied Williams on a Kings power play at the edge of the crease.
"It's a difficult thing to get yourself ready for games like that," Brodeur said. "Now it's been two in a row. It drains you a lot; it takes a lot out of you. But it's worth it.
"I think at the end of the day all the guys are concentrating on getting themselves ready and leaving everything out there. And we'll see where everything's going to fall."
The sweater scrum might have been amusing -- Brodeur suggested that he was laughing because he couldn't believe there was no penalty called -- but it also illustrates how Brodeur's importance to the team extends far beyond stopping pucks.
"I was laughing, too. That's the kind of guy he is," defenseman Henrik Tallinder said.
"To play at his best he has to be relaxed. All the years he's played he knows. He knows how to approach a game, he knows how to be at his best. It's contagious. Everybody calms down a little bit."
Defenseman Mark Fayne said the Carter scrum on Saturday reminded him of the incident in the Eastern Conference finals when a frustrated Mike Rupp of the New York Rangers gave Brodeur a little pop in the mask.
As was the case Saturday, Brodeur saw the humor in that moment as well.
"It's amazing," Fayne said.
"Even that last minute how calm and composed he seemed. I was on the bench and I could barely stand it. I couldn't imagine being in net, but he's that way all the time."
Things won't get any easier for the Devils, of course.
The Kings were dangerous in Game 5 and didn't get the bounces they were getting through the first three games. But with Brodeur relishing these moments as his Hall of Fame career winds closer to its conclusion, his teammates will continue to take their cues from his easy-going demeanor.
"It's exciting to do what we're doing right now," Brodeur said. "We're having a great deal of fun, but we haven't done anything yet.
"I'm enjoying this ride and I will until we're done."
Hockey writer for ESPN.com
10 years at Toronto Sun, Windsor Star and National Post
Wrote best-selling true crime book "Deadly Innocence"
SPONSORED HEADLINES
MORE NHL HEADLINES
MOST SENT STORIES ON ESPN.COM
2012 STANLEY CUP PLAYOFFS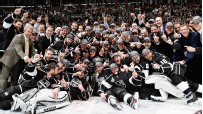 Follow the NHL on ESPN: Twitter / Facebook
STANLEY CUP FINALS
Los Angeles 4, New Jersey 2