These underdogs could make a run
Not every team that succeeds in the playoffs is the favorite, right? These three teams stand the best chance of being this year's dark horse.
When you're making just your second playoff appearance in franchise history, "dark horse" is a label that applies. If they are somehow able to take down the Metropolitan Division-winning Pittsburgh Penguins, we'll upgrade them to Cinderella status. Could it happen? When you have the defending Vezina Trophy-winning netminder in Sergei Bobrovsky, that's a good place to start. The team plays a tough, physical style that is well-suited to the playoffs, and the Blue Jackets haven't gone more than two games without a win since the end of February. With 13 players heading into their first Stanley Cup playoffs, the loss of Nathan Horton for the foreseeable future (six weeks) to abdominal surgery is a big hit given his playoff experience, but Todd Richards has his team believing in itself, which is no small thing this time of year. If big Boone Jenner can continue to be a net-front presence and former Penguin Mark Letestu can continue to chip in timely goals as he did down the stretch, the Blue Jackets will not be an easy out.
When was the last time you heard "Detroit Red Wings" and "dark horse" in the same breath? Still, that's what they are, as they will face the NHL's top regular-season team, the Boston Bruins, in the first round. This has been a difficult season for the Red Wings, who have gone long stretches without top players Pavel Datsyuk, Henrik Zetterberg, Johan Franzen and Jimmy Howard. But a new generation of Red Wings has emerged, led by scoring sensation Gustav Nyquist, Tomas Tatar, Tomas Jurco and Riley Sheahan, which has more than picked up the slack. With Datsyuk back in the lineup and Howard back to form after a rocky season, the Wings don't look like a wild-card team. And they're not. The culture of winning is strong, and coach Mike Babcock is as good a tactician as there is in the game when it comes to making adjustments on the fly and planning for the rigors of a playoff series. Throw in the experience of guys such as Daniel Alfredsson (who's still searching for his first championship) and the underappreciated Niklas Kronwall and would it surprise anyone to see the Red Wings make a run? The almost universal answer across the hockey world is a resounding "No."
Hockey Today
Scott Burnside is joined by Craig Custance, Katie Strang, Joe McDonald and Pierre LeBrun to break down each series of the first round of the 2014 NHL playoffs.
We're going to start charging Wild GM Chuck Fletcher for our services. The team has been on a tear since we wrote that the common belief was the Wild would boast the NHL's worst playoff goaltending and certainly the worst goaltending of the eight Western Conference playoff teams. The goaltending remains a potentially fatal flaw for a Wild team that has shaken off late-season stutters to play some of its best hockey of the season. Ilya Bryzgalov stepped into the breach when rookie Darcy Kuemper faltered and then went down with an injury. Bryzgalov's playoff history is checkered at best, but if he continues to deliver quality starts as he has down the stretch (5-1-1 with two shutouts in the Wild's last seven games), the Wild aren't going to be outclassed in the goaltending department. The team is also getting balance in its attack with Charlie Coyle stepping up, playing mostly with Zach Parise and Mikko Koivu. The loss of Mikael Granlund is problematic given his playmaking abilities (although he did return to practice on the weekend), but Parise is a player built for the playoffs. Along with Ryan Suter, who seemingly never leaves the ice, the Wild have top-end players who can lead by example. They also should have learned valuable lessons when they were thumped in five games last season by a Chicago Blackhawks team that went on to win the Cup.
Hockey writer for ESPN.com
10 years at Toronto Sun, Windsor Star and National Post
Wrote best-selling true crime book "Deadly Innocence"
SPONSORED HEADLINES
MORE NHL HEADLINES
MOST SENT STORIES ON ESPN.COM
2014 STANLEY CUP PLAYOFFS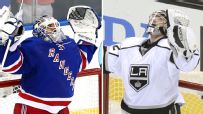 Sixteen teams began the quest for Lord Stanley's Cup, only two remain:
EDITORS' PICKS
Strang: Brendan Witt always took time to create a special experience for sick children. Now, he is making sure that doesn't end in his retirement.
Story »

Player Power Rankings: Devan Dubnyk looks solid with Minnesota Wild, but Ilya Bryzgalov not the answer for Anaheim Ducks.
Strang »

LeBrun: Wade Redden knows what it's like to be a highly paid NHLer exiled to the minors.
Story »