Commentary
Second-round preview: Ducks-Kings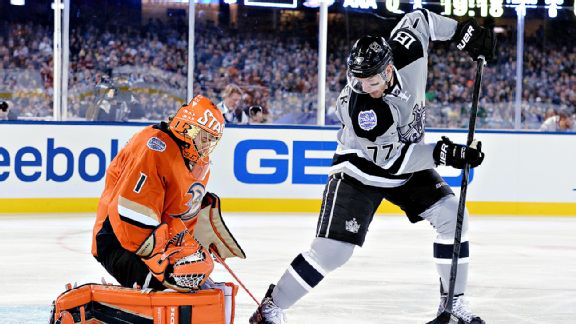 Andrew D. Bernstein/NHLI/Getty ImagesDucks coach Bruce Boudreau has a decision to make: Jonas Hiller or Frederik Andersen?
Finally!
Southern California's NHL neighbors had to wait two decades -- since the Ducks entered the picture -- but finally, Los Angeles and Anaheim will go toe-to-toe in a playoff series that people have been eagerly anticipating for a long, long time.
Denied a first-ever playoff date a year ago when the Ducks lost Game 7 at home to Detroit in the opening round, this time Anaheim got through to the second round to face a Los Angeles squad that's walking on air after erasing an 3-0 series deficit to beat the San Jose Sharks.
The Ducks won the regular-season series by taking four out of five games, including the Dodger Stadium outdoor event, but it is doubtful they'll be picked by most people to knock out a playoff-savvy Kings team.
Nevertheless, this should be a dandy of a series, a treat for Southern California fans who have waited years to get this matchup.
Spotlight On
Kings: Anze Kopitar
The Selke Trophy nominee was all-world in the Kings' series comeback over the Sharks, shutting down Logan Couture while putting up a team-leading 10 points (four goals, six assists) in seven games. He's the Western Conference version of Patrice Bergeron. And in this series, he'll likely get tasked with trying to shut down Ryan Getzlaf.
Ducks: Nick Bonino
The 26-year-old forward took a big jump in his career this season, putting up a career-high 49 points (22 goals, 27 assists) in 77 games. Then he posted three goals and an assist in the six-game elimination of the Dallas Stars, scoring the OT and series winner. On a team where Getzlaf and Corey Perry understandably get most of the attention up front, Bonino has developed into an impactful, two-way player and also seems comfortable with the playoff stage.
Hero In Waiting
Kings: Tyler Toffoli
The 22-year-old winger was terrific in the opening round, giving the Kings some legs and energy and scoring three goals and two assists -- his beauty in Game 7 breaking the backs of the Sharks. He's looked great on a line with Jeff Carter and Tanner Pearson and looks poised to become a dependable playoff performer. You just get that feeling he's got an OT goal in him this series.
Ducks: Andrew Cogliano
The solid two-way center posted a career-high 21 goals this season, which was an important development as the Ducks found more secondary scoring behind the top line. If the Ducks are to beat the Kings, they need that secondary scoring to continue, and don't be surprised if Cogliano is at the heart of it.
Fatal Flaw
Kings: Old issues in hiding
Normally you'd say scoring for a Kings team that ranked near the bottom in the regular season. But they filled the net to the tune of 3.71 goals per game against the Sharks, so their usual issue doesn't appear to be one right now. Foot speed was a concern early on versus San Jose; the Kings looked old and slow. But they turned that around as well, in particular the bigger roles given to youngsters Pearson and Toffoli helping in that department.
Ducks: Goaltending
Frederik Andersen, perhaps still not 100 percent after his late-season injury, was lit up at times in the opening round. He put up a 3.40 goals-against average and .892 save percentage and he was pulled in Game 6. Jonas Hiller took the win in relief in the series-clinching victory, and now head coach Bruce Boudreau has a decision to make before the second round: Hiller or Andersen? Either way, the Ducks need much better goaltending in this round if they're going to beat the Kings. Because you know what the other goalie in the opposing net will be like.
Prediction
Two factors that favor the Kings: (1) the Kings were a much better puck possession team than the Ducks, and those analytics/advance stats certainly favor an L.A. series win, and (2) Just like I picked the Kings to beat the Sharks because of the Jonathan Quick factor, same holds true here.
Kings in 6
Covers the NHL for ESPN.com and TSN in Canada
Six years on the "Hockey Night In Canada" Hotstove panel
13 years at The Canadian Press National News Agency
SPONSORED HEADLINES
MORE NHL HEADLINES
MOST SENT STORIES ON ESPN.COM
2014 STANLEY CUP PLAYOFFS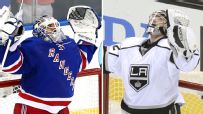 Sixteen teams began the quest for Lord Stanley's Cup, only two remain:
EDITORS' PICKS
All-Star Game: They've built their rosters. They've showed off theirs skills. Now it's time for the main event..
Burnside »

The NHL's stars are put their skills, creativity and humor to good use in Columbus.
Cross Checks »

Burnside: The World Cup of Hockey format is creating buzz.
Story »
MORE FROM ESPN BOSTON

Want to submit a question for Mike Reiss' weekly Patriots mailbag? Click here and come back every Tuesday around noon for the 'bag.
Latest headlines on ESPNBoston.com: