Commentary
Pens squander chance to set tone
PITTSBURGH -- It is an interesting blue print the Pittsburgh Penguins are following this spring that has them play only parts of games.
Not sure at the end of the day it's a blueprint that involves building anything but disappointment and regret.
Facing a New York Rangers team coming off a draining Game 7 victory over Philadelphia and playing its third game in four nights, the Penguins delivered an ugly first period of giveaways, miscues and general fumbling about that allowed the Rangers to take a 2-0 lead en route to a 3-2 victory in overtime.
Instead of taking the chance to put the pressure squarely on the Rangers, the Penguins now face their first series deficit of this playoff year.
Given how infrequently the Penguins have managed to deliver an entire game in which they are focused and on task, it isn't too early to label Sunday's Game 2 a crucial test.
"Anytime you lose one game in a series where four knocks you out, I think your desperation just naturally goes up that much more. You want to play with it all the time, but the fact is, once you lose games in the playoffs and you start to feel the grip of death on your season, you start to play with a little more desperation. We're one loss closer to being out, and I hope we bring that level in the next game," offered defenseman Rob Scuderi.
As for the junky start, sure it wasn't what the team planned.
"Yeah. It's disappointing, but it's past," Scuderi said. "Certainly, we would have had a much different outcome. We'd rather that. But we've already turned the page. We lost the game. It's over. We've got to focus on Game 2 and a good start in that one."
[+] Enlarge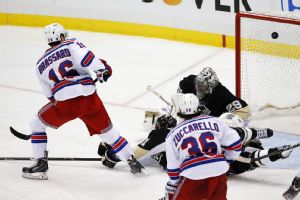 AP Photo/Gene J. PuskarDerick Brassard put the puck past Marc-Andre Fleury 3:06 into overtime to give the Rangers a 1-0 series lead.
After not seeing an acceptable level of play during the first four games of their first-round series against Columbus, Penguins coach Dan Bylsma questioned his team's compete level, and the Pens responded with what he termed their two best games of the season in Games 5 and 6 -- both victories.
Friday night, the Penguins showed more of that level of play in the second period, as they dominated the Rangers, outshooting them 15-4 and tying the game on goals by Lee Stempniak and James Neal.
As Rangers coach Alain Vigneault noted, the Penguins brought their game to another level, something the Rangers struggled to do.
But how does one go about explaining the inability of the Penguins to deliver that kind of hockey from the get-go?
Is there an inherent expectation that it will simply happen when you possess immense talent in the form of players such as captain Sidney Crosby, Evgeni Malkin, Neal and Kris Letang?
Surely, a team that was swept in the Eastern Conference finals last year and scored just twice in the series does not really believe that. Surely, a team that was bounced in the first round in 2012 by Philadelphia after dropping the first two games at home understands the need to take advantage of the opportunities that are presented, and Friday night was that opportunity.
Yet the wild ebbs and flows in the Penguins' commitment to playing the way they know brings them success is one of the most confounding elements of this postseason thus far.
This isn't to take anything away from the Rangers, who were opportunistic and did respond after a difficult second period with a stronger third and took advantage of some disjointed play by the Penguins in their own zone to earn the victory with Derick Brassard's hard shot that went in off the crossbar. It was Brassard's first goal of the postseason.
"You'd like to steamroll over every team and have them not respond back," Bylsma noted.
But that's not going to happen, and it sure didn't happen in Game 1.
The Penguins must have trudged home after Friday's loss wondering how things might have played out had they not meandered through the first period and ended up chasing the game all night.
The Penguins didn't have a quality scoring chance until the first period was past the midpoint.
In spite of talking about needing to create havoc in front of New York Rangers netminder Henrik Lundqvist, the Penguins shambled about the first period making drop passes to no one and fumbling around with the puck in their own zone.
As the seconds ticked away in the first, the announced sellout crowd booed lustily the team's play and, as though to reinforce that they weren't ready to play this game, Chris Kunitz took a holding penalty with 5.1 seconds left in the frame.
By then it was 2-0 Rangers, as Benoit Pouliot continued his fine play this spring, snapping a shot from deep in the slot past Marc-Andre Fleury, and then Brad Richards, left alone in front by defenseman Matt Niskanen, had time to go backhand to forehand to beat Fleury with less than three minutes to go in the period.
Now, the fact the Penguins did up the ante in the second period and at times in the third is not nothing. Had the Penguins completed the comeback, the storyline shifts tangentially. But they didn't, so the lost first period juxtaposed against the dominance of the second merely reinforces that the Penguins squandered a grand chance to set the tone in this series.
"We found a way to battle back in the game and give ourselves a chance to win. I thought we did a good job in the second and the third of getting to the net and putting pucks there and being physical and doing things in the offensive zone that we should have started with, but that's hockey and that happens," Neal said.
Crosby endured a rough evening. He was on the ice for all three Rangers goals and has now gone 12 postseason games without a goal.
He acknowledged that, "for whatever reason," the Penguins didn't come out hard enough.
"I don't think we played a full 60," Crosby said.
In a playoff year in which it has been difficult to get a read on the Penguins because they have failed to find a 60-minute game so frequently, Sunday suddenly looms large.
Hockey writer for ESPN.com
10 years at Toronto Sun, Windsor Star and National Post
Wrote best-selling true crime book "Deadly Innocence"
SPONSORED HEADLINES
MORE NHL HEADLINES
MOST SENT STORIES ON ESPN.COM
2014 STANLEY CUP PLAYOFFS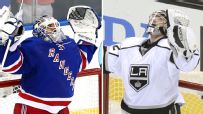 Sixteen teams began the quest for Lord Stanley's Cup, only two remain:
EDITORS' PICKS
The Preds and Isles are proving they're for real, but the Panthers took a costly tumble.
Pucks Central »

#LevyAndMelrose: Barry Melrose provides an important reminder of why you don't want to give Stu Grimson bad news.
Watch

Patrice Bergeron is the odds-on favorite to win the Selke. Right?
Story
Gear For Sports Men's New York Rangers Flight Quarter-zip Blue Pullover Shop »
MORE FROM ESPN BOSTON

Want to submit a question for Mike Reiss' weekly Patriots mailbag? Click here and come back every Tuesday around noon for the 'bag.
Latest headlines on ESPNBoston.com: