Commentary
Who will make history in Game 7?
Rangers, Penguins need their stars to start strong to advance to East finals
PITTSBURGH -- There is something awful and final and ultimately beautiful about a Game 7 no matter when it takes place and no matter who the combatants are.
When a Game 7 takes place during the earlier rounds -- as will be the case Tuesday night at Consol Energy Center in Pittsburgh -- it marks a great demarcation point.
Either the Pittsburgh Penguins or the New York Rangers will find a way to sneak at least one more puck into the opposing net to move on to the Eastern Conference finals against either the Boston Bruins or the Montreal Canadiens.
The moment it happens, they will forget entirely, or almost entirely, all the things that went into this series.
If the Rangers win Tuesday night and successfully erase a 3-1 series deficit for the first time in their history (they have forced a seventh game when trailing so only twice), they might think about how they rallied around Martin St. Louis after the sudden death of his mother before Game 5. But as every minute passes between the end of Game 7 and the start of the conference finals, the series against the Penguins will recede exponentially until it will become a blurry, out-of-focus memory by the time the puck drops for Game 1 of the next series.
Hockey Today
Scott Burnside, Rob Rossi, Brian Hayward and Scott Powers talk John Gibson's shutout for the Ducks, the Blackhawks going up 3-2 and if Sidney Crosby's legacy is in question.
If the Penguins are able to reverse a trend that has seen them outscored 8-2 in the past two games, two games that could have seen them move on to a second straight final four, they might wonder for a time about the ebbs and flows to their games. But trust us, it won't matter that Sidney Crosby managed just one goal through the first 13 postseason games (if that's how it ends up shaking down) or that the Penguins' defensive game continues to be a bit of an exercise in chaos or that they slumbered through the first period in three of the first six games of the series. Not one bit.
That is the great beauty of a Game 7: win, and forget you were that close to the edge. Win, and move on safe in the knowledge that you didn't flinch and that forgetting whatever happened before is the reward of winning that game.
So, here's a look at five things that might determine where the line is drawn Tuesday night between forgetting after winning and living with the dark memories of losing.
History
As noted, the Rangers have never completed a series comeback when trailing 3-1. Not sure that matters to the players in the Rangers' locker room one iota. They are the ones who are suddenly cooking, having won two in a row after looking absolutely cooked after Game 4. History and the burden of that history might have a greater bearing on the Penguins, who still have a clutch of players who consistently faced adversity in winning the 2009 Stanley Cup. That version of the Penguins dropped the first two games in the second round and in the final before winning both series in Game 7s in Washington and Detroit, respectively. Since then, not so much positive history, as the Pens lost Game 7 at home in 2010 against the eighth-seeded Montreal Canadiens in the second round and then blew a 3-1 series lead against Tampa in 2011 in the first round -- although neither Crosby nor Evgeni Malkin played because of injury. Coach Dan Bylsma said he has had coaches who tried to treat a Game 7 as just as another game. He's not one of them. "They're Game 7s. These are ones you dream about playing and you played in your backyard," Bylsma said. "I think we've got to relish that opportunity to play in games like this."
Slumbering Stars
[+] Enlarge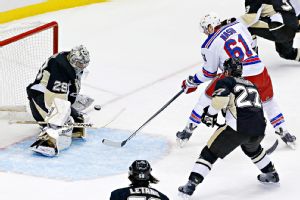 AP Photo/Gene J. PuskarNew York star Rick Nash hasn't gotten anything past Pittsburgh goalie Marc-Andre Fleury in this series.
When we wrote the series preview about five years ago (OK, it only seems like this series has been going on for years), one of the key points was which of the teams' snake-bit star players, Rick Nash or Crosby, would be more of a factor? Heading into Game 7, you have to give the nod to Crosby, although he was held off the score sheet in Games 5 and 6 and was visibly frustrated by what was going on in Game 6, getting tangled up with Dominic Moore (some have alleged a nasty spear, although the evidence hardly supports that assessment of what actually happened) and drawing a crosschecking penalty. There also was some jousting with Brian Boyle, and Crosby got a good squirt of water from Henrik Lundqvist as the Rangers netminder skated by a pile of bodies at the end of the second period. Ah, all in good fun, and Crosby downplayed the extracurricular stuff Monday. "It doesn't feel any different than any other playoff series, or I don't feel like we've been involved. We're talking about it now because we lost the last two games. [If] we would have won them, we wouldn't be talking about it. I think we have to focus on playing, especially in Game 7, all our energy has to go towards being our best," Crosby said Monday. The fact still remains that Crosby has one goal in this series and just one goal this entire postseason. That's one more than Nash, who has been a nonfactor in this series, and, with five assists in 13 postseason games, his long-term viability with the Rangers has to be in question. Unless of course he gets up off the mat in Game 7 and makes an impact. As we suggested at the outset, if we had to pick one of the two to get into the action and make a difference in Game 7, we'd have to go with the guy who has a golden goal to his credit and a Stanley Cup ring, and is about to win his second Hart Trophy as league MVP, and that would be Crosby.
Power-Play Madness
It is difficult to reconcile the star power on both sides of the fence in this series with the putrid quality of the power plays that both the Rangers and Penguins have iced through the first six games. The Penguins are 1-for-19 with the man advantage in this series after scoring with the man advantage in five of six games in the first round against Columbus. The Rangers, meanwhile, were on an 0-for-36 slide with the man advantage before somehow managing to get two power-play goals on the road in Game 5. They followed that up with another desultory performance, going 0-for-6 in Game 6. They have failed to score with the man advantage in 10 of their past 11 playoff games this spring. Hey, Boston beat Montreal in 2011 to become the first team ever to win a seven-game set without scoring a power-play goal. But it says here that the power play will be a factor in Game 7 and the team that wins the special-teams battle will indeed move on to the Eastern Conference finals.
The King versus The Flower
Lundqvist, he of the active water bottle, has won four straight Game 7s, and the Rangers are 7-1 in their past eight Game 7s. And for the most part, the former Vezina Trophy winner has been as advertised, which doesn't bode well for the Penguins. "I think we've made it a little too easy on him the last couple of games. We have to do a better job of getting to the front of the net," Crosby said Monday. "They're not making it easy. They're trying to box guys out and make it tough to go there, but that's where you're going to score goals this time of year." Now, the playoffs haven't always been Lundqvist's time, as he is 37-43 lifetime in the playoffs. He has advanced beyond the second round only once in his career, when the Rangers were then beaten by New Jersey in the 2012 conference finals. At the other end of the ice is netminder Marc-Andre Fleury, who pitched back-to-back shutouts in the middle of this series. He was just OK in the Game 5 and 6 losses, but OK won't cut it in Game 7. Fleury should have stopped Carl Hagelin's backhander in the first period in Game 6 and was slow to grab a loose puck that ended up being the Rangers' third goal. Those kinds of miscues likely will cost the Penguins this series if they occur Tuesday. But Fleury has shown enough of the form that saw him win 30 postseason games between 2008 and 2009 to make us think that he has the goods to match Lundqvist save for save. Now, whether he can deliver those goods is an entirely different question.
The Start
We hate the old "we need to get off to a good start" line. Has any player or coach ever come out at playoff time and suggested, "We're going to lollygag around the first period in the hopes of falling behind a couple of goals before making a mad, desperate push to get back in the game in the third." Now, having said that, one might have mistaken the Penguins in the past two games for being that team that really believed taking the first period off was a valid strategy. In fact, in all three losses in this series, the Penguins have fallen behind 2-0 in the first period. Now, as in any yin and yang, credit goes to the Rangers, who have shaken off three pretty mediocre performances in this series to jump all over the Penguins in two straight elimination games. In a conversation with Derick Brassard before Game 6, he said it's simple: The pressure is on the Penguins, and the Rangers have nothing to lose. They've played like it the past two games. Now the question is whether the Penguins can find a way to come out of the gate in a way that neutralizes that or puts the Rangers on their heels, as was the case in the middle part of the series. "I think our starts haven't really allowed ourselves to really play the right way early on. You give a team life when you do that regardless of them rallying around certain things. We have to look at ourselves for that as well," Crosby said.
Hockey writer for ESPN.com
10 years at Toronto Sun, Windsor Star and National Post
Wrote best-selling true crime book "Deadly Innocence"
SPONSORED HEADLINES
MORE NHL HEADLINES
MOST SENT STORIES ON ESPN.COM
2014 STANLEY CUP PLAYOFFS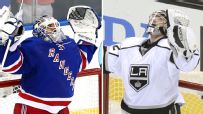 Sixteen teams began the quest for Lord Stanley's Cup, only two remain:
EDITORS' PICKS
John Tavares and Ryan Getzlaf are among those with momentum coming out of the All-Star break.
Eastern Conference »
West »

Pronman: The top 30 draft prospects
Story
MORE FROM ESPN NEW YORK

Check out ESPN New York, your destination for sports coverage in the Big Apple.