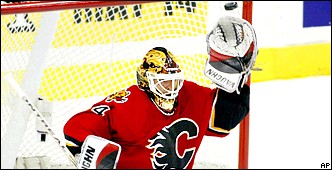 Martin Gelinas scored his second series-clinching OT goal of 2004 Monday, lifting the the sixth-seeded Flames to a 1-0 victory over the Red Wings.
More...
Johnson: Swan song for the Winged Wheel?
The last hurrah has hung over Detroit's Hall of Fame cast like a cloud for some time. Now, it looks like rain.
INDIVIDUAL LEADERS (Postseason)
CGY
DET
Goals
Iginla
13
Lang
4
Assists
Conroy
11
Datsyuk
6
Points
Iginla
22
Lang
9
GAA
Turek
0.00
Joseph
1.39
SPct.
Turek
1.000
Joseph
.939
TEAM STATS (Postseason)
CGY
DET
Goals Scored
60
24
Goals Against
53
20
Power Play %
13.9
09.6
Penalty Kill %
82.6
96.0
Shots on Goal
26.8
32.1
More from ESPN
Yzerman out indefinitely with broken eye socket
Detroit captain Steve Yzerman is out indefinitely after getting hit in the face with a puck during Detroit's 1-0 loss to Calgary on Saturday night.
Under playoff microscope, Flames focus
The Flames can advance to the Western Conference final if they beat the Red Wings in Game 6 of their semifinal series on Monday night.
Conroy scores and Flames shut out Red Wings
The Flames used an aggressive forecheck, stonewall defense and steady goaltending to move within a win of the Western Conference finals.
Yzerman hit in face by deflected shot, out of game
Red Wings captain Steve Yzerman was hit in the face by a puck midway through the second period Saturday and needed help getting off the ice.
Fee of charge: Nieminen suspended for goalie hit
Flames forward Ville Nieminen was suspended for one game by the NHL on Friday for charging Red Wings goaltender Curtis Joseph. He will miss Game 5.
Red Wings' Chelios misses third straight game
Chris Chelios missed his third straight playoff game against Calgary on Saturday because of an undisclosed injury.
Quick collapse doesn't end up clipping Wings
Mathieu Dandenault scored his first goal of the playoffs midway through the third as the Red Wings beat the Flames 4-2 Thursday and evened the series.
Flames feed off crowd to retake series lead
Jarome Iginla scored a power-play goal and Martin Gelinas had two assists Tuesday, helping Calgary to a 3-2 win over Detroit as the Flames retook the series lead.
Flames know they have to keep heat on Wings
Andrew Ference is 25 and in the playoffs for just the second time. But he is the oldest healthy defenseman the Flames have, and he knows the Wings aren't done yet.
Johnson: Iggy stop
Shut down Jarome Iginla and you shut down the Calgary Flames. If, of course, Iginla lets that happen.
Flames' Warrener misses Game 3 vs. Wings
Calgary defenseman Rhett Warrener, struck in the eye by a stick over the weekend, sat out Game 3 of the Flames' series against Detroit on Tuesday.
Red Wings' Chelios out with undisclosed injury
Chris Chelios was missing from the Red Wings' lineup for Tuesday's Game 3 vs. the Flames because of an undisclosed injury.
Flames know fending off Wings in Game 3 is big
If the Flames want to hang around, they know they'll need to take care of the Red Wings at home beginning Tuesday in Game 3 of the series, which is tied 1-1.
Yzerman scores twice as Wings even series
Steve Yzerman needed very little help to get the Detroit Red Wings even with the Calgary Flames in the Western Conference semifinals.
Flames' Warrener sits out after taking stick to eye
Flames defenseman Rhett Warrener had blurry vision after being struck in the right eye Saturday against the Red Wings.
Flames: Real victory takes more than one win
Overconfidence isn't a problem for the Flames, even with a one-game lead over the Red Wings in their Western Conference semifinal series.
Flames scorch Wings in OT
Marcus Nilson scored in OT and Miikka Kiprusoff made 28 saves to help the Flames get their fourth straight playoff road win, 2-1 over the Red Wings in the West semis.
Breakdown: Flames vs. Red Wings
The Flames are coming off a grueling series and the Red Wings are fresh, just one of the reasons Detroit should make easy work of Calgary.
Red Wings aren't panning talented Flames
The Red Wings respect the Flames for at least two reasons: MVP candidate Jarome Iginla and Vezina finalist Miikka Kiprusoff.
Iggy Pop

Win or lose, Jarome Iginla is hockey's feel-good story of the year. Just in time.
Brodeur still in Hart, Vezina races
Martin Brodeur is a finalist for the NHL MVP award and the Vezina Trophy for the league's top goalie for the second straight season. The other Hart finalists are Martin St. Louis and Jarome Iginla.
Iginla, Flames prove too hot for Canucks
Martin Gelinas scored a power-play goal 1:25 into OT as the Flames won a playoff series for the first time since 1989 by beating the Canucks 3-2 Monday in Game 7.
Two early goals, Cujo propel Wings
Ray Whitney and Steve Yzerman scored goals in the first two minutes. That was all Cujo needed to lock up a series-clinching 2-0 win.