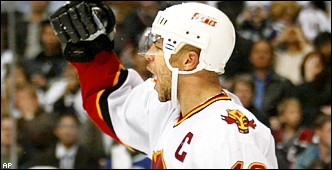 Martin Gelinas scored a power-play goal 1:25 into OT as the Flames won a playoff series for the first time since 1989 by beating the Canucks 3-2 Monday in Game 7.
More...
Ratto: Seventh heaven
Think the drama surrounding Game 7's in the Stanley Cup playoffs is overblown? Did you happen to watch the Game 6's?
INDIVIDUAL LEADERS (Postseason)
CGY
VAN
Goals
Iginla
13
Cooke
3
Assists
Conroy
11
Naslund
7
Points
Iginla
22
Naslund
9
GAA
Turek
0.00
Cloutier
2.18
SPct.
Turek
1.000
Cloutier
.922
TEAM STATS (Postseason)
CGY
VAN
Goals Scored
60
16
Goals Against
53
19
Power Play %
13.9
20.5
Penalty Kill %
82.6
85.0
Shots on Goal
26.8
29.4
More from ESPN
Johnson: Flames out? Not exactly
Sure the Canucks have home ice for Game 7, but the way the last two weeks have gone, it's still anyone's series.
Canucks force Game 7 after triple-OT win
Brendan Morrison scored 2:28 into the third overtime to give Vancouver a 5-4 victory over Calgary on Saturday night, forcing a seventh game in the first-round series.
Iginla goal lifts Flames within win of Round 2
Jarome Iginla's goal Thursday put the Flames within one win of reaching the second round for the first time in 15 years. Calgary edged Vancouver 2-1 for 3-2 series lead.
Canucks bench Hedberg, start Auld in goal
The Canucks started rookie goaltender Alex Auld on Thursday night, leaving Johan Hedberg on the bench for Game 5 against the Flames.
Sizzling second period lets Flames leap to tie
Miikka Kiprusoff made 20 saves and Calgary used a second-period scoring burst Tuesday for a 4-0 win over Vancouver to even the series at 2-2.
Cloutier out of first round with sprained ankle
Goaltender Dan Cloutier has a sprained right ankle and will miss the rest of the Vancouver Canucks' first-round playoff series with the Calgary Flames.
Canucks earn back home ice
Matt Cooke's third-period goal Sunday earned the Canucks a 2-1 win, and a 2-1 series lead, over the Flames behind backup goaltender Johan Hedberg.
Cloutier back in Vancouver to have knee exam
Canucks goaltender Dan Cloutier returned to Vancouver on Monday to have an apparent knee injury evaluated.
Iginla, Lombardi help Flames even series
Jarome Iginla and Matthew Lombardi scored in the first period as the Flames topped the Canucks 2-1 Friday, evening their series at one win apiece.
Johnson: 'Still a long way to go'
Despite their poor showing in Game 1, the Flames are confident they can turn their game around.
Flames look for composure
Flames' coach Darryl Sutter was disappointed in the play of captain Jarome Iginla against the Canucks.
Canucks power past Flames in playoff opener
Martin Rucinsky scored the first of four Canucks power-play goals as they beat the Flames 5-3 Wednesday.
Breakdown: Canucks vs. Flames
Contrasting styles meet in a first-round series that should go down to the wire.
In the crease: Kiprusoff & Cloutier
A look at the games of Calgary's Miikka Kiprusoff and Vancouver's Dan Cloutier.
Flames lose to Ducks; Iginla tied for goals lead
Roman Turek set the Flames' record for longest shutout streak, but he could not prevent the Mighty Ducks from ending their skid.
Canucks win Northwest, eliminate Oilers
The Canucks rallied to win their final six games and clinched their first division title since 1993.