Power Rankings: Capitals regain supremacy over Penguins
Updated:
April 11, 2016, 12:55 PM ET
By Scott Burnside (posted April 11, 2016)
Week: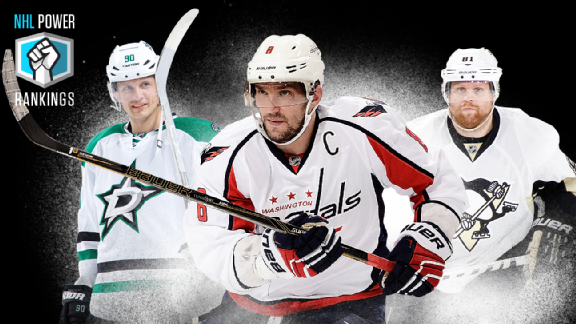 ESPN Illustration
And there you have it. The 2015-16 regular season is in the books. As it began, so shall it end, then, with our final Power Rankings. The postseason is what you play for, so you'll see that the 16 playoff teams occupy the first 16 places here. If you played well down the stretch but still ended up as a draft lottery team, then you are somewhere south of 16. That's just how it goes. As for those 14 teams that didn't make the cut? We put them in a rough order according to which teams we think are most capable of correcting the errors of their ways.
2015-2016 Power Rankings: Week 27
RANK
TEAM / RECORD
TRENDING
COMMENTS
1

3




Last Week: 4

The Caps head into the postseason on the heels of a big win over St. Louis that saw Alexander Ovechkin notch his 50th goal of the season and Braden Holtby tie Martin Brodeur's single-season record for wins, at 48. The Presidents' Trophy winners are the gold standard and will being their Stanley Cup pursuit against the Philadelphia Flyers, a team they should handle with relative ease.
2

1




Last Week: 3

The Stars edged St. Louis for first place in the Central Division and, in theory, will have a much easier time in the first round against slumbering Minnesota. Jason Spezza is on fire, and Dallas might not even need Tyler Seguin, who's injured, until the second round. Which goalie starts for the Stars? And more to the point -- which goalie finishes? That's a bigger question.
3

2




Last Week: 1

The Pens didn't know their first-round opponent until Sunday, and they'll face the Rangers for the third straight year. But they enter as the NHL's hottest team, having won 14 of 16. Matt Murray, so good in goal in relief of the concussed Marc-Andre Fleury, was injured in the first period of Saturday's loss to Philadelphia. Evgeni Malkin and Olli Maatta have also been missing from the lineup.
4

--




Last Week: 4

The Ducks and Kings battled tooth and nail for the Pacific Division crown before Anaheim earned its fourth consecutive title Sunday night. The Ducks will have their hands full with Nashville, but they are a good team with unfinished playoff business.
5

3




Last Week: 8

How delicious is this rematch of the epic 2014 Kings-Sharks first-round series?
6

--




Last Week: 6

Lots of discussion about whether the Panthers, who drew the Islanders, would be a preferred opponent to New York than Pittsburgh would've been. Folks still don't quite get how good this team is. Can it handle the expectations, so rare for a team from South Florida? That's the big question, because the pieces are certainly there.
7

5




Last Week: 2

The Blues might start the playoffs without David Backes and Jake Allen. That's not good, considering that they're facing the defending Stanley Cup champions and need all hands on deck to exorcise their considerable playoff demons. Still, if the Blackhawks are vulnerable, it might be best to face them earlier rather than later in the playoff proceedings.
8

3




Last Week: 5

Speaking of the Blackhawks, Marian Hossa has been banged up, and we know they'll be without the suspended Duncan Keith for the playoff opener. Still, the Blackhawks are who they are -- and that means trouble for the Blues.
9

1




Last Week: 10

The Sharks had a strong goal differential of plus-31 but their 18-20-3 record at home is troublesome.
10

--




Last Week: 10

The Preds are healthy and hoping to rekindle some of their mojo from a red-hot post-All-Star run that carried them to the postseason for the second season in a row. It's not a bad thing, necessarily, to start on the road in the Stanley Cup playoffs, and Nashville is deeper down the middle than it's ever been come playoff time.
11

2




Last Week: 9

The Lightning are beyond banged up; the latest injury was Tyler Johnson going down after an ugly hit in Game 82. He joins key pieces Steven Stamkos and Anton Stralman on the sideline to start the postseason. Ben Bishop has been Vezina-worthy, and he'll have to continue that play to get the Bolts out of the first round and past Detroit.
12

3




Last Week: 15

You can never count out a team with Henrik Lundqvist in goal. But there is still something just a bit off about the Rangers, who likely will start the postseason without captain Ryan McDonagh (injured hand). Can Eric Staal contribute meaningfully in his first playoff action since 2009? Can Rick Nash? Can New York's defense get out of its own way? Too many questions, not enough answers.
13

3




Last Week: 16

The Islanders will be without Anders Lee and starting netminder Jaroslav Halak. They're still big and deep up front, but defensive and goaltending issues suggest that they could be one and done.
14

2




Last Week: 12

So this appears to be Pavel Datsyuk's swan song as an NHLer. The Wings backed into the playoffs, but with the Bolts so crippled by injury, they have a shot at advancing if they get decent goaltending from Jimmy Howard or Petr Mrazek.
15

4




Last Week: 11

No disrespect to the Flyers -- who gamely charged to an unexpected playoff spot in what was expected to be a season of rebuilding -- but they do not match up particularly well against the powerful Capitals. Still, kudos to first-year coach Dave Hakstol for getting his team this far.
16

2




Last Week: 14

Not to belabor the point, but the Wild wouldn't have gotten anywhere near the playoffs if the Colorado Avalanche hadn't been so incompetent down the stretch. Minnesota qualified for the playoffs for the fourth consecutive year by losing five straight. The Wild should be cannon fodder for the high-flying Stars.
17

1




Last Week: 18

Yep, the Bruins collapsed in spectacular fashion down the stretch -- concluding with Saturday's 6-1 debacle at home versus lame-duck Ottawa. It likely will cost Claude Julien his job, but the Bruins were as close to a playoff berth as any other team that didn't make it. That's something. Isn't it?
18

4




Last Week: 22

This disastrous season can't just be about Carey Price being hurt, can it? That's the storyline in Montreal. We'll see if Michel Therrien gets a chance to prove or disprove that narrative next season.
19

5




Last Week: 24

The Devils are closer to returning to the playoffs than most people think. At least that's our view.
20

3




Last Week: 17

We loved the way the Sabres closed out the season. So much to like about this squad if -- and it's a big if -- the goaltending gets squared away.
21

--




Last Week: 21

The Flames took a step back this season, which was more or less expected. But assuming that GM Brad Treliving gets his goaltending situation under control, Calgary should be back in the hunt next season.
22

5




Last Week: 27

The Jets finished the season on a high note, which was in direct opposition to their performance during most of the rest of the campaign. Goaltending remains a question mark, but we see lots of reasons the Jets should be in the hunt next season.
23

4




Last Week: 19

The Coyotes finished well, too, and there is a solid nucleus growing in the desert. Getting a new home squared away, likely in Tempe, will go a long way toward attracting the needed complementary pieces.
24

1




Last Week: 25

GM Bryan Murray is giving way to Pierre Dorion. But the changes won't and shouldn't stop there for this underachieving but talented group.
25

5




Last Week: 20

So, two consecutive playoff misses after winning the Central Division. Is that a players-not-performing issue or a management/coaching-not-performing one? If it's the latter, the Avs are in trouble, because it's hard to imagine Patrick Roy and/or Joe Sakic going anywhere.
26

3




Last Week: 23

GM Ron Francis still has a lot of work in front of him as he tries get this team back to the playoffs. The Canes missed the postseason for the seventh consecutive year -- prompting even more relocation talk.
27

3




Last Week: 30

Gee, Connor McDavid is good. Gee, the Oilers still stink. Go figure. The Oilers have an interesting offseason ahead as they look to move at least one -- if not a couple -- of their key young building blocks from their forward corps.
28

--




Last Week: 28

Two years in a row we've liked the Blue Jackets to be a playoff team, and two years in a row they've wildly underachieved. What will become of Sergei Bobrovsky? Can they pick up the pieces from this broken season and reverse course next year? Color us skeptical.
29

3




Last Week: 26

We've never seen a team this bad get so much good media coverage. Yahoo! We lost another game, but we are on the right track. Go figure.
30

1




Last Week: 29

A team caught betwixt and between, but mostly just awful. The Canucks deserve some good draft luck to offset this forgettable campaign.

Find Tickets:
Season tickets or single game tickets, all the best seats are here.
ESPN_NHL

ESPN NHL coverage


Sabres sign defenseman Jake McCabe to 3-year deal extension https://t.co/qKDg9smN3y
about 4 hours ago

ESPN_NHL

ESPN NHL coverage


Milan Lucic has narrowed list of teams to two https://t.co/RhrTNl4wzS
about 5 hours ago

ESPN_NHL

ESPN NHL coverage


Steven Stamkos: Lightning set to compete for Cup 'for years to come' https://t.co/dq9k5p0QDr
about 8 hours ago

ESPN_NHL

ESPN NHL coverage


Isola, MacMullan don't understand trading Subban, Hall https://t.co/mLG9pIJfpf
about 9 hours ago

HunterZThompson

Mitch Melnick


Free Agent rumblings next w/ @Real_ESPNLeBrun https://t.co/x0GHzAEnqr @TSN690
about 9 hours ago

mattsekeres

Matthew Sekeres


The #Canucks were told this morning by Milan Lucic's camp that they are no longer being considered. He's not coming home #NHLFreeagency
about 9 hours ago

Real_ESPNLeBrun

Pierre LeBrun


Don't know which are the 2 teams but we know that Edmonton, Vancouver, Montreal, Dallas among teams very interested...
about 9 hours ago

Real_ESPNLeBrun

Pierre LeBrun


Hearing that Milan Lucic has narrowed his choices to two teams. Decision time Friday when market opens.
about 9 hours ago

ESPN_NHL

ESPN NHL coverage


Dustin Brown unhappy with Kings' decision to strip captaincy https://t.co/44IIq1W9bl
about 10 hours ago

NHLCanes

Carolina Hurricanes


[NEWS] #Canes Buy Out James Wisniewski → Details: https://t.co/MUiRQ12MhR https://t.co/k01pElmei4
about 10 hours ago

ESPN_NHL

ESPN NHL coverage


Capitals sign Tom Wilson to $4 million, 2-year contract https://t.co/AOmtHIXHRf
about 10 hours ago

CraigCustance

Craig Custance


Red Wings still in talks with Darren Helm. If deal can't get done, he's UFA tomorrow.
about 11 hours ago

CraigCustance

Craig Custance


Caps taking care of business w/2-year deal for Tom Wilson worth $4 million total. Told there's nothing new to update on Marcus Johansson.
about 11 hours ago

AimeeJCrawford

Aimee Crawford


Worth re-reading today: the letter @RealStamkos91 wrote to his younger self in 2013 w/an assist from @CraigCustance https://t.co/oQS9Yw2SAR
about 11 hours ago

andystrickland

Andy Strickland


Steven Stamkos is actually saving huge money re-signing with #Lightning. As a Canadian citizen signing bonus money can only be taxed 15%
about 11 hours ago

CraigCustance

Craig Custance


Several teams calling on Patrick Wiercioch, who may provide value on July 1. Could be worth a shot on guy trying re-establish himself.
about 11 hours ago

Real_ESPNLeBrun

Pierre LeBrun


Keep in mind, track record for Marc Bergevin is to look into almost everything...
about 11 hours ago

Real_ESPNLeBrun

Pierre LeBrun


Interest sky high in Milan Lucic. Told that Montreal among the many teams showing interest. Edm, Van, Dallas, etc. No shortage of interest
about 11 hours ago

curtiszupke

Curtis Zupke


Dustin Brown on his relationship with management: "I'm not going to say it's rosy ..."
about 12 hours ago

CraigCustance

Craig Custance


Gutting the kitchen so the ol' minivan became today's podcast studio. Today's episode: https://t.co/dz6JkIbHqk https://t.co/lCzjwekfgH
about 12 hours ago