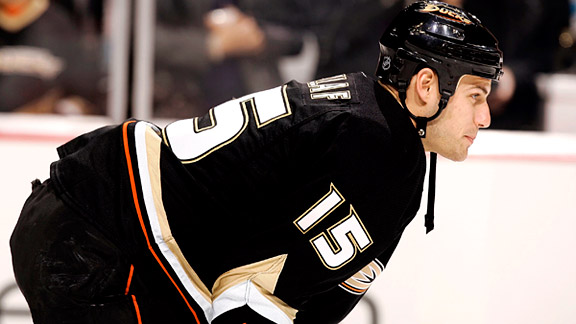 Getty Images Ryan Getzlaf had 19 goals and 50 assists in 66 games last season for the Ducks.
Ducks: 10 Things You Need To Know
By Pierre LeBrun
The Anaheim Ducks were a preseason dark horse for many pundits a year ago, especially after giving Detroit all it could handle in the playoffs the spring before.
But a slow start, and perhaps life without Chris Pronger, dropped the Ducks to 11th in the West and six points out of a playoff spot. They were a surprising disappointment.
The retirement of Scott Niedermayer was a major hit this past summer, but at least Teemu Selanne and Saku Koivu came back for at least another season. In the end, this team is about Ryan Getzlaf, Corey Perry and Bobby Ryan. The three star forwards need huge seasons if the Ducks are to have a chance.
"The last couple of years, it's kind of been like that," Perry told ESPN.com. "If the three of us are going, the whole team is going. That's how we look at it. We put a lot of pressure on ourselves, and we ride that pressure. We like it. We go out there and try to prove ourselves every night."
1. Start smart
The Ducks must avoid their annual slow start.
"We've been notoriously slow starters for four out of five years except for the Cup year," Ducks GM Bob Murray told ESPN.com. "The guys are aware of it and are talking about it. You can't get behind the eight ball in the Western Conference, let alone our division. You get behind, it's hard to catch up."
Perry said the players have been talking about it since Day 1 of camp.
"It's something that's happened the last few years, and we put ourselves behind the eight ball," Perry said. "We're playing catch-up all year. We got to have a great start."
2. No Niedermayer
The loss of Niedermayer hurts on and off the ice.
"You just move on," Murray said. "You knew it was coming. Coupled with Pronger the year before, we probably had the best defense in hockey. Then, we lose those two guys plus [Francois] Beauchemin. But you got to move on and you have to build."
The blue line is Anaheim's weakest link. Lubomir Visnovsky is the top gun on the back end, and he'll be joined this season by Toni Lydman (when he's healthy), Paul Mara, Andy Sutton, Luca Sbisa, Sheldon Brookbank and then possibly Brett Festerling, Brendan Mikkelson, Danny Syvret or teenage rookie Cam Fowler.
"We have to play some kids," Murray said. "We'll have to see how it goes. We need to move the puck up the ice because our forwards are decent enough, and if we get them the puck, we'll get some scoring chances. But we have to keep it out of our end."
3. Keep an eye on Luca Sbisa
Sbisa has the talent to become a future star on defense. He was the key player in the Pronger deal with Philadelphia. At 20 years old, he appears ready to stick with the big club.
"He's a young man with a lot of intensity, a lot of passion to play the game," Murray said. "I think we're going to have to let him go into what he's going to become. He's going to have to learn on the job, and he's a willing participant."
4. Center of attention
The Ducks have experimented with Ryan, a natural winger, at center in the preseason. It may stick, meaning Koivu would switch to third-line center.
"That's a pretty good 1-2-3," Murray said. "All the great teams are always great down the middle of the ice. Plus, it gets Bobby the puck more, and it gets Bobby moving his feet more. Getzlaf, Ryan and Koivu -- that's not bad. It hurts us a bit on the wings, but we'll see what we can do."
5. The top line
Matt Beleskey had 11 goals in 60 games with the Ducks last season. He's got a shot at being a regular fixture on the top line alongside Getzlaf and Perry this season.
"It's a possibility," Murray said. "He's a character kid. He competes, goes to the net and likes to shoot. That's what Getzy and Corey like. And Matt is a willing combatant, he's not shy. So that could be a good fit for those guys."
Perry said the 22-year-old winger is a nice complement on his line.
"Matt likes to get in the corner, he can shoot the puck and I think he can fit in great with us," he said.
6. The Getzlaf factor
The Ducks need more consistency from Getzlaf, a player who has the talent and skill to challenge Sidney Crosby and Alex Ovechkin for the league scoring lead.
"Well, more importantly I think he's hoping for more [consistency]," Murray said. "I think he was very disappointed as far as how the year went for the Ducks last year. I think he's out to prove something this year, and that's the better for us."
7. The goaltending
This will be Jonas Hiller's team from day one. Last season, he appeared somewhat distracted as he battled Jean-Sebastien Giguere for playing time until the latter was finally traded to Toronto in late January.
"It probably was a little awkward for both goalies, going back and forth and playing every other night," Perry said. "They both played well for us, but this is Jonas' team now. He's our goalie, and we're going to ride him. He likes the workload, likes the pressure, and he's going to be ready for us."
8. Lupul return?
Joffrey Lupul hopefully will be back in the lineup by Christmas; he's an important top-six forward for the Ducks. He's been out with a blood infection.
"The last set of antibiotics has taken away the pain. We watched him work out the other day, and he's in no pain for the first time in a long time," Murray said. "But we're going to have to harness him a bit. He wants to get going, but we want to make sure it's done right this time. We want to bring him along properly. I want to make sure he's OK."
9. A name to watch, Part I
Teenager Cam Fowler may get a long, hard look on defense. He'll either play in Anaheim or get sent back to Windsor of the Ontario Hockey League. The Ducks can keep him for 10 NHL games in October before making up their mind.
"He's off to a good start," Murray said. "Every day he seems to get more comfortable. He's a very intelligent man with the puck. That's not a bad way to start."
10. A name to watch, Part II
Troy Bodie is 6-foot-4 and 225 pounds and could be a third-line presence for the Ducks this season.
"He's a strong kid. A late bloomer," Murray said of the 25-year-old who played 44 games with Anaheim last season. "He's a wonderful young man who really competes. He gives us size. He could be a third-line winger for us. He's got a shot. It's up to him."
PREDICTION: The Ducks play in the NHL's toughest division and can't afford another slow start. We believe they'll fall just short of the playoffs and battle Dallas for the Pacific Division cellar.
Pierre LeBrun covers the NHL for ESPN.com.
More From The Magazine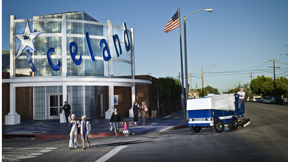 ESPN The Magazine's "Ice Issue" provides even more in-depth coverage of the upcoming NHL season:
• Smith: What is Gary Bettman's legacy?
• Fleming: Most beloved machine in sports
• Berra: The Red Wings' scouting edge
Coach's Corner

Coach:
Randy Carlyle
Experience:
Entering 6th NHL season
Record:
219-139-52
Stanley Cup titles:
1
• Randy Carlyle is tough on his players, and there were whispers last season that it was perhaps wearing them thin.
But GM Bob Murray is a big booster of Carlyle's, and one suspects he'd trade a few players before even thinking about firing Carlyle, who led the Ducks to the Stanley Cup in 2007. A strong start to the season would make it easy on everyone.
The Fab Five
LeBrun's top positional players for the Ducks:

F -- Ryan Getzlaf: He's out to prove he belongs among the very elite superstars in the NHL. Watch out.

F -- Corey Perry: Led the Ducks with 76 points (27-49) last season and was by far their most consistent player. He has 40-goal potential.

F -- Bobby Ryan: Led the Ducks with 35 goals last season. His shift to center this season bears watching. Can he adjust?

D -- Lubomir Visnovsky: The team's only true star blueliner, he should see plenty of power-play time.

D -- Toni Lydman: Once he returns to the lineup after battling a neurological problem, he'll give the Ducks a steady, puck-moving force.
Fantasy Focus

Best Bet: Ryan Getzlaf
Hopefully, Getzlaf's ankle has had time to heal this offseason. He missed plenty of time last season, but still finished with better than a point per game. In only 66 games, Getzlaf had 19 goals and 50 assists. If you buy into reports that Getzlaf's ankle has healed properly, you can expect him to be the world-beater he has been in the past. Thanks to his penalty minutes and power-play points, Getzlaf could even return top-10 value this season. -- Sean Allen

Risky Pick: Jonas Hiller
A funny thing happened after Hiller took over the lion's share of starts from Jean-Sebastien Giguere (and got his contract extension): his play became less consistent and his seasonal stats yielded an also-ran status. Hiller again will be the main man in net in Orange County, so we'll see how he holds up when he's asked to start more than his career high of 58 games from last season. The addition of steady blueliner Toni Lydman will help in the defensive zone, and a reduction in Hiller's goals-against average from 2.73 would bump his overall rating in fantasy. Still, he's a solid No. 2 option. -- Tim Kavanagh

Sleeper: Luca Sbisa
If young Sbisa is ready to make a serious impression, the table couldn't be set any nicer in Anaheim. Although he has nothing other than a statistical goose egg to show for eight games with the Ducks in 2009-10, he did mange to collect 18 points in 29 games while splitting time between the Lethbridge Hurricanes and Portland Winterhawks in the WHL. Now that James Wisniewski is out of the picture (Islanders), much will be expected from Sbisa, who skates and moves the puck exceptionally well. -- Victoria Matiash
More Fantasy: Join now! » Draft kit » Ranks »
Insider: NHL
The Rankings
See how all 30 NHL teams stack up for the coming campaign in The Magazine's 2010-11 Rankings. Story