Scott Cunningham/Getty Images Unlike 2009-10, Eric Staal will enter this season healthy. A good sign for Carolina.
Hurricanes: 10 Things You Need To Know
By Scott Burnside
A rash of injuries to top players prompted a grisly start, but the Hurricanes turned in one of the more respectable second-half performances in the league and at one point crawled back into the playoff picture.
Perhaps that's why so many think Carolina is ready to get back in the hunt. We agree that there is a lot of raw talent in the Carolina locker room with Jeff Skinner, Brandon Sutter and Jamie McBain, but it may be a bit premature to suggest the Canes are ready for prime time. At least not yet.
Still, if GM Jim Rutherford's clubs have taught us one thing, it's to never underestimate them.
1. Mirage or reality?
Only Washington had more second-half points in the East than the Canes' 51, as they put together a 25-14-3 record down the stretch. All of which begs the question whether this is a true reflection of the team's capabilities or a bit of fool's gold from a team that had little to play for after a disastrous start essentially eliminated it from playoff contention.
As for why Carolina started so poorly, the injury bug bit hard and early, and there's not much you can do about that. Coach Paul Maurice said the Canes did examine their preparation this preseason to ensure they weren't missing something.
2. Young guns?
Carolina boasted just one 30-goal scorer, Jussi Jokinen, and four 20-goal producers, one of whom, Ray Whitney, is now in Phoenix. Captain Eric Staal leads the group in terms of talent and experience, and he'll need to return to his normal point-a-game-plus pace after injuries limited him to 29 goals, down from 40 the previous season when the Canes made a surprise run to the Eastern Conference finals. Another interesting figure is Chad LaRose, who collected 18 points in the final 21 games of the season. He'll get a chance to show that was no fluke.
3. Staal back
Before Staal got to training camp in 2009, he injured his groin at the Canadian Olympic orientation camp. Then, there was an oblique muscle injury and a triceps muscle problem. And still he played. At one point, he couldn't take any draws because he was so sore. But by the time the Olympics rolled around, the big center started playing his best hockey and he had 65 points in his final 57 games. In a recent interview, Staal talked about the Olympics and how they reinforced that he could play with the best of the best. His leadership and point production remain a pivotal part of Carolina's chances of success.
4. And Ward back
If you're a glass-half-full person, then having No. 1 netminder Cam Ward miss 18 games in the second half with a back injury allowed top goaltending prospect Justin Peters to prove he's got NHL tools. Peters was 6-3-0 in Ward's absence and looks to start the season as the undisputed backup.
Ward returned from his back injury and went 4-2-0 with a .936 save percentage in the final six games of the regular season, but his durability remains a question mark. Ward was bothered by back issues dating back to the 2009 playoffs. Given the youthful squad in front of him every night, Ward will need to stay healthy and provide a lot of quality starts if the Hurricanes are going to be in the playoff mix.
5. Sutter arrives
Not sure how Brandon Sutter can show his face at Sutter family gatherings given that he managed somehow to take just one minor penalty in 72 games last season. But the fact that he also netted 21 goals in just his second NHL season should keep him in the Sutter family's good graces. Sutter had 15 points in his final 22 games, but can he continue his dramatic evolution? If he can, it takes more pressure off Staal to produce, and a playoff berth may be in the cards sooner than later.
6. Feast or famine?
The Hurricanes reached the Stanley Cup finals in 2006, then missed the playoffs in 2003 and 2904. They came back after the lockout and won the Cup in 2006 before missing the postseason for two more years before advancing to the conference finals in 2909.
The pattern suggests that the Hurricanes draft and develop players exceptionally well. They are also a small-market team that will never compete for the big-name free agents, so on-ice success must sometimes wait for on-ice talent to develop. It may take one more year for the new crop of Canes to mature to a point where they will challenge for a conference championship or more.
7. The back end
Still not quite sure what to make of Joni Pitkanen. Having completed his sixth NHL campaign, he is capable of carrying a heavy workload. The 27-year-old led all NHL players in average ice time last season (27:22). He also finished fourth in team scoring (46 points), but was minus-11 a season after finishing plus-11.
Along with U.S. Olympian
Tim Gleason
,
Joe Corvo
and once-again Cane
Anton Babchuk
, the Hurricanes are respectable along the back end. Rutherford also picked up former 21st overall draft pick
Bobby Sanguinetti
from the
New York Rangers
at the draft. Then, there's McBain, who collected 10 points in 14 games after being called up from the AHL. He also averaged a whopping 25:46 a night in ice time, which was seventh among all NHLers, although over a much smaller sample of time.
8. Carolina's kid
Every team has one, we suppose, "the kid" who represents the franchise's future. For the Hurricanes, that player this season is Skinner, the seventh overall pick in the June draft. He was overshadowed by top picks Taylor Hall and Tyler Seguin, but the positive buzz about Skinner leads some to suggest the Canes may have ended up with as good a forward as there was to be had in 2010.
The 18-year-old center scored 20 playoff goals, tied for the OHL lead, and his 33 postseason points were second only to Hall. The Hurricanes have a history of being patient with their young prospects, but Skinner's name is one fans will do well to remember, if not this season, then down the road.
9. The trip
Every season, teams that travel across the pond to start the season debate the merits of such trips. For Carolina, the trip will be more adventurous than most; they'll head to St. Petersburg, Russia, before going to Helsinki to start the regular season against Minnesota. Given the youth on this team and the challenge of making young players feel part of the team, Maurice figures the trip can't hurt.
"It's a real opportunity for some good team-building," he said.
10. Youth is lost
Unlike most teams who go to a youth movement by keeping around a handful of aging players to bridge the gap, the players who will provide the leadership in Carolina's locker room are themselves youngsters who just happen to have a lot of experience. There's Staal (25), Jokinen (27), LaRose (28), Sutter (21) and Gleason and Pitkanen (both 27). In short, there won't be any hurry to rush the new kids into roles they're not ready for.
PREDICTION: We like where the Carolina Hurricanes are headed, we're just not sure if they can get there this season with Atlanta and Tampa both taking strides. We figure the three teams to be within a few points of each other, but the Canes will finish fourth in the division and just out of the playoffs.
Scott Burnside covers the NHL for ESPN.com.
More From The Magazine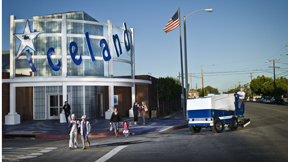 ESPN The Magazine's "Ice Issue" provides even more in-depth coverage of the upcoming NHL season:
• Smith: What is Gary Bettman's legacy?
• Fleming: Most beloved machine in sports
• Berra: The Red Wings' scouting edge
Coach's Corner
Coach:
Paul Maurice
Experience:
Entering 14th NHL season
Record:
412-413-99-53
Stanley Cup titles:
0
• With Rod Brind'Amour moving to the front office, where all former Hurricanes end up, the average age of the Hurricanes will go down in a hurry this season, which should play to Maurice's strengths. He has always been considered a great teaching coach.
Sometimes a coach wonders where he should start in terms of addressing the nuts and bolts and elements of the game given the experience on his squad. No dilemma for Maurice. "We'll go back to basics," he said.
The Fab Five
Burnside's top positional players for the Canes:

F -- Eric Staal: The captain shook off injuries to enjoy a solid second half and reinforce he is an elite pivot.

F -- Jussi Jokinen: The shootout specialist led the Hurricanes with 30 goals last season and will need to stay near that production if the Canes want to return to the playoffs.

F -- Chad LaRose: He had 18 points, including eight goals, and was plus-13 in the final 21 games of the regular season.

D -- Joni Pitkanen: Led all NHL players in average ice time last season and is the key point producer from the back end for the Canes.

D -- Jamie McBain: Had a strong showing when called up from the AHL late last season.
Fantasy Focus

Best bet: Eric Staal
He hasn't reached 100 points since his sophomore campaign and has a tendency to get his points in bunches (bad for head-to-head fantasy owners), but the flaws are minimal if you select Staal with your first-round pick. He's a lock for 30 goals and may get as many as 40. He's also a lock for 70 points and may get you as many as 85. Staal also takes more than his fair share of shots on goal and posts power-play points, making him even more attractive in the ESPN format for fantasy hockey. -- Sean Allen

Risky pick: Erik Cole
We know Cole can average close to a point per game when healthy, and a healthy Cole will surely flank Staal on the top line. Still, injuries are starting to take their toll and it's difficult to project Cole for more than 50 games. If you take him as your ninth forward or a reserve pick, the risk is low enough that he becomes worth the investment. -- SA

Sleeper pick: Zach Boychuk
Despite bouncing between the AHL and NHL last season, Boychuk still managed to put in an impressive campaign with Albany (36 points in 52 games), all while getting his feet wet at the NHL level for 31 games. His ice time was minimal with the Hurricanes, so we can't draw any definitive conclusions about his NHL future. But Boychuk has a strong shot at being a top-six forward for the Canes and someone to keep on your radar for the reserve rounds. -- SA
More Fantasy: Join now! » Draft kit » Ranks »
Insider: NHL
The Rankings
See how all 30 NHL teams stack up for the coming campaign in The Magazine's 2010-11 Rankings. Story