Terence Leung/NHLI/Getty Images Miikka Kiprusoff has started in at least 70 games in each of the past five seasons.
Flames: 10 Things You Need To Know
By Pierre LeBrun
The Calgary Flames missed the playoffs last season for the first time in the post-lockout NHL, igniting rumors of sweeping changes in the front office.
People waited and waited and waited and ... no one was fired.
Ken King is still team president, Darryl Sutter is still GM and brother Brent Sutter is back behind the bench.
But know this: The feeling among local observers is that the Sutter regime is on notice in Calgary. There's a short leash, and the playoffs are a must.
There were key changes on the roster, and that's where the GM had two signings that stunned the hockey world: bringing forwards Olli Jokinen and Alex Tanguay back into the fold after trading them away.
Sutter also added backup goalie Henrik Karlsson and forwards Tim Jackman, Raitis Ivanans and Ryan Stone. Gone are goalie Vesa Toskala and forwards Nigel Dawes, Jamal Mayers, Christopher Higgins, Eric Nystrom and Brian McGrattan.
Are the Flames any better? Few people think so. Few pundits are picking Calgary to make the playoffs.>
"You know what, and rightfully so," Darryl Sutter told ESPN.com "Our team didn't do well enough last year and not enough individuals did well, either, so the expectations are probably right based on last season."
But Sutter believes there were signs last season of a team capable of making the playoffs (the Flames finished just five points out and had a decent road record).
1. The roster moves
Sutter really started to attack this roster Jan. 31, when he pulled off a blockbuster trade with the Toronto Maple Leafs, dealing away star blueliner Dion Phaneuf in a package that brought him (most notably) defenseman Ian White, winger Niklas Hagman and center Matt Stajan.
"First off, we had a lot of money tied up in five or six guys," Sutter said in recalling the trade. "When they don't combine for an elite performance all the way through, then you have to make some adjustments. We weren't in a position to think we needed to rebuild; it was more that we had three or four guys that all had bad years collectively together. So we tried to get them back to where they wanted to be and move on."
2. Ian White is an underrated blueliner
An excellent puck mover with an offensive touch, White should establish himself as a top-four defenseman with a full season in Calgary.
"We thought he was a nice complement to [Robyn] Regehr," Sutter said. "He can put up numbers and move the puck. We thought he was a nice fit."
3. Hello, again
Flames fans thought they were being punked on July 1 when Jokinen was brought back with a two-year, $6 million deal and Tanguay was signed to a one-year, $1.7 million contract. Sutter can't figure out why people are so surprised by the reacquisitions.
"Well, they are guys that, from a free-agency standpoint, we thought we could get at value and we thought they were guys that enjoyed playing here and enjoyed the market," Sutter said. "They were guys we prioritized at the end of the year."
The hope is both players can reignite Jarome Iginla on the top line.
4. The right direction
Sutter points to two areas from last season that indicate the Flames can be a playoff team.
"I do think that when you're one of the top road teams in the league and one of the top goals-against teams in the league, that means you should be higher," he said.
Led by star netminder Miikka Kiprusoff (2.31 goals-against average, .920 save percentage), the Flames had the sixth-best defensive record in the NHL. The Flames' 20-15-6 road record was second only to St. Louis among the 14 teams that missed the playoffs.
5. The wrong direction
On the other hand, Sutter says two critical areas must improve if the Flames want to return to the postseason.
"We have to significantly improve our goals for and our home record," Sutter said. "We have to regain those areas."
The Flames' anemic offense scored the fewest goals in the NHL (204) and ranked 27th on the power play. Calgary went only 20-17-4 at home, the third-worst record in the Western Conference.
6. Where's JayBo?
More production needs to come from star blueliner Jay Bouwmeester, Calgary's big acquisition from a year ago. Points aren't the most important measure for a top defenseman, but Bouwmeester plays a ton of minutes, including the power play. His 29 points (3-26) from last season don't cut it.
7. The goaltending
Every season, the Flames say they'll give Kiprusoff more rest, and every season, he is the Western Conference version of Martin Brodeur. Last season, Kipper appeared in 73 games. Newly acquired backup Henrik Karlsson, received from San Jose for a sixth-round pick, could get some action this season.
8. Oh, captain
Is Iginla slowing down? The 33-year-old dipped to 69 points (32-37) last season, down from 89 points the season before and 98 points the season before that. We'll see whether his reunion with Tanguay and Jokinen brings more offense out of him.
9. More depth
Rene Bourque did his part for the offensively challenged Flames last season, producing a career-high 27 goals and 58 points in 73 games. He's a vital second-line player, and the Flames can't afford any sizeable decrease in his production.
10. Window of opportunity
The Flames are a veteran team, one that's being given one more shot in the current window, a window some critics believe has already passed. There won't be many more second chances for any of the veteran players on this team.
"We're not coming off a playoff year, we're not coming off a final four, we're not coming off a Stanley Cup. Some guys on this team will have their work cut out for them," Sutter said.
PREDICTION: It would be a great story if Darryl Sutter had the last laugh and the Flames made the playoffs with a reborn Jokinen leading the way, but we don't see it. Look for Calgary to miss the postseason and finish fourth in the weak Northwest Division.
Pierre LeBrun covers the NHL for ESPN.com.
More From The Magazine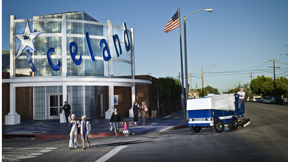 ESPN The Magazine's "Ice Issue" provides even more in-depth coverage of the upcoming NHL season:
• Smith: What is Gary Bettman's legacy?
• Fleming: Most beloved machine in sports
• Berra: The Red Wings' scouting edge
Coach's Corner

Coach:
Brent Sutter
Experience:
Entering 4th NHL season
Record:
137-88-21
Stanley Cup titles:
0
• Brent Sutter left Canadian junior hockey a demigod. His magic touch with the Canadian national junior team at the world juniors made him a red-hot commodity among NHL teams.
But, so far, his NHL coaching stints in New Jersey and Calgary haven't produced the same magic. The pressure is on to get his Flames back into the playoffs. Or else.
The Fab Five
LeBrun's top positional players for the Flames:

F -- Jarome Iginla: The man is durable, once again appearing in all 82 games last season. But his offensive production fell 20 points.

F -- Olli Jokinen: Once seen as a franchise center, the Finnish center hasn't topped 60 points in two straight seasons. He's getting a real shot with Iginla on his wing this season.

F -- Rene Bourque: Sutter gets criticized a lot in his local market, but stealing Bourque from Chicago a couple of years ago was a gem of a move.

D -- Mark Giordano: Has established himself as a reliable, two-way defender whose offensive upside could see him net 40 points one season.

D -- Jay Bouwmeester: One of the game's great skaters needs a bigger offensive season to justify his contract.
Fantasy Focus

Best bet: Jarome Iginla
The only question with Iginla is whether you are going to get a star or a superstar. One thing that bodes very well for fantasy owners is Iginla was truly a superstar during the two seasons he was paired with Alex Tanguay. With Tanguay back in the fold, it's hard not to see Iginla get closer to 100 points than 70. As long as Tanguay has enough passes to share between Olli Jokinen and Iginla, everything should work out nicely. There is little doubt Iginla is a No. 1 winger and a second- or third-round draft pick. -- Sean Allen

Risky pick: Miikka Kiprusoff
From 2005-09, Kipper was the definition of a workhorse goaltender, starting no fewer than 73 games per season. But while that was going on, his ratios were trending in the wrong direction, getting a little worse each season. Last season was a bit of a renaissance. Kiprusoff put in 72 starts and had his best numbers since his monster 2005-06 season (2.31 GAA, .920 save percentage). Sign of things to come or a late-career blip? Until he proves us wrong, we're leaning toward the latter. -- Tim Kavanagh

Sleeper pick: Rene Bourque
He barely saw the ice with the first line in Calgary last season, yet Bourque still quietly amassed a 27-goal campaign. It's not his overall numbers that make him a decent starter for your fantasy team, it's his ability to find a way to produce despite limited ice time and power-play opportunities. If the depth chart changes and Bourque winds up on the first line, he could produce even more. -- SA
More Fantasy: Join now! » Draft kit » Ranks »
Insider: NHL
The Rankings
See how all 30 NHL teams stack up for the coming campaign in The Magazine's 2010-11 Rankings. Story