Jamie Sabau/NHLI/Getty Images Rick Nash saw this goal production drop from 40 goals in 2008-09 to 33 last season.
Blue Jackets: 10 Things You Need To Know
By Scott Burnside
The Columbus Blue Jackets are proof of how quickly the label "team on the rise" can turn into "team in disarray."
After making the playoffs for the first time in franchise history in 2009, the Blue Jackets took a significant step backward last season, finishing 14th in the Western Conference and tied for 26th overall. GM Scott Howson then hired former NHLer Scott Arniel away from Winnipeg of the AHL and only tinkered with his lineup (he brought in former Edmonton Oiler Ethan Moreau, who is coming off a couple of disappointing seasons).
Nikita Filatov, perhaps the Blue Jackets' most talented prospect, returns after self-exile in the KHL last season.
"For whatever reason, they took a big step back," rookie coach Arniel told ESPN.com recently. "It cost a coach his job. A lot of players had very disappointing seasons."
Still, he believes the pieces are in place for a bounce-back season. "We feel there's a great nucleus here," Arniel said.
1. Road woes
The Blue Jackets were a woeful 12-23-6 on the road last season, 28th in the league. Often that kind of record suggests a team is not mentally strong or is easily put off its game. Arniel will need to get his team better prepared for life away from Nationwide Arena.
2. Special teams
Strangely, special teams were an area of optimism for the Blue Jackets. After finishing dead last on the power play in 2008-09, they jumped to 14th on the man advantage last season. Meanwhile, the penalty kill continued to be respectable, down to 17th from 13th the previous season. Arniel would like both areas to be strengthened, but he's got a pretty good base from which to start. With Filatov in the house, the power play should get a boost.
3. Speaking of Nick ...
One of the interesting storylines will be the evolution of talented young winger Filatov. The sixth overall pick in 2008 played in just 13 games for the Blue Jackets last season before he was loaned out to the KHL. Filatov, 20, is hoping to turn that season of seasoning into a spot on the Blue Jackets' top two forward lines. Arniel acknowledged Filatov has some fences to mend in the dressing room. "Nothing's going to be handed to Nikita," Arniel said.
It's possible he could begin the season in Springfield with the team's AHL club. "We'll leave that up to Nikita," Arniel said.
4. Steve Mason
It would be both unfair and inaccurate to suggest the team's problems last season stemmed from goalie Steve Mason's significant drop-off in production. But there is no doubt a team as offensively challenged as the Blue Jackets needs exemplary goaltending almost every night. It was so in Mason's rookie-of-the-year campaign in 2008-09, when he posted a league-best 10 shutouts and 2.29 goals-against average that was second among all netminders.
But Mason's performance fell completely off the table last season. After turning in a bloated 3.06 GAA and tepid .901 save percentage, Mason should have learned something about humility. Now, how does the 22-year-old bounce back? The answer will affect the Blue Jackets' ability to jump back into playoff contention.
One of the issues was Mason's conditioning, which effected his consistency. He's arrived in Columbus "in tip-top shape," Arniel said. "He's motivated to get back to that position he was in a couple of years ago. He got a big taste of some humble pie."
5. The boys down the middle
If there has been a constant lament in Columbus, it's been about the lack of quality centers. It will be heard loud and clear again as the Blue Jackets try to find the kind of depth and consistency at the all-important position that has thus far eluded them. True, Antoine Vermette did yeoman service as the team's de facto No. 1 center last season, finishing second behind Rick Nash with 27 goals and 65 points.
Arniel already has penciled in that No. 1 line of Vermette, Nash and Kristian Huselius on his lineup card. But if Vermette is your No. 1 center going up against the likes of Henrik Zetterberg, Pavel Datsyuk, Jonathan Toews et al, that's pretty much a mismatch every night. No other Columbus center managed to score in double-digits.
p>
6. Maturity check
There are a lot of ways to gauge whether a team is growing up or not. How about one-goal games? Gut it out in those situations to put points on the board, and that's usually a pretty good indicator of whether a team is, well, a team. The
Phoenix Coyotes
led the league last season with a 29-6-7 record in one-goal games. The Blue Jackets? Dead last with a 15-11-15 record in one-goal games. Enough said.
7. Scoring woes
Overall, the Blue Jackets were 20th in goals per game, but a better indication of the problems that confront Arniel is the team's 5-on-5 scoring (ranked 27th). If you're planning on scoring by committee, well, the committee better show up for the meetings.
8. About the back end ...
The Blue Jackets finished 24th in goals allowed last season, and it wasn't all Mason's fault. Arniel thinks there's room to grow for a group that has size in Mike Commodore, the underappreciated Jan Hejda and a hopefully healthy Rusty Klesla. There also is some skill with Fedor Tyutin and perhaps top young blueliner Kris Russell.
Still, a training camp knee injury to Russell sparked rumors the Blue Jackets would swap Commodore for disgruntled Edmonton defenseman Sheldon Souray. Arniel said he is especially looking to Commodore, a former Cup winner in Raleigh, to have a bounce-back season. When Russell returns, and whether Souray is in the mix, the overriding question is whether the group has the foot speed and skills to play the attack style Arniel wants to implement.
9. The captain
Just as all the goals weren't Mason's fault, all the offensive problems didn't fall at the feet of Nash. That said, the franchise player saw his point and goal production drop off significantly last season from 40 goals and 79 points in 2008-09 to 33 goals and 67 points last season. Stuff happens. Still, Nash, a member of Canada's gold-medal effort in Vancouver, remains the offensive catalyst, and that means bouncing back this season.
10. Food for thought
The Blue Jackets gave up nine short-handed goals last season. Only Minnesota (13) had more.
PREDICTION: Things won't get any better for the Blue Jackets this season; they'll finish fifth in the Central Division and near the bottom of the conference standings.
Scott Burnside covers the NHL for ESPN.com.
More From The Magazine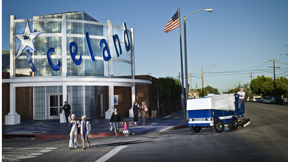 ESPN The Magazine's "Ice Issue" provides even more in-depth coverage of the upcoming NHL season:
• Smith: What is Gary Bettman's legacy?
• Fleming: Most beloved machine in sports
• Berra: The Red Wings' scouting edge
Coach's Corner

Coach:
Scott Arniel
Experience:
Entering first NHL season
Record:
N/A
Stanley Cup titles:
N/A
• The Blue Jackets have gone through a lot of upheaval in recent years. Doug MacLean was shown the door in favor of the understated Scott Howson. Ken Hitchcock became the face of the team but was canned when the Blue Jackets couldn't sustain the momentum from that 2009 playoff run. Now it's Arniel's turn. He joked that his first reaction to getting the job was excitement followed by a period of "panic."
"It's been a whirlwind the past couple of months," Arniel said. He hopes his son will get a walk-on and earn a spot on the Ohio State hockey team while his wife stays in Winnipeg with their daughter, who will finish out her senior year in high school.
But Arniel is a smart hockey man who has seen the game through different vantage points. He doesn't come with the fanfare of, let's say, a Guy Boucher in Tampa Bay, but he comes with solid credentials and a plan to revive the flagging hockey spirit in Columbus.
"I've been looking forward to this [opportunity] for a long time," he said.
The Fab Five
Burnside's top positional players for the Jackets:

F -- Antoine Vermette: Terrific season from the former Ottawa Senator, and the Jackets will need more of the same.

F -- Rick Nash: He's looking to get back to the 40-goal, 80-point plateau.

F -- Nikita Filatov: Is the skilled Russian NHL-ready after a year in the KHL?

D -- Kris Russell: There are high hopes for the 67th overall pick in 2005, but a knee injury will slow his contributions.

D -- Anton Stralman: He had a strong second half for the Blue Jackets and provides much-needed offense from the back end.
Fantasy Focus

Best bet: Rick Nash
There is no question Nash can make the puck do whatever he wants, but as the focal point for opposing defenses, his skills are stifled at times. If Derick Brassard and Jakub Voracek can take another step forward this season, the pressure comes off Nash. Antoine Vermette will be back to help cover some of Nash's risky moves in the offense zone, and whether it's Kristian Huselius or R.J. Umberger on the opposite wing will make little difference to Nash's numbers. He's a No. 1 winger with the potential to be a top-10 player. -- Sean Allen

Risky pick: Nikita Filatov
While playing in the KHL last season, Filatov managed to get more ice time per game and posted 22 points in 26 games, a strong showing for a 19-year-old. Back in North America and ready to take on the NHL under a coach (Scott Arniel) who looks to be friendlier to young players, Filatov is a risk, but the payoff could be huge. Either working opposite Nash or on a young guns line with Voracek and Brassard, expect big things from this Russian sniper. He'll be worth the risk as a No. 3 winger or as an eighth forward off the board. -- SA

Sleeper pick: Derick Brassard
With Ken Hitchcock out of town and Arniel taking over as coach, the reins are coming off Brassard. As a potential quarterback for the first power-play unit and the centerman on a strong second line, Brassard has every opportunity to turn in the numbers. He'll have a strong checker with skilled hands on one side (Voracek) and potentially one of the best young snipers in the game on the other (Filatov). Ranking Brassard as a No. 2 center may seem a bit of an overstatement, but he looks ready to take a step forward. -- SA
More Fantasy: Join now! » Draft kit » Ranks »
Insider: NHL
The Rankings
See how all 30 NHL teams stack up for the coming campaign in The Magazine's 2010-11 Rankings. Story