Michael Martin/NHLI/Getty Images Paul Stastny had 20 goals and 59 assists in 81 games last season for the Avs.
Avalanche: 10 Things You Need To Know
By Pierre LeBrun
Only the amazing story of the Phoenix Coyotes overshadowed the stunning turnaround in Denver last season.
Colorado was dead last in the Western Conference in 2008-09 with a measly 69 points but improved a whopping 26 points in the standings last season to claim the eighth and final playoff spot in the conference.
No one saw that coming. But a young team, buoyed by rookie centers Matt Duchene and Ryan O'Reilly, played like a group wanting to prove something. It's the rawest motivation in sports, and it often works.
"There were such low expectations for us, and we wanted to prove people wrong," Duchene told ESPN.com. "We had a chip on our shoulder. We just had a lot of confidence. We had that young stubbornness with so many young guys. We just didn't believe we could lose a game and we played that way for almost the whole year."
The team got even younger in the offseason with several veterans exiting, including Darcy Tucker, Marek Svatos, Stephane Yelle, Brett Clark and Ruslan Salei. Winger Daniel Winnik was the lone acquisition as Colorado's young assets continue to take over the room.
1. The Avs, for real
No one is making fun of this team anymore, and the Avs won't be able to use that as motivation this season. In fact, they better try to ignore all the nice things being said about them.
"Yeah, you can definitely fall in that trap of pleasing other people and not yourself," Duchene said. "We have to focus on ourselves and do what made us successful last year and even improve on that. If everyone gets just a little better, we'll be that much better of a team."
Avs GM Greg Sherman said the motivation is to bring the team back to the powerhouse Colorado days.
"We have a standard here," Sherman told ESPN.com. "Ultimately, we want to get this franchise back to where we believe we should be. I think there's a lot of pride throughout our organization, starting with our players. They have expectations of themselves. Certainly the way things unfolded last year, they got a taste of it. Now we just want to build off that and take it to the next step."
2. No surprises
Colorado's kids won't take anyone by surprise this season, and teams won't take them lightly. That presents a different challenge.
"And we certainly welcome that," Sherman told ESPN.com. "This organization has one thing in mind, what we represent, what we stand for and what our own expectations are. It's a situation we gladly look forward to. We want to start off where we left things last year. ... Our identity as a franchise -- we've regained that. Now it's a responsibility to maintain that and go to the next level."
3. Two steps back
The Avs suffered a setback right off the hop when top-six winger Peter Mueller suffered a concussion in his first preseason game Sept. 23. What made it worse was that it was his first action since his season was ended by a concussion April 4, forcing him to miss the playoffs. Mueller, who signed a two-year, $4 million deal on the eve of camp, was being counted on to be a possible fit on a line with Duchene and Milan Hejduk, but he instead begins the season on the shelf.
4. Hot-shot rookie, Part 1
Duchene led all NHL rookies with 55 points (24-31) in 81 games last season, looking very much the part of future captain and superstar center. Oh, and he's only 19. What is he going to do for an encore?
"I just want to improve," Duchene said. "I'm not sure where that's going to take me. You just want to improve your numbers from year to year and getting better as a hockey player to contribute more to team success. I don't really have a number in mind. I've fallen in that trap in the past, and you end up doing it for the wrong reasons. I just want to improve on last year, and hopefully the team can go deep in the playoffs this year."
5. Hot-shot rookie, Part 2
O'Reilly also is only 19 years old. He was an even bigger surprise than Duchene in terms of his impact last season, providing quality two-way play while centering the third line and killing penalties.
It's important for the Avs that their Nos. 2 and No. 3 teenage centers avoid the proverbial sophomore slump.
6. The leader
The old goat was brought back for another season. Captain Adam Foote, 39, signed a one-year, $1.25 million deal to return to a dressing room in which he's old enough to be the father of one-third of the roster. Because of that, his leadership is invaluable to the team.
"He is the consummate leader," Sherman said. "Not only his play, but certainly he brings a very strong intangible off the ice as well. He's a player that won two Cups with this franchise, and it's a great situation to have him in that room with those players as we look to get back to that level."
7. The leader in the making
Paul Stastny responded well to a new contract last season that pays him $6.6 million a year, leading the team with a career-high 79 points (20-59) in 81 games while helping Team USA to a silver medal at the Olympics. With so much focus on fellow centers Duchene and O'Reilly being only 19 years old, it's easy to forget Stastny is only 24 and has already established himself as one the of the league's top centers.
8. The defense
Foote oversees a blue-line corps that has both youth and veteran blood lines. Joining him in the group are John-Michael Liles (29), Scott Hannan (31), Kyle Quincey (25), Kyle Cumiskey (23) and Ryan Wilson (23). That should be the top six this season.
There also were youngsters trying to make an impression in camp, such as Colby Cohen (21) and Norwegian Jonas Holos (23).
"The strength is that we have a good mix of both young guys returning, and of course they're anchored by our captain in Adam," Sherman said. "We feel real strongly about our blue line."
We're not as confident in this group; only five NHL teams gave up more shots per game last season than Colorado's 32.1 average. The Avs have to tighten up. We believe this is Colorado's biggest area of concern.
9. The goaltending
Will the real Craig Anderson please stand up? Is it the one who hung out in the lofty company of Vezina Trophy candidates last season or the journeyman who knows what it's like to be put on NHL waivers?
Anderson was sensational last season, and he's hungry again this season. He's eligible for unrestricted free agency July 1.
"You can tell he got some serious swagger after last season," veteran Avs scribe Adrian Dater of The Denver Post told ESPN.com. "He's tall and confident-looking in net, but the defense in front of him, I'd say, is still spotty. He faced the most shots of any goalie in the league last year, and the Avs lost one of the game's premier shot-blockers in Brett Clark. So, Andy had better get used to seeing plenty of rubber again."
10. More offense
The Avs might be leaky on defense, but they're a potent offensive machine. They were sixth in the NHL in goals per game last season. Can they keep it up? Muller's preseason injury could hurt. Aging sniper Hejduk is 34 years old. Duchene must avoid a sophomore slump. And can they really get 28 goals again from impressive 22-year-old Chris Stewart?
PREDICTION: If Anderson can't stand on his head, things could get dicey. But the one-two-three punch at center is standout. The Avs will finish second in the Northwest Division and eighth in the Western Conference, making the playoffs once again, but barely.
Pierre LeBrun covers the NHL for ESPN.com.
More From The Magazine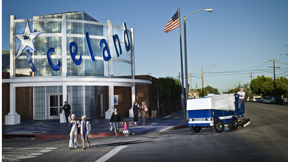 ESPN The Magazine's "Ice Issue" provides even more in-depth coverage of the upcoming NHL season:
• Smith: What is Gary Bettman's legacy?
• Fleming: Most beloved machine in sports
• Berra: The Red Wings' scouting edge
Coach's Corner

Coach:
Joe Sacco
Experience:
Entering 2nd NHL season
Record:
43-30-9
Stanley Cup titles:
0
• Joe Sacco might have been the most unheralded coaching hire a year ago, essentially the consolation prize after Patrick Roy turned down the job. Fast-forward to June in Las Vegas, where Sacco was among the three nominees for the Jack Adams Award as NHL coach of the year.
"One of the best qualities with Joe is his ability to communicate with our players, whether it be with our younger guys or our veteran group," Sherman said. "This year, he's going to build off that with the fact he's had these players for a while now given that he came up with some of them with our minor league system. His purpose and his approach is direct, and his staff will look to build on last year."
The Fab Five
LeBrun's top positional players for the Avs:

F -- Paul Stastny: One of the elite playmakers in the NHL; his 59 assists tied for sixth in the league last season.

F -- Matt Duchene: It's scary to think how good this player will be.

F -- Milan Hejduk: Will he put up big numbers this season? Well, he'll be an unrestricted free agent July 1.

D -- John-Michael Liles: Led all Avs blueliners with 31 points (6-25) last season despite playing in only 59 games.

D -- Kyle Quincey: Acquired in the Ryan Smyth trade in the summer of 2009, he led the team in ice time last season at 23:36 minutes per game.
Fantasy Focus

Best bet: Paul Stastny
Stastny is ready to be considered a consistent point-per-game threat in the NHL, and a big thanks goes to Chris Stewart. The two young forwards complement each other nicely, with Stastny the playmaker and Stewart the goal scorer. Peter Mueller turned out to be the perfect balance on the other side, and this trio dominated the league after Mueller was acquired at the trade deadline. Because he is a bit heavy on the assists, Stastny should be considered as a No. 2 center, but he's one of the best No. 2 centers you can get. -- Sean Allen

Risky pick: John-Michael Liles
In the plainest of terms, Liles was a fantasy pain in the posterior last season. Often on the outs with Avalanche coach Joe Sacco, Liles was a healthy scratch for 10 games, despite being the team's priciest and most productive defenseman. But when he did skate, he averaged 0.53 points per game, a hefty chunk of them coming on the power play. Assuming all is well between Liles and Sacco and his shoulder injury issues are behind him, you can bank on 40 points through a full schedule. -- Victoria Matiash

Sleeper pick: Peter Mueller
With 2½ ho-hum seasons under his belt with the Phoenix Coyotes, it was starting to look as though this former first-round pick might be a bust. Voila! A change of scenery to Denver in March helped as Mueller ripped off 20 points in his final 15 games. He fit like a glove on the first line with Stastny and Stewart. Mueller has the pedigree and has shown the skills, so if he's healthy (he's currently out with a concussion), it may be time to take a chance. -- SA
More Fantasy: Join now! » Draft kit » Ranks »
Insider: NHL
The Rankings
See how all 30 NHL teams stack up for the coming campaign in The Magazine's 2010-11 Rankings. Story