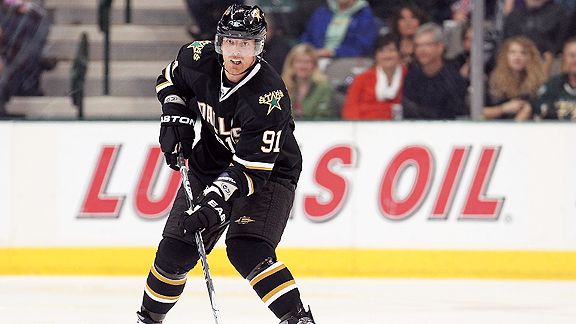 Ronald Martinez/Getty Images Brad Richards had 91 points in 80 games last season for the Dallas Stars.
Stars: 10 Things You Need To Know
By Pierre LeBrun
These are changing times in the Lone Star State.
The Stars missed the playoffs by seven points after a 12th-place finish in the Western Conference, and the result was a changing of the guard.
Gone are Marty Turco, Jere Lehtinen and, most notably, Mike Modano, the face of the franchise since it left Minnesota for Dallas nearly two decades ago.
GM Joe Nieuwendyk took heat locally for not re-signing Modano, but it was the right move. The Stars need to turn the page on an era that produced great memories but needs to be put to rest. They need younger leaders to emerge and new faces to grace the team's identity.
1. Can the goalie answer the call?
Nieuwendyk's biggest move of all occurred last season, when he traded for netminder Kari Lehtonen and paved the way for Turco's exit this past summer. The younger Lehtonen was once a can't-miss, franchise netminder when drafted by Atlanta. But a litany of injuries and questions about his commitment to fitness saw the Thrashers give up on him. Now the Stars hope he's figured it out.
"To acquire Kari, there may have been some risk involved because of his injury history, but we did our homework on him and had him checked out," Nieuwendyk told ESPN.com. "I think we've got a goaltender at a point in his career where he's been through some things and matured, and we're getting a guy who has a chance to be an elite goaltender at the right time."
A lot is riding on it.
"When I worked in Toronto, Cliff [Fletcher, the Maple Leafs' GM] used to say, 'It all starts with the goalie,'" Stars coach Marc Crawford told ESPN.com. "It's so true. He gives you the opportunity to get good. He gives you the opportunity to win, to gain confidence. ... There's definitely an air of excitement in [Lehtonen's] body language. He's really put a hard summer of work in. The criticism about him from some people has been his conditioning and maybe the injury bug, which probably was caused by his lack of conditioning.
"But he's really taken a huge step in rectifying that. He hired a trainer this summer; he worked with our strength and conditioning coach in conjunction with the trainer that he hired. That gives us such confidence that we know we're going to have a real strong year from Kari."
2. The defense
In a perfect world, the Stars would have gone out and splurged on Paul Martin or Dan Hamhuis or any other high-profile unrestricted-free-agent defenseman available July 1. But the Stars' ongoing ownership issues continue to limit Nieuwendyk's ability to spend big. So, the team hopes that a young and sometimes struggling blue-line group from last season can take another step forward and improve from within. Aside from veteran Stephane Robidas, this is a young defensive corps.
Crawford hopes that playing those young blueliners in key minutes last season, a group that included Nicklas Grossman and Mark Fistric, will pay dividends this season.
"We've got four guys there who are still in developmental stages, whether it's [Matt] Niskanen, Grossman, Fistric or even [Trevor] Daley," Crawford said. "They've all now played in pretty much key opportunities -- Niskanen with the power play, Fistric and Grossman on the penalty kill and Daley in all situations.
"Those four guys were really focal points on our blue line last year, and you have to think they'll keep on getting better simply because they've seen everything they're going to see now, and we're hopeful that's going to be the case."
3. Stopping goals
So between the goalie and the blue-line corps, can the Stars shore up last season's biggest problem? They were 23rd in the NHL at 2.98 goals against per game.
"It doesn't take a rocket scientist to figure it out. We got to be better with our goals against, and we got to be better on our penalty kill [27th last year]," Crawford said. "We have worked pretty hard at looking at the adjustments we can make. A lot of it in the defensive zone is just making sure we're paying adherence to those little details that make you win. Most teams defend in a similar way, but there's subtle differences to how they reattack on defense or how they put secondary pressure."
4. Team depth
The Stars may lack depth on defense, but they remain strong up front. And that's key for Crawford, who hopes to roll four lines as often as possible.
"You have to be a four-line team, you have to be able to roll your lines," the coach said. "You have to have two lines that you're confident can check the other team's top line. You can't just have one that can do it; you have to have two."
5. Can Jamie Benn avoid a sophomore slump?
The Stars forward was among the most impressive rookies last season in the NHL and is among those key Stars players who represent the changing of the guard.
"He's a smart enough kid to realize that he's not going into the season thinking people won't know who he is," Nieuwendyk said. "But I think the experience he gained throughout last year and going down [to] the minors at the end of the year and going on that long playoff run with our farm team was a real valuable experience, because he was a target down there throughout those playoff rounds and he really succeeded. He's going to have to know that's there. But he's a darn good player and has a solid future ahead of him."
Crawford wonders whether people outside Dallas realized just how good Benn was last season.
"I tell you what, had he been in a big market and had he been on a playoff team, he would have been one of the three candidates [for the Calder Trophy]," Crawford said. "His future is nothing but bright. He just looks even bigger and stronger right now. He's lost a lot of that baby fat. He looks much more muscular."
6. The Ribeiro factor
Mike Ribeiro was on the trade market for part of the summer, but the Stars didn't pull the trigger. How will he respond? He dipped to 53 points last season, albeit in 66 games, but it was still his lowest output since he joined the Stars in 2006. He averaged 80 points a season in his previous two campaigns with the Stars.
7. Brad Richards
Richards is a supertalented player and a generous man. This has nothing to do with hockey, but it must be repeated that he donated $500,000 to a hospital in his native Prince Edward Island. How cool is that?
8. A Burish move
The Stars didn't make any splashy additions, but the under-the-radar signing of pesky winger Adam Burish from the Chicago Blackhawks is viewed highly by the front-office and coaching staffs.
"One of the things that has been a priority for me is becoming a harder team to play against, especially in our bottom grouping of players," Nieuwendyk said. "A guy like Adam Burish on one side and Steve Ott on the other will give us an edge, which will make us uncomfortable to play against. Everyone talks about what a character guy he is in the room. ... We're going to really depend on some of his leadership as well."
9. The ownership hang-up
Owner Tom Hicks, facing financial difficulties, continues to try to find a buyer for the Stars. Until he does, the team's purse strings are limited. But you won't hear Nieuwendyk complaining about it.
"I think the frustrating part for me is the fact that people want to dwell on it so much," the Stars' GM said. "Yeah, it's out there and people talk about it, but as far as I'm concerned, I think so many people in the hockey world got used to the Dallas Stars' being a big-market team that spent to the cap every year, and that when we're not that way the last couple of years, that's all they want to talk about.
"I still feel we can be competitive. We were probably our own worst enemy and ended up in the situation we are in because of some of the spending and free agency and stuff like that. But I don't look at it as a negative. I look at it as a rallying point."
10. Are Stars fans turning their backs on the team?
The club ranked 17th in NHL attendance last season with an average crowd of 17,215. That still isn't bad, but it is Dallas' lowest ranking on ESPN.com's attendance tracker, which dates back to 2000.
PREDICTION: The Stars play in arguably the toughest division in the NHL. They will battle Anaheim for fourth in the Pacific Division, but they may not be that far from a playoff spot in the West if Kari Lehtonen answers the bell. That's how good the Pacific Division is -- three or four teams might reach the postseason.
Pierre LeBrun covers the NHL for ESPN.com.
More From The Magazine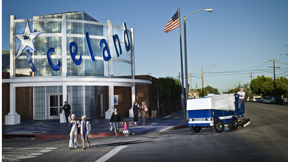 ESPN The Magazine's "Ice Issue" provides even more in-depth coverage of the upcoming NHL season:
• Smith: What is Gary Bettman's legacy?
• Fleming: Most beloved machine in sports
• Berra: The Red Wings' scouting edge
Coach's Corner
Coach:
Marc Crawford
Experience:
Entering 15th NHL season, his second with Dallas
Record:
507-392-100-66
Stanley Cup titles:
1 (Colorado in 1996)
• Marc Crawford gave important minutes to young players last season, and that process will continue as the Stars' evolution (some would say rebuilding) continues.
He was Joe Nieuwendyk's first hire as coach, so he should be given every chance to stay on board during this process. But like any coach, his success will depend greatly on his goalie, Kari Lehtonen. It's going to be a long season for Crawford if Lehtonen doesn't answer the bell.
The Fab Five
LeBrun's top positional players for the Stars:

F -- Brenden Morrow: The rugged team captain leads by example. Now more than ever, it's his job to ensure that the youngsters now playing bigger roles learn how to do things right.

F -- Brad Richards: Although Richards earned a 2004 Conn Smythe Trophy in Tampa Bay, we believe the pride of Prince Edward Island continues to be an underrated center. This guy can seriously bring it.

F -- James Neal: With his contract dispute finally put behind him on the eve of camp, look for Neal to take the next step in becoming the team's most complete, two-way winger.

D -- Trevor Daley: The smooth-skating Daley took huge strides last season in becoming a reliable two-way defenseman.

D -- Stephane Robidas: The old goat on an otherwise young blue line is the unsung hero on the team. He'll take a puck in the mouth and won't miss a shift.
Fantasy Focus

Best bet: Brad Richards
With Loui Eriksson there to finish off his slick passes, Richards is back to being an arguable No. 1 center in fantasy leagues. Add in his power-play scoring and the fact he takes more shots than your average playmaker, and Richards is a very strong fourth-round choice. The weak spot in his game is plus/minus and it doesn't look like that will change as the Stars remain just as questionable on the back end for this coming season. With a lowly plus/minus and virtually no penalty minutes, you need to make a smart pick to make up for Richards' shortcomings if you select him. -- Sean Allen

Risky pick: Brenden Morrow
Morrow has fallen a long way from the multi-category fantasy star he appeared to be as recently as two seasons ago. Injuries continue to slow him down and limit his penalty minutes. Considering his PIMs were one of his most attractive qualities, he can hardly be considered an elite a pick as in previous seasons. If it all comes together for the Stars, Morrow could offer fantasy owners the numbers of a No. 2 winger; but given the question marks in Big D, he should probably stay on the draft board until the ninth or 10th round. -- SA

Sleeper pick: Fabian Brunnstrom
Brunnstrom has shown none of the skills that had some fantasy owners excited when he signed with the Stars two seasons ago. His total of two goals last season was downright awful, even if you account his minimal ice time. Why even look his way on draft day? Well, you probably shouldn't, but in deep leagues, you have to consider the outside chance he lands a top-six forward role now that he has two NHL seasons under his belt. Brunnstrom has blazing speed and soft hands, so you could make worse gambles with a final bench spot pick. -- SA
More Fantasy: Join now! » Draft kit » Ranks »
Insider: NHL
The Rankings
See how all 30 NHL teams stack up for the coming campaign in The Magazine's 2010-11 Rankings. Story