Scott Audette/NHLI/Getty Images Bolts captain Vincent Lecavalier is hoping to return to form after a 24-goal season.
Lightning: 10 Things You Need To Know
By Scott Burnside
For a team that hasn't won a playoff series since winning it all in 2004, the Tampa Bay Lightning have found themselves the topic of much discussion around the NHL in recent years. Sadly, the discussion has usually been framed around the terms "circus," "chaos" and "futility."
But this offseason, there has been significant buzz around the Lightning connected to a different descriptor: "optimism." Starting with the sale of the team from controversy-plagued owners Len Barrie and Oren Koules to quiet businessman Jeff Vinik and the hiring of new GM Steve Yzerman, the Lightning are suddenly on everyone's radar. And with good reason.
In his first NHL GM job, Yzerman has quickly assembled a deep, talented team that is expected to jump from 14th in the East and 25th overall to a playoff spot. Yzerman brought in highly touted rookie coach Guy Boucher and added veteran sniper Simon Gagne, former Cup winner Pavel Kubina and netminder Dan Ellis to augment a lineup that already boasted Vincent Lecavalier, Martin St. Louis, Ryan Malone and emerging superstar Steven Stamkos.
1. Vinny and Marty?
Boucher has talked about reuniting Lecavalier and St. Louis, a pair that was so dynamic during the team's Cup run. The logic is obvious: try to get Lecavalier back to a comfort zone that will see him return to the elite form we last saw in 2006-07, when he scored 52 goals. But at what cost? Last season, St. Louis played on what was one of the league's most explosive lines with Steve Downie and Stamkos. Gagne and Malone, who had 21 goals in 69 games last season, will be in the mix for the top two lines.
2. Speaking of the captain ...
This is a significant year for both Lecavalier and the franchise. After enduring rampant rumors about being on the trading block and struggling through a series of injuries, Lecavalier appears ready to put all that behind him.
"I feel great. I think we have a great organization," Lecavalier told ESPN.com. "I think they're building a first-class organization with winners and with guys that have won and that people really respect, a lot of class."
Lecavalier said he hopes to get back to the level he was at in 2006-07.
"I think a lot of distractions outside of the locker room, I don't know if it crept in or not," Lecavalier said. "It's easy to say when the team hasn't done well in two years, but there was a lot of talk. There was the trade talks, just a lot of distraction, not the distraction that we're going to have now. So I just feel like forgetting those two years and build from right now at training camp."
3. Out of the box
The Lightning ranked second-to-last in the league with 399 minutes in minor penalties last season. From the moment the Bolts hit the ice at training camp, Boucher was watching to see if his guys were using their sticks properly in the hopes of breaking bad habits that can lead to minors.
4. Outside the big guns
If the Lightning can get their top two lines producing, it may not matter what comes out of the third and fourth lines. But for a team that ranked 29th overall in 5-on-5 scoring last season, scoring depth is going to be crucial. To that end, Yzerman has assembled a team with a lot of experience in the hopes of providing that balance. He nabbed Sean Bergenheim from the New York Islanders and brought in Dominic Moore, who was solid for Montreal during its playoff run last spring. Teddy Purcell, the former L.A. King, is also in the mix. If those players can stick, Yzerman won't have to rush in any of his young players.
5. Chemistry experiment
When you change everything from ownership to GM to coaching staff to key parts of your lineup, cohesion isn't something that happens overnight. Which is why Boucher spent time at training camp working on chemistry while also warning that these things take time.
"The biggest challenge right now is to hurry up and get some kind of chemistry and structure before the season starts," he said. "We're by far the team that's made the most changes at every level, which means that probably we'll have more struggles than most to start. Not necessarily in terms of wins and losses, but in terms of chemistry and guys being on the same page to start the year."
6. The goalies
A few seasons ago, Yzerman saw up close how good Ellis can be in the playoffs when undermanned Nashville nearly knocked off the Detroit Red Wings. But Ellis' body of work is relatively limited and he was supplanted as the starter in Nashville by top prospect Pekka Rinne. Ellis appeared in just 31 games last season, so the question is whether he is capable of carrying a workload that may be close to double that. That's assuming, of course, Mike Smith doesn't end up as the No. 1 netminder.
Smith came from Dallas in the Brad Richards deal, but has never put his stamp on the starting job in large part to lingering effects of a concussion. But the bottom line is these two will have to provide consistent starts if the Lightning are going to make good on all the optimism surrounding them coming out of camp. They are good friends and insist the competition between them will be healthy, not distracting.
7. A better blue line
One of the quietest signings of the summer might well have been Tampa's most important: the return of blueliner Pavel Kubina. The big Czech (6-foot-4, 250 pounds) was part of the Lightning's Cup run and never would have left if it weren't for an enormous contract offered by Toronto. Things didn't exactly work out with the Leafs, and Kubina performed well in Atlanta after being dealt to the Thrashers.
He will help the power play with his big shot and should provide helpful tutelage for young defensive anchor Victor Hedman, who had an up-and-down rookie season. There will still be questions about the mobility along the blue line and whether the unit can adequately feed the puck to the team's skilled forwards.
8. What next, Stammer?
Having earned a share of the Rocket Richard Trophy with 51 goals in his sophomore season, where does Stamkos go from here? He's in great shape thanks to a summer of Gary Roberts' grueling workout regimen in Toronto, and no matter how the lines shake down, Stamkos will play with skilled players. So? Blessed with terrific speed and a laser shot, 50 goals should again be within reach. Who knows ... maybe there will be more than a little Hart Trophy talk when the dust clears next April.
9. Steve Downie
Few NHL players are as polarizing as Downie. Oft-suspended, often at the center of controversy, Downie showed he has NHL tools last season, posting 24 goals and a plus-14 -- for a non-playoff team. Credit former coach Rick Tocchet for keeping the tightly wound Downie on task. Boucher will have to do the same this season. If he does, Downie, who can handle himself around the net and is a terrific puck-pursuit and possession forechecker, will continue to rewrite his own hockey biography.
10. Simon Gagne
The acquisition of the veteran Flyer and two-time Canadian Olympian was one of Yzerman's shrewdest offseason moves. Although Gagne makes $5.25 million, he has only one year left on his deal. If he can stay healthy and chip in 30-40 goals playing on the top two lines and seeing lots of power-play time, it's a win-win situation. If Gagne is sidelined (he has been troubled by groin, foot and concussion issues in recent years and missed 84 games over the past three seasons), the team's exposure is limited to this year only. Gagne seems pumped in his new surroundings and may start the season playing with Lecavalier.
PREDICTION: Hey, we've been aboard the Lightning bandwagon for a couple of years; maybe we were just ahead of our time. Regardless, we do believe Yzerman has assembled a playoff-ready coaching staff and lineup. They won't catch Washington for the Southeast Division title, but should settle comfortably into the middle of the East playoff pack.
Scott Burnside covers the NHL for ESPN.com.
More From The Magazine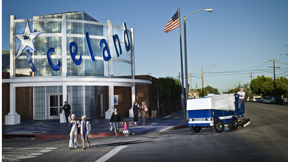 ESPN The Magazine's "Ice Issue" provides even more in-depth coverage of the upcoming NHL season:
• Smith: What is Gary Bettman's legacy?
• Fleming: Most beloved machine in sports
• Berra: The Red Wings' scouting edge
Coach's Corner
Coach:
Guy Boucher
Experience:
Entering first NHL season
Record:
N/A
Stanley Cup titles:
N/A
• One veteran player told ESPN.com that after the first team meeting with Boucher, he felt like standing up and applauding. "That's a coach," he said. Others have echoed that sentiment, praising Boucher's passion and intensity.
"Every meeting we're having with him is pretty intense," Simon Gagne said. "He's not even on the ice and guys are going all-in, all out there. ... Even the scrimmages, the tempo out there, it's almost faster than a regular hockey game."
Boucher, the youngest coach in the NHL at age 38, has no qualms about his ability to do the job here even though his apprenticeships at the junior and AHL levels was extremely short.
"Basically, I'm approaching this as I always have in every new environment that I've been in, I'm going to coach people, and that doesn't change," Boucher told ESPN.com. "Whether they're 25 or 17 or 30, they want to be better hockey players, they want to improve, they want to have the best season they've ever had."
The Fab Five
Burnside's top positional players for the Bolts:

F -- Vincent Lecavalier: Bounce-back time for the captain? The stage is certainly set for it.

F -- Martin St. Louis: May move to the wing with Lecavalier, although he had great chemistry with Stamkos. Either way, he's the heart and soul of this team.

F -- Steve Downie: Can the one-time wild child keep his emotions in check and enjoy another top offensive season?

D -- Pavel Kubina: The big man with the big shot won a Cup in Tampa and was ecstatic at the chance to return to his first NHL home.

D -- Victor Hedman: The No. 2 overall pick in the 2009 draft struggled at times last season, but he's a keeper.
Fantasy Focus

Best bet: Steven Stamkos
After a solid, 46-point rookie season in 2008-09, Stamkos blew away everyone's expectations last season and led the league in goals and finished with 95 points. It's safe to say Stamkos has shown us all his cards. Can he repeat those numbers? Sure. He still has Martin St. Louis as a skilled winger, the power play is getting better with the addition of skilled defenseman Pavel Kubina and Simon Gagne will help with secondary scoring to keep the pressure off. -- Sean Allen

Risky pick: Vincent Lecavalier
Last season was a bit of a disappointment for Lecavalier owners; he was well below a point per game and finished with a minus rating for the second season in a row. What has been Vinny's trouble? A lack of quality linemates, for one. But now Gagne and Teddy Purcell are available to take some shifts with Vinny, and Sean Bergenheim, Ryan Malone and Marc Pouliot are waiting in the wings. Consider Lecavalier as a top-end No. 3 center with upside. -- SA

Sleeper pick: Teddy Purcell
Purcell should be a lot better than his numbers in the NHL have shown. He has the size, strength and skill to score points and has dominated at the AHL level, but he hasn't managed to display those skills in NHL just yet. After a trade to the Lightning at the end of last season, he finished with nine points in 19 games, which could possibly be a sign of things to come. Purcell looks like a good player to try on the wing with Lecavalier and Gagne. -- SA
More Fantasy: Join now! » Draft kit » Ranks »
Insider: NHL
The Rankings
See how all 30 NHL teams stack up for the coming campaign in The Magazine's 2010-11 Rankings. Story