Tom Szczerbowski/US Presswire The Hawks traded Kris Versteeg to the Leafs as part of their offseason cap purge.
Maple Leafs: 10 Things You Need To Know
By Pierre LeBrun
Five straight playoff years without an appearance, a second overall pick in Tyler Seguin wearing yellow and black instead of blue and white, and a Stanley Cup drought at 43 years and counting.
The fact that the Toronto Maple Leafs remain the highest grossing team in the NHL and the epicenter of the largest fan base in hockey is a testament to a loyal following. But the passionate fan base feels pushed to the limit right now. It wants a playoff game. It wants success. And the GM wants it just as badly.
"I'm not accustomed to not being in the playoffs," Brian Burke told ESPN.com. "I was in the playoffs seven straight years before I got here. That's what this game is all about, and that's our goal and intention. I think we're finally getting to a Brian Burke-type team. ... We're not there yet, but we're closer."
The veteran GM continued his aggressive revamp of the Leafs in the offseason. Focusing on his forward group, he made four additions: Kris Versteeg, Clarke MacArthur, Colby Armstrong and Mike Brown. Meanwhile, center Tim Brent also surprised at camp and looked to earn a promotion from the AHL. Gone from the Leafs are forwards Wayne Primeau, Viktor Stalberg, Jamie Lundmark and Rickard Wallin, as well as blueliner Garnet Exelby.
But will it all add up to a playoff spot?
1. Special teams
There's no way to go but up for Toronto. Both the power play and penalty killing were ranked dead last in the NHL last season -- an absolute recipe for disaster.
"Yes, that's been a primary focus here at camp," Leafs coach Ron Wilson told ESPN.com midway through the preseason. "Our penalty killing has been really good so far. Our power play has been good as well in preseason."
2. A strong start
The Leafs' season was over before it started last season. Toronto won only once in its opening 13 games. A slow start must be avoided this time around.
"Our regulars actually didn't play that well, and, in particular, our goaltending wasn't very stable," Wilson said. "That had a lot to do with our bad start. Plus I was experimenting with lines. This year, boom, came right in and right off the bat had our lines set. Although three days in, when I didn't see it working, I quickly changed the top line."
3. The goaltending
Yes, Wilson mentioned above how unstable his goaltending was. That's code for "get Vesa Toskala out of there." The Jean-Sebastien Giguere/Jonas Gustavsson duo, over a full season, should provide more stability between the pipes. The question is, will it be the veteran or the kid taking charge?
"Ronnie came out and said Giggy would be the No. 1, and that's my guess too based on his age and ability," Burke said. "But I also think the goalies will sort that out. It's the only position besides starting pitching where you really audition every night. ... They'll sort it out. We're comfortable with both goalies, and they'll sort out how much they play."
Giguere, 33, has something to play for. He's a prideful veteran who wants to re-establish himself to show his 2007 Cup-winning form isn't that far removed. He's also slated for unrestricted free agency July 1.
4. About that top line ...
Toronto's top line will feature Tyler Bozak between Kessel and Versteeg. The second line will likely have Mikhail Grabovski between Nikolai Kulemin and Clarke MacArthur. The third line should have Tim Brent between Fredrik Sjostrom and Colby Armstrong, while Mike Brown, John Mitchell, Christian Hanson and tough guy Colton Orr appear destined to be the fourth-line group. The Leafs were 25th in the NHL in offense last season. Can this group produce more?
"We don't know yet if we have enough offense or not," Burke said. "Obviously the first part of that equation is how much offense do you need? That all starts with how many pucks can you stop in your end, and last year the answer was not many. With our goaltending and our defense, we're planning on not having to score as many goals as we had to last year."
5. The defense
The blue line is Toronto's greatest area of strength. Dion Phaneuf and Mike Komisarek are joined by Tomas Kaberle, Francois Beauchemin, Luke Schenn, Carl Gunnarsson, Brett Lebda and Jeff Finger. "That's the way I've always done it," Burke said. "You can never have too many D-men."
Well, maybe one too many? Burke put Kaberle on the trade market when his no-trade clause dropped during a summer window but didn't find the deal he wanted -- a top-six forward in return. So Kaberle returned to the Leafs' lineup, armed with his no-trade clause. He's UFA on July 1, so the saga isn't over yet.
6. A new captain
Phaneuf was given the captaincy in the offseason. The rugged and talented blueliner hopes to rediscover the form that saw him burst into the league with Calgary and become one of the top offensive threats on the back end, scoring a career-high 60 points (17-43) in 2007-08.
"For a defenseman to rack up points, you need a high-powered offense, so that remains to be seen," Burke said. "But I think he can certainly do more with us than he's done in the past two years, and we count on him for the rest of the package: He moves the puck well, he's physical and his leadership is excellent. Just like Dion coming to us has given us life, I think coming here has given him life, too."
7. Depth chart
The Leafs found a third line they liked in camp. Tim Brent, the preseason surprise, won the job and was to begin the season centering Sjostrom and Armstrong.
"Now, they still have to go out and perform and be effective at it," Wilson said. "Timmy Brent has met exactly what we need for a third line. He's defensively responsible, he's a decent penalty killer and that's what he accepts."
8. The new arrival
Kris Versteeg arrives in Toronto courtesy of Chicago's offseason cap purge. Used primarily as a third-liner with the Cup champions, he'll get the chance to shine as a first-liner in Toronto.
9. Taking their time
Nazem Kadri, who turns 20 on Oct. 6, was supposed to make the jump to the big club this season, but the 2009 first-rounder likely will begin the year in the AHL.
"He's just plain and simple not ready," Wilson said. "We'd hoped that he'd be ready, but he hasn't, right from rookie camp. He simply hasn't played as well as he did last year. Sometimes at 18 or 19, you think you've figured it all out and you're reading your own headlines and you think you'll be the savior for the season, and you're not quite as mentally prepared as you should be. That's the case here."
Wilson made those comments a day before Kadri responded with his best game of the preseason in Ottawa on Wednesday night, scoring twice and looking like the prospect Toronto had hoped to see at camp. Despite the big performance, the feeling in and around the organization Thursday was he would likely still begin the season in the AHL.
10. Leafs get their Phil
Somewhat lost in the pair of first-round picks the Leafs gave up to acquire Phil Kessel was the fact Kessel had a decent campaign last season. He missed camp while recovering from offseason surgery and missed the opening 10 games, but scored 30 goals in 70 games on one of the league's most inept offenses.
"The only pure sniper we have is Phil," Burke said. "He's had back-to-back 30-goal seasons, he's healthy, he was able to train for the time in two years. I think high 30s is realistic for him, maybe crack 40."
PREDICTION: This should be a better Leafs team thanks to steadier goaltending and a real deep blue line. But the lack of depth up front, particularly at center, is a scary proposition. We think the Leafs will have more battle in them but come up just short, placing ninth or 10th in the Eastern Conference.
Pierre LeBrun covers the NHL for ESPN.com.
More From The Magazine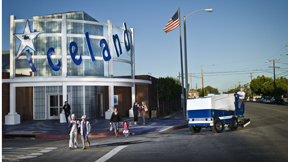 ESPN The Magazine's "Ice Issue" provides even more in-depth coverage of the upcoming NHL season:
• Smith: What is Gary Bettman's legacy?
• Fleming: Most beloved machine in sports
• Berra: The Red Wings' scouting edge
Coach's Corner
Coach:
Ron Wilson
Experience:
Entering 1tth NHL season, his third with Toronto
Record:
582-499-101-73
Stanley Cup titles:
0
• Ron Wilson enters his third year as Leafs coach.
South of the border, his coaching acumen is respected more than ever after he led a young Team USA squad to within one goal of an Olympic gold medal in Vancouver in February. In Toronto, some locals believe he should be fired if the Leafs get off to a slow start.
"I think we have one of the best coaches in the NHL," Burke said. "I think he's finally got a group he's excited about for the first time since he got here, and we're all looking forward to a successful season. There's no issues with the coach."
Wilson, to his credit, wants his team to play an aggressive, offensive style. Whether or not he has the horses to pull it off is another question.
The Fab Five
LeBrun's top positional players for the Sens:

F -- Phil Kessel: A healthy Kessel could reach the 40-goal plateau this season.

F -- Tyler Bozak: He really should be a No. 2 center in this league, but in Toronto, he's forced to play on the top line.

F -- Kris Versteeg: Gets a chance to flex his offensive muscle after being limited as a checker on the Cup champion Blackhawks.

D -- Tomas Kaberle: He likely didn't think he'd be back in Toronto. Now he's focused on a big season to help him hit the jackpot next summer on the open market.

D -- Dion Phaneuf: He sounded at peace and comfortable in his own skin on the eve of this season. The trade from Calgary was a blessing.
Fantasy Focus

Best bet: Dion Phaneuf
The point man for the Leafs, Phaneuf will rack up the on-ice minutes, hit the score sheet with regularity and continue to play with a bit of pepper (read: collect more than 100 PIM). Forget last season's disappointing output; the freshly anointed leader is ready to turn the page. Phaneuf is poised for an explosive season. -- Victoria Matiash

Risky pick: Jonas Gustavsson
Leafs GM Brian Burke liked "The Monster" enough to bring him back on a two-year contract extension this summer and Gustavsson should continue to improve. He ended the season strong, posting a 7-1-0 record, 2.06 GAA and .923 save percentage over eight starts in March. Those numbers probably are not sustainable over the course of a season, but even a slight reduction will be quite acceptable.-- Tim Kavanagh

Sleeper pick: Nazem Kadri
The young sniper has nothing left to prove in junior hockey after scoring 93 points in 56 games in the OHL last season. Kadri is fast and has that extra level of hockey awareness that makes him skate to the exact right spot. He'll have to overcome his small frame if he is to make an impact against NHL defenders. Kadri still has a ton of upside and may be worth a gamble with your utility spot or as a bench player. -- Sean Allen
More Fantasy: Join now! » Draft kit » Ranks »
Insider: NHL
The Rankings
See how all 30 NHL teams stack up for the coming campaign in The Magazine's 2010-11 Rankings. Story