Los Angeles Kings: Contenders once again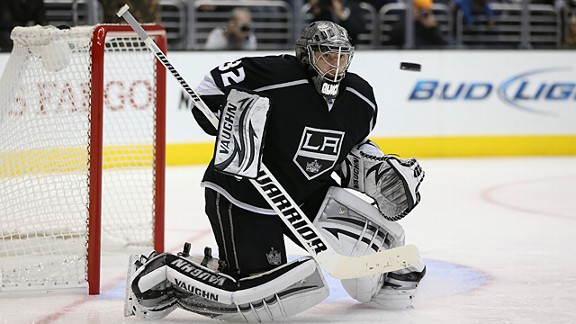 Jeff Gross/Getty ImagesJonathan Quick and the Kings look just as solid as they did last season as they seek to avenge their Western Conference final series loss against the Blackhawks.
The Los Angeles Kings followed up their historic Stanley Cup victory in 2012 with a trip to the Western Conference finals last season, where they dropped a five-game set to the eventual Stanley Cup champion Chicago Blackhawks. The disappointment of not being able to replicate their magical run of 2012 must be tempered by the fact the Kings have thus far followed their team plan to a T: build a competitive young team that is not just capable of making the playoffs every year, but of contending in any given season. There is no reason to think a team that was 10th in goals scored and seventh in goals allowed per game last season won't follow that pattern again in 2013-14, given its enviable mix of established veterans and young players knocking on the NHL door, high-end skill players and dedicated role players, and one of the top goaltenders in the game in Jonathan Quick. The Kings' season will also be further highlighted by the NHL's first outdoor game played in California, with Los Angeles taking on its neighbors from Anaheim at Dodger Stadium on Jan. 25.
CHANGES
The Kings' offseason changes don't appear, on the surface, to have a significant impact on the team's overall outlook. The departure of tough-as-nails defenseman Rob Scuderi, who returned to his original NHL home in Pittsburgh via free agency, will be mitigated by the return of defenseman Willie Mitchell after he missed all of last season. Mitchell appears to be ready to start the season as a top-four, minute-eating cornerstone defenseman.
"I don't know how you define underrated, but in terms of what Mitchell does, he is in my mind one of the most underrated players in the league," GM Dean Lombardi told ESPN.com.
Dustin Penner, who experienced extreme highs and lows with the Kings, has returned to Anaheim. Jonathan Bernier, at one point considered the goalie of the future for the Kings, was dealt to Toronto for winger Matt Frattin, netminder Ben Scrivens and a second-round pick. At the management level, Ron Hextall, one of the most high-profile assistant GMs in the business, also went home, returning to a similar position with the Philadelphia Flyers. Hextall's role was immediately filled by former Kings defenseman and NHL executive Rob Blake.
STRENGTHS
As one would expect from a Darryl Sutter-coached squad, the Kings were difficult to play against on both ends of the ice and boasted top-10 special teams. The Kings' strength offensively is in their balance and Jeff Carter, who led the team with 26 goals and an NHL-best eight game winners, will look to set the pace for a forward group that includes Mike Richards, playoff scoring hero Justin Williams, captain Dustin Brown, Anze Kopitar and Jarret Stoll. Youngster Tyler Toffoli was impressive as a late-season call-up, with six points and a plus-5 in 12 postseason games, and could press for more minutes this season along with Tanner Pearson and Linden Vey.
"They're all going to be pushing not just to play in the NHL but to help us win. And there's a difference," Lombardi said.
Trevor Lewis has grown into an important two-way forward who earned an invitation to the U.S. Olympic orientation camp. There's plenty of offense from the back end, too, with former Norris Trophy nominee Drew Doughty, emerging offensive star Slava Voynov and Jake Muzzin, who filled in on the power play with Doughty picking up heavy minutes killing penalties and playing against other team's top offensive units five-on-five. On the defensive side, the Kings play as physical a brand of hockey as any team in the NHL. Anyone who saw even five minutes of their first-round series against St. Louis understands the price that must be paid when playing the Kings. One silver lining to missing Mitchell and Matt Greene from the blue line for most of the season was that it forced Doughty, Voynov and Muzzin to accept different, bigger roles, and that should make them better all-around players down the road. Of course, it begins and ends on defense with Quick in goal. The former Vezina Trophy winner and playoff MVP wasn't himself during the regular season after the lockout ended last January, finishing with a .902 save percentage, 0.30 worse than the previous season. But he reverted to form in the postseason and was a force, finishing with a 1.86 GAA and .934 save percentage.
WEAKNESSES
By the end of it in the Western Conference finals, the Kings just couldn't stay with the Blackhawks. Maybe it was the condensed season or the Cup hangover or just trying to sustain the level of play that carried them through tough series against St. Louis and San Jose. That's not necessarily a weakness but a reality. That's Kings hockey, but it takes a lot out of you. Quick will want to avoid the slow start of last season and he should, given the full training camp. Is Scrivens up to the task of relieving Quick? He has played in only 32 NHL games at age 27. The return of Mitchell is a bonus given the ripple effect on the entire defense corps, but Lombardi acknowledged that no matter which player misses an entire season, it is not an easy thing to overcome in the short term. If Mitchell cannot stay healthy, it once again puts a much larger burden on Doughty moving forward, and that could be problematic come playoff time in terms of the fatigue factor. Like Chicago and Pittsburgh, the Kings have a large number of potential Olympians and that's another issue for Sutter to manage between the end of the Olympic tournament and the start of the playoffs in April.
REALIGNMENT EFFECT
The Kings move from the tough former Pacific Division to an even tougher version of the Pacific. Travel should be less onerous, though, and they are a team that has never seemed to mind coming from back in the pack, as their 2012 Cup run from the No. 8 seeding proved.
PREDICTIONS
Burnside: The Kings will be back in the thick of the playoff tournament in the Western Conference next spring, finishing fourth in the Pacific and getting a wild card.
Custance: Second in the Pacific Division.
LeBrun: Second in the Pacific Division.
Melrose: Fourth in the Pacific Division.
Strang: Second in the Pacific Division.
ESPN Senior Writer
Covers hockey for ESPN.com
10 years at Toronto Sun, Windsor Star and National Post
Wrote best-selling true crime book "Deadly Innocence"
Coach's Corner

Coach: Darryl Sutter
Experience: Entering 14th NHL season
Record: 461-349-101-46
Stanley Cup titles: 1
Who's On The Move
The offseason signings/acquisitions and departures for the Kings:
Signings/Acquisitions
• June 18: Re-signed D Slava Voynov.
• June 23: Acquired RW Matt Frattin, G Ben Scrivens and a 2nd-round pick in the 2014 or 2015 NHL Draft to Toronto for G Jonathan Bernier.
• July 4: Re-signed D Keaton Ellerby.
• July 5: Signed D Jeff Schultz.
• July 12: Re-signed D Jake Muzzin.
• July 15: Re-signed D Alec Martinez.
• July 16: Acquired LW Daniel Carcillo from Chicago for a conditional pick in the 2015 NHL Draft.
• July 18: Re-signed RW Dustin Brown.
• July 18: Named Rob Blake assistant general manager.
• July 21: Re-signed C Jordan Nolan.
• July 23: Re-signed C Trevor Lewis.
• Aug. 2: Re-signed LW Kyle Clifford.

Departures
• G Jonathan Bernier (traded to Toronto)
• D Rob Scuderi (unrestricted free agent, signed by Pittsburgh)
• C Brad Richardson (unrestricted free agent, signed by Vancouver)
• LW Dustin Penner (unrestricted free agent, signed by Anaheim)
• RW Anthony Stewart (unrestricted free agent)
Fantasy Focus

Anze Kopitar
Kopitar brings a complete game to the ice and the result is often a strong fantasy performance for the defense-first Kings. As a consistent presence on the ice with Dustin Brown and Justin Williams, Kopitar has found a groove that will inevitably bring him close to 30 goals and 80 points each season. The result for fantasy owners is consistent, if unspectacular, performance from the 26-year-old fantasy second-round staple. Should we continue waiting for another step forward from the Kings' top centerman? No, but that doesn't mean his production is anything to sneeze at. Just like Steven Stamkos has used consistency to edge into the top spot in our rankings this season, Kopitar is using consistency to stick around as a Top 12 forward.
More fantasy: Join now! » Top 250 players »