Minnesota Wild: Still not quite all there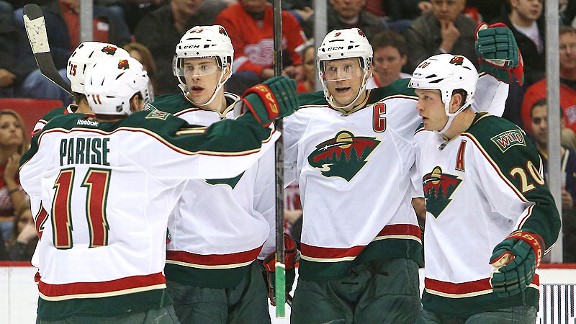 Tom Szczerbowski/Getty ImagesThe Wild had plenty to celebrate last season, but now they must learn to live with a smaller salary cap and more real expectations.
The euphoria of a first playoff berth since 2008 for the Minnesota Wild was tempered quickly this offseason with the sobering reality of a shrinking NHL salary cap which would force tough decisions. The hope is that despite losing veterans such as Matt Cullen, Pierre-Marc Bouchard and Cal Clutterbuck that the team's rising, young organizational depth is ready to make up the difference. Either way, the additions of Zach Parise and Ryan Suter a year ago did indeed translate into a playoff spot, a place the Wild hopes to get to again this season.
"For us, it's a cliche, but we want to take the next step and continue to get better and not just our young players as individuals but as a team," Wild GM Chuck Fletcher told ESPN.com. "Clearly that's where the growth of our team will be. We feel we still have a solid core of proven, quality hockey players. You look at Mikko Koivu, Zach Parise, Jason Pominville, Dany Heatley, Ryan Suter, Niklas Backstrom -- they're all players that have had All-Star-caliber seasons and been very good players in this league. We have good role players in Kyle Brodziak and Matt Cooke, Torrey Mitchell and Mike Rupp up front, Keith Ballard and Clayton Stoner, too. We think it's a pretty good mix of established, veteran players combined with young up-and-coming players. But clearly for our team to take a step, we're going to need some of the young players to progress and improve and take on bigger, more productive roles with our team."
CHANGES
Gone are Cullen, Bouchard, Clutterbuck, Setoguchi -- all top-nine mainstays last season, as well as blueliners Tom Gilbert and Brett Clark. The additions include forwards Matt Cooke, Nino Niederreiter plus blueliners Keith Ballard and Jonathon Blum. Niederreiter, just 21, could be a steal of a trade for Fletcher who dealt Clutterbuck at a third-round pick to the Islanders on draft day for him last June. The young forward's relationship with New York had become strained; he was unhappy he had to play in the AHL last season, but a fresh start and new attitude in Minnesota could make this one heck of a deal.
"I think our veteran players were pretty surprised at how good he was, on talent, skill level and size and scoring ability and skating," Fletcher said. "He's gotten quicker. I know in the scrimmages I've had people make comments to me that they didn't realize he was that good."
But replacing the minutes left behind from Cullen, Bouchard and Setoguchi, in particular, won't be easy. The hope is that youngsters such as Charlie Coyle, Mikael Granlund and Jason Zucker can jump up with the chance.
"The bottom line is, we don't need all of them to excel and be perfect right away," Fletcher said. "We need a couple of them to step up and be productive. We're not asking these kids to be saviors, we just want them to contribute."
STRENGTHS
There's great character and leadership at the helm here led by Koivu, Parise, former Sabres captain Jason Pominville and star blueliner Ryan Suter. That leads to a strong work ethic on this team, a culture that wants to be about winning.
Meanwhile, the top defense pairing of Suter and sophomore Jonas Brodin is as good as any in the NHL. Brodin, who warranted more attention than he got for the Calder Trophy last season, is just the latest example of the kind of young talent that's coming up the pipe in Minnesota, as Fletcher made it a priority when he came on in May 2009 to restock the empty prospect shelves in the organization. He has done that. It's why, as much as it hurts to let go of some veteran talent like Cullen and Setoguchi, the hope is that the team's strong drafting over the past few years will help bridge the gap, with young players making this their team.
WEAKNESSES
The power play struggled down the stretch last season, and by no coincidence that happened after losing Dany Heatley to injury. Heatley is entering the final year of a contract that carries a $7.5 million cap hit, an anchor of a cap charge to be sure, yet still a player that Fletcher says is important to his team.
"He was on a 25-goal pace [over 82 games] last season. He's still a valuable commodity," Fletcher said. "He may not be the guy he was once in Ottawa, but he can still score goals. After he got hurt last season, our power play died. We couldn't score at all on it without him. And our secondary offense also dried up. The things that Dany does well, shoot the puck, go to the net, his willingness to stay in front of the net and compete for pucks, those are all areas we're not strong at. So he still brings an important dimension to our team. We really need his offensive production. We're not deep enough yet not to need him."
Where they are not deep enough, perhaps, as mentioned above, is down the middle. Grandlund, Coyle, Haula are all options as the No. 2 center. While Brodziak is a solid two-way center, he's cut out to be a No. 3 man, not No. 2. They need a reliable No. 2 man and have to find it from one of their kids.
"Brodziak, regardless of who you call your No. 2 center-man, he's probably going to be No. 2 in ice time with the different roles that he plays on the team," Fletcher said. "He's had a 20-goal season. So there's different things we can do. And if we're not happy with what we see, then obviously we can look outside the organization. But we're hopeful the answer lies within our group. We're prepared to let this thing play out over the first couple of months."
The blue-line corps in Minnesota remains a question mark when you talk to people outside the organization. After Suter and Brodin, there aren't any household names here, although Jared Spurgeon and Marco Scandella showed promise last season. The additions of Blum and Ballard add some depth.
"What we hope happens here is that we have six guys that can play and we don't have to hide anybody," Fletcher said. "I think our group, I don't know if it's underrated or underappreciated, but we feel there's more talent on our back line than probably what people on the outside think we have. It's probably because people don't take Spurgeon seriously as a good hockey player in this league, people don't know about Scandella, people assume that Keith Ballard can't play anymore. Obviously we don't share those opinions."
REALIGNMENT EFFECT
The Wild left the softer Northwest Division for the tougher new Central Division where Chicago and St. Louis await, but on the other hand welcome the much better travel conditions and start times that come with the switch. The organization fully supported the league in this realignment scenario, wanting to play more of its games in the Central and Eastern time zones. Plus, the new setup left only 14 teams in the West, giving those teams a better chance at making the playoffs than in the East.
PREDICTIONS
LeBrun: Fourth in the Central Division.
Burnside: Fifth in the Central Division.
Custance: Fourth in the Central Division.
Melrose: Fifth in the Central Division.
Strang: Third in the Central Division.
ESPN Senior Writer
Covers the NHL for ESPN.com and TSN in Canada
Six years on the "Hockey Night In Canada" Hotstove panel
13 years at The Canadian Press national news agency
Coach's Corner

Coach: Mike Yeo
Experience: Entering 3rd NHL season
Record: 61-55-14
Stanley Cup titles: 0
Who's On The Move
The offseason signings/acquisitions and departures for the Wild:
Signings/Acquisitions
• June 12: Re-signed LW Stephane Veilleux.
• June 17: Re-signed D Marco Scandella.
• June 24: Re-signed G Niklas Backstrom.
• June 30: Acquired RW Nino Niederreiter from NY Islanders for RW Cal Clutterbuck and a 3rd-round pick in the 2013 NHL draft.
• July 5: Signed D Keith Ballard and LW Matt Cooke.
• July 5: Re-signed D Jared Spurgeon.
• July 12: Signed D Jonathon Blum.

Departures
• RW Cal Clutterbuck (traded to NY Islanders)
• D Tom Gilbert (unrestricted free agent)
• RW Devin Setoguchi (traded to Winnipeg)
• C Matt Cullen (unrestricted free agent, signed by Nashville)
• C Pierre-Marc Bouchard (unrestricted free agent, signed by NY Islanders)
• D Brett Clark (unrestricted free agent)
Fantasy Focus

Niklas Backstrom
We keep waiting for the big downturn for Backstrom, and it just hasn't happened yet. 2013 brought about a bit of a drop in save percentage (.909, off of his career average of .917), but his goals-against average of 2.48 wasn't too shabby, and oh yeah, he had 24 wins, which tied for best in the NHL last season. There was some thought that he wouldn't be re-signed by the Wild, but with that taken care of, he'll go back to being a reliable No. 2 option for fantasy.
More fantasy: Join now! » Top 250 players »