Tampa Bay Lightning: No bolt from the blue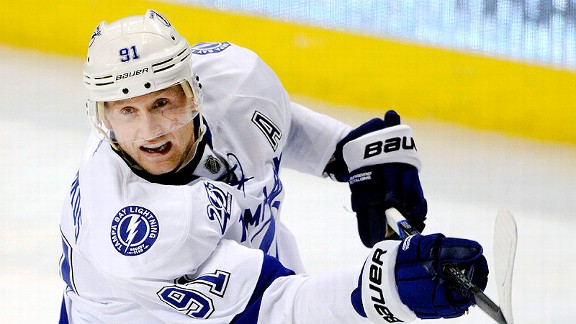 Ronald C. Modra/Sports Imagery/ Getty Images Steven Stamkos will suddenly be a veteran for the Lightning, who will rely on their own farm, inlcuding their coach, for their firepower.
After being called up from the AHL bench to replace Guy Boucher as head coach last season, Jon Cooper was afforded an important window into what needed to take shape in Tampa entering the 2013-14 season. As the Lightning finished 14th in the Eastern Conference last season, Cooper -- who had guided Tampa Bay's AHL affiliate, the Norfolk Admirals, to a minor league title in 2011-12 -- used the final stages of that disappointing season to look ahead.
"I've been in the organization for three years, all the guys that were getting called up were kind of my guys, that I had had for two to three years, I won with them," Cooper told ESPN.com. "I knew that whole crew. But it was a matter for me to get to know the veterans here. Getting to know them late last season, it was better for me just to sit back and watch them play the games. I had a luxury a little bit to try out different players in different roles because we were out of it. It was an unreal education of what we had, and that was the best thing for me. It gave me a pretty good grasp of what guys could do and helped me moving forward.
"It's really helped me going into this year."
CHANGES
Cooper enters his first full season as head coach in Tampa and welcomes a few new faces on the ice, including winger Jonathan Drouin, the third overall pick from this past June's draft, and No. 2 center Valtteri Filppula. Vincent Lecavalier, longtime face of the franchise, was bought out in June and replaced in the lineup by Filppula. Otherwise, the core of this team returns, although some of the young faces given a look from AHL call-ups last season should make this team.
STRENGTHS
Led by scoring machine Steven Stamkos and ageless wonder Martin St. Louis -- who won the Art Ross Trophy last season as the NHL's leading scorer -- the Lightning again filled the net last season, placing third overall in goals per game behind only Pittsburgh and Chicago. With the additions of Drouin and Filppula, that offensive strength doesn't figure to change much. However, Cooper said he will pull the reins in a little in an effort to play a better-balanced game. Tampa was 26th in the NHL last season in goals against per game.
"I would much rather take gifted offensive players and teach them how to play D than take a bunch of guys that play D and teach them how to score," Cooper said. "Now we're one step ahead of the game. The thing is, coming second or third in the league in goal scoring, that's not going to get us anywhere. The problem is, we can score all we want, but if we don't keep it out of the net, we're not going to be a threat to make the playoffs. A huge emphasis for us is that everything starts in the defensive zone. I told the guys, 'Let me know the last time you saw a breakaway originate from the offensive end.' Everything starts in the D-zone. If we want any chance of being in the conversation in April, we have to play D. And if it comes at the expense of us not scoring as much as we have in the past, so be it. But if we keep the puck out of the net and go with that team defense mentality, I think we'll be better off. We're going to pull the reins back just a little."
Cooper wants his team to be harder to play against, citing the way the Kings and Blues play in the West.
"We don't have to give up our offensive mindset because we're going to play more D. But we just have to play more D," Cooper said.
Cooper himself could emerge as a real strength of this team. He was a runner-up for the coaching vacancies in both Washington and Edmonton in the summer of 2012, but Lightning GM Steve Yzerman fortunately still had Cooper when it was time to replace Boucher last season. Many see Cooper as an up-and-coming star behind the bench, and the Lightning certainly hope that's the case.
WEAKNESSES
The blue-line corps underwhelmed last season, as did the goaltending. Both areas need to be shored up this year for the Bolts to have a chance. Cooper said it's a teamwide approach that will make those areas better.
"I believe that the forwards have to take a little bit of accountability," Cooper said. "If our forwards help out our D, and our D helps out our goaltending, everybody is going to be better. That's kind of the approach we've taken."
A tighter, more cohesive team defense will help that blue-line corps and goaltending look better, Cooper said.
"When you give up seven, eight odd-man rushes a game, and you give up 12 quality scoring chances right from the slot, I don't care if you're [Henrik] Lundqvist, you're not stopping all those," the Tampa coach said. "I think our D core will be looked at differently if as a whole we play better team defense."
Anders Lindback struggled at times last season in his first crack at being a No. 1 netminder. The Bolts acquired Ben Bishop at the trade deadline to help foster competition in net, the hope being a true No. 1 emerges. It certainly makes sense to double up on your chances.
"In a perfect world, would you like to see one guy emerge and beat the other guy out? You would, because that would basically mean that he's probably playing outstanding and the team is winning," Cooper said. "And that's what you want. But, in saying that, we have two talented guys. I'm a big believer in not having a real young goaltender, I think that's the position where the guys take longest to develop. We're getting them now at the 25- and 26-year-old age when goaltenders start coming into their own. The only knock on our two guys is that they don't have a laundry list of NHL experience. They're going to have to gain that experience this year. That's probably the only downfall to it. But I like where we're at. If we cut down on the chances we give up, it'll just help them out."
REALIGNMENT EFFECT
Not great for the Lightning, if you're talking about time spent in airports. Tampa has to travel more now, with more games in Montreal, Ottawa and Toronto as part of the new Atlantic Division. On the flip side, the Lightning can count on selling more tickets to sun-starved fans traveling to Tampa for vacation from those markets, as well as fans from Boston and Detroit. In the end, though, at least for this season, it's a tougher challenge for the Bolts to make the playoffs.
PREDICTIONS
LeBrun: I really like the way this franchise is shaping long term, but I think this will be another tough season in the standings. Look for a sixth-place finish in the eight-team Atlantic Division.
Burnside: Sixth in the Atlantic Division.
Custance: Fifth in the Atlantic Division.
Melrose: Sixth in the Atlantic Division.
Strang: Seventh in the Atlantic Division.
ESPN Senior Writer
Covers the NHL for ESPN.com and TSN in Canada
Six years on the "Hockey Night In Canada" Hotstove panel
13 years at The Canadian Press national news agency
Coach's Corner

Coach: Jon Cooper
Experience: Entering first full NHL season
Record: 5-8-3
Stanley Cup titles: 0
Who's On The Move
The offseason signings/acquisitions and departures for the Lightning:
Signings/Acquisitions
• May 6: Re-signed D Radko Gudas.
• June 3: Named Rick Bowness associate coach.
• June 26: Re-signed D Keith Aulie.
• July 1: Re-signed LW Pierre-Cedric Labrie.
• July 3: Re-signed G Cedrick Desjardins and D Matt Taormina.
• July 5: Signed C Valtteri Filppula.
• July 16: Re-signed D Mark Barberio.
• Aug. 9: Named George Gwozdecky assistant coach.

Departures
• C Vincent Lecavalier (unrestricted free agent, signed by Philadelphia)
• LW Benoit Pouliot (unrestricted free agent, signed by NY Rangers)
• D Brendan Mikkelson (unrestricted free agent, signed by Pittsburgh)
• G Mathieu Garon (unrestricted free agent)
Fantasy Focus

Martin St. Louis
St. Louis is still as dangerous a playmaker on the ice with Steven Stamkos as any of the young bucks in the league. His damaging reduction in power-play assists from the 2011-12 season proved to be an aberration, and St. Louis was back to his old tricks in the lockout-shortened campaign. Why isn't he higher in the forward rankings? For one thing, St. Louis is 38 years old now and not getting any younger. We don't think he will slow down just yet, but the downside of the hill is getting closer. To that end, the Lightning added Jonathan Drouin at the top of the entry draft this offseason and he may start getting work with Stamkos as early as this season. Don't knock the veteran St. Louis too far down your draft lists, but remember his best days are behind him.
More fantasy: Join now! » Top 250 players »