Scores for May 20, 2013

Auto Update:
Off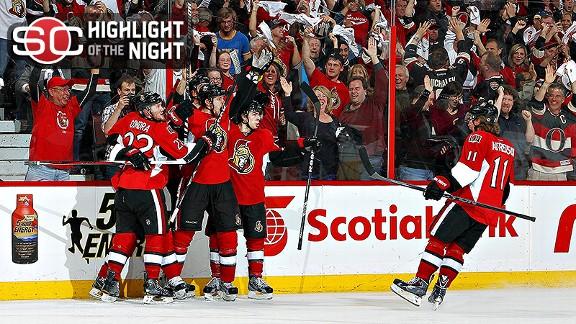 Senators Stun Penguins In Double OT
Highlight Of The Night: Daniel Alfredsson scored a short-handed goal with less than 30 seconds remaining in regulation to tie the game and Colin Greening scored in double overtime to complete the Senators miraculous come-from-behind victory.
Tags:
NHL
,
Penguins
,
Senators
,
playoffs
,
highlight
,
overtime
,
Barry Melrose
,
Evgeni Malkin
,
Sidney Crosby
,
Daniel Alfredsson
,
Jason Spezza
,
Colin Greening
Senators Stun Penguins In Double OT
VIDEO PLAYLIST
Are you sure you want to hide this video?
Hide future ScoreCenter video content
0
WESTERN CONFERENCE SEMIFINALS - GAME 3 - RED WINGS LEAD SERIES 2-1
WORK FOR ESPN.COM
Want to help make the products you love better? Join our team.