Commentary
Uni Watch: Classic hockey debate
It's your chance to weigh in on the white/color jersey divide for NHL home teams
Updated:
August 14, 2014, 2:04 PM ET
By
Paul Lukas
| ESPN.com
Which uniform does a team wear for a home game? It depends on which sport we're talking about. In baseball and basketball, the home team usually wears white. In football, the home team usually wears a color. And in hockey -- well, it depends on which era we're talking about.
Until 1951, some NHL teams had only one uniform, so the question of what to wear at home was often moot. In 1955, the league mandated that teams wear colors at home and white on the road. That arrangement was reversed in 1970, when teams began wearing white at home. And then it was reversed again in 2003, when teams went back to wearing colors at home, the format that's still in place today.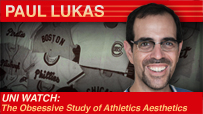 That brings up one of those classic questions that fans can debate for hours: Which uniform is better at home: white or colors?
And then there's a related but distinct question: Does a hockey team look better wearing a white uniform or a colored uniform?
Uni Watch has always been in favor of NHL teams wearing white at home. Part of this is no doubt because your friendly uniform columnist grew up in the white-at-home era, but there's more to it than that. The feeling here at Uni Watch HQ is that most NHL teams just look better in white. For starters, the pants on the white unis always provide a nice measure of contrast, while some of the colored unis are essentially monochromatic, which doesn't provide as much visual interest. Sure, some colored uniforms do have contrasting pants, but most of those uniforms still seem less satisfying than their white counterparts.
Or at least that's this observer's perspective. What's yours? Let's take a team-by-team look at the NHL's white/color divide. For the table shown below, you can click on each team's name to see its basic white and colored unis (we'll leave alternate uniforms out of this discussion) and then vote for which one you think is better. Remember, we're not talking about just the jerseys here -- we're talking about the visual impact of the full uniforms, including the pants and socks. Ready?
Here we go:
| Team | Uni Watch's Pick | Your Pick |
| --- | --- | --- |
| Anaheim Ducks | This brand-new uni set hasn't made its on-ice debut yet, but the white jersey with the contrasting shoulder yoke is the clear winner. White. | Vote! » |
| Arizona Coyotes | Contrasting pants on the white uni are so much better than the solid-red look. White. | Vote! » |
| Boston Bruins | Classic crest looks better on the black background. Color. | Vote! » |
| Buffalo Sabres | Contrasting yoke and pants will always beat mono-navy. White. | Vote! » |
| Calgary Flames | A red flaming logo makes sense; a black flaming logo does not. White. | Vote! » |
| Carolina Hurricanes | Another case of contrasting versus monochromatic, and it's no contest. White. | Vote! » |
| Chicago Blackhawks | The colors on the headdress really pop against the white background but get lost against the harsh red background. White. | Vote! » |
| Colorado Avalanche | Team name refers to snow, so this one's a no-brainer. White. | Vote! » |
| Columbus Blue Jackets | Two great designs, but one is clearly sharper than the other. White. | Vote! » |
| Dallas Stars | Gotta love a design that makes heavy use of the universe's most underrepresented color: green. Color. | Vote! » |
| Detroit Red Wings | The contrasting elements on the white uni offer so much more visual interest. White. | Vote! » |
| Edmonton Oilers | The orange yoke and orange pant striping are just dynamic enough to help the blue uni draw even with the white one. Tie. | Vote! » |
| Florida Panthers | There's a fine line between colorful and garish, and the Panthers' home uni is on the wrong side of it. White. | Vote! » |
| Los Angeles Kings | Neither of these will win any design awards, but the white one is definitely more tolerable. White. | Vote! » |
| Minnesota Wild | Two very good designs. Let's call it a toss-up. Tie. | Vote! » |
| Montreal Canadiens | Another case of two excellent designs. Tie. | Vote! » |
| Nashville Predators | There's bold and then there's just loud. The Preds' yellow uni is the latter. White. | Vote! » |
| New Jersey Devils | The white background on the circular logo crest helps it pop a bit more against the red jersey. Also, Devils should be red, right? Right. Color. | Vote! » |
| New York Islanders | The white design is soooo much more pleasing to the eye. White. | Vote! » |
| New York Rangers | The white uni is arguably the best in the entire league. The blue one is so blah by comparison. White. | Vote! » |
| Ottawa Senators | It's hard to decide which one is "better" when they're both so mediocre. Tie. | Vote! » |
| Philadelphia Flyers | As is the case with so many teams, the white version feels light and slick, while the colored one feels heavy and leaden. White. | Vote! » |
| Pittsburgh Penguins | The Pens' pale gold tone doesn't contrast well with white. Also, Penguins should be black, right? Right. Color. | Vote! » |
| San Jose Sharks | I'll take a great white shark over a not-so-great blue shark every time. White. | Vote! » |
| St. Louis Blues | There's such a thing as too much blue -- even for a team called the Blues. White. | Vote! » |
| Tampa Bay Lightning | Have to give the nod to the blue design (maybe there isn't such a thing as too much blue after all), if only because the "Tampa Bay" wordmark on the white jersey is so ridiculous. Color. | Vote! » |
| Toronto Maple Leafs | Again with the solid blue. Thanks, but no thanks. White. | Vote! » |
| Vancouver Canucks | Hmmm, are you sensing a trend here? White. | Vote! » |
| Washington Capitals | Two poor designs here, so this is a matter of picking the lesser of two evils. You can probably guess which one that is. White. | Vote! » |
| Winnipeg Jets | Surely you know the drill by now. White. | Vote! » |
OK, so Uni Watch's preference is clear: White trounced color, 21 to 5 (with four cop-outs ties). Will you folks out there agree? It'll be interesting to find out.
Paul Lukas predicts the NHL will go back to having teams wear white at home at some point within the next decade. If you liked this column, you'll probably like his Uni Watch Blog, plus you can follow him on Twitter and Facebook. Want to learn about his Uni Watch Membership Program, be added to his mailing list so you'll always know when a new column has been posted or just ask him a question? Contact him here.
Sports journalism's foremost uniform reporter
ESPN.com columnist since 2004
Also blogs at uni-watch.com
EDITORS' PICKS
Even a flurry of good trades might not save Dave Nonis in Toronto, and the Canucks face a tall task making the playoffs.
Pucks Central »

Burnside: A trade for a player who might never play again is a fitting end to David Clarkson's time in Toronto.
Blog »

Rumblings: The Blackhawks' interest in Antoine Vermette could raise the price to what the Coyotes can live with.
LeBrun »
MOST SENT STORIES ON ESPN.COM