Chris Chelios leads U.S. Class of 2011
Updated:
August 2, 2011, 12:18 AM ET
Associated Press
Chris Chelios hasn't completely closed the door on a comeback.
Sure, the longtime NHL defenseman is 49 years old. And yes, he sat out all of last season. But pulling the plug on his playing days is something he just can't bring himself to do.
"I'm not going to ever say that," Chelios said with a chuckle.
His retirement last year did pave the way for this: Chelios was selected for induction into the United States Hockey Hall of Fame on Monday, joining former NHL stars Keith Tkachuk and Gary Suter.
[+] Enlarge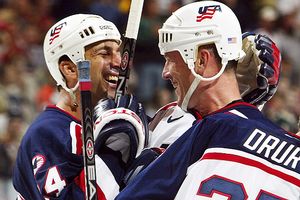 Elsa/Getty ImagesChris Chelios, left, and Keith Tkachuk, right, headline the United States Hockey Hall of Fame's 2011 class.
Philadelphia Flyers founder and current owner Ed Snider and play-by-play announcer Mike "Doc" Emrick also were selected. The formal induction will take place this fall.
Chelios played 26 NHL seasons with Montreal, Chicago, Detroit and Atlanta. He left the NHL after the 2009-10 season as the all-time leader in games played by a defenseman (1,651). He also was part of three Stanley Cup championships.
Now, he's trying to figure out his next move. Chelios may throw himself into coaching or possibly a front-office role. He may even return to the ice.
"I'm trying to find my niche, what I want to do," Chelios said. "I'm going to remain with hockey for the rest of life -- it's all I really know and love."
As an adviser for the Red Wings, Chelios has worked with some of the organization's up-and-coming defensemen. It's a role he's relishing.
"Nothing like being on the ice," said Chelios, whose two sons play for Michigan State. "Coaching is something I really enjoy."
Chelios has long been regarded as the godfather of U.S. hockey, partly for his sage wisdom but mostly since he's one of two male players to represent the team at four Winter Games.
"Just the way he carries himself both on and off the ice. It's something that makes a team better," Tkachuk said. "It was always about the team with Chris.
"Just a true leader. I'm very fortunate to be able to play with a great player like that and learn from him."
Tkachuk had a stellar career in his own right, playing for nearly two decades and becoming one of just four American-born players to score 500 career NHL goals. He also was a five-time All-Star and a four-time Olympian.
To think, one game hooked him on hockey for life. But what a contest it was.
Cross Checks Blog

Scott Burnside and Pierre LeBrun write about all things happening in the NHL. Cross Checks
Watching Mike Eruzione score the winning goal against the Soviet Union in 1980 had a profound effect on Tkachuk.
"Fell in love with (hockey)," said Tkachuk, who was originally drafted 19th overall by the Winnipeg Jets in 1990. "But our jobs are not done right now. We have to keep helping out. I feel like I owe USA Hockey and the game of hockey to get more kids involved.
"It was a great ride and I enjoyed it tremendously."
Suter spent most of his 17 seasons with Calgary and helped the Flames to a Stanley Cup title in 1989. The defenseman also suited up for Chicago and San Jose.
Since retiring in 2002, Suter has been lending a hand with youth hockey.
"It's just in our blood," said Suter, whose nephew, Ryan Suter, plays for Nashville. "I felt I had a lot to offer kids."
Snider helped introduce generations of Philly fans to hockey with a successful bid to bring an expansion team to the city. His foundation also offers ice time and hockey supplies to children who might not otherwise be able to afford it.
"I have seen our city grow from a very few people knowing what a puck was to 2 million people at each of our Stanley Cup parades," Snider said. "Philadelphia now, in my opinion, is a top-notch hockey town."
A familiar voice in hockey, Emrick has been behind the microphone for 13 Stanley Cup finals. He also called the gold-medal game between the U.S. and Canada at the 2010 Vancouver Olympics.

Copyright 2011 by The Associated Press
SPONSORED HEADLINES
MORE NHL HEADLINES
MOST SENT STORIES ON ESPN.COM
EDITORS' PICKS
NSH 4, PIT 0: Carter Hutton pitched a shutout against one of the best teams in the East as the Predators had themselves a super Sunday.
Recap »

Burnside: It is clear their hopes for winning are tied to Max Domi and the highly anticipated draft.
Story »

LeBrun: Wade Redden knows what it's like to be a highly paid NHLer exiled to the minors.
Story »
MORE FROM ESPN LOS ANGELES

Check out the new ESPN Los Angeles, the place for your local Los Angeles sports coverage.
MORE FROM ESPN NEW YORK

Check out ESPN New York, your destination for sports coverage in the Big Apple.