Commentary
Kings shrinking back from expectations
LOS ANGELES -- Los Angeles Kings GM Dean Lombardi was struck by it right away: the look on Justin Williams' face when he scored a goal in a recent losing effort against Anaheim.
It was a look of relief as opposed to elation.
A small thing? Semantics?
Maybe.
But how small is the difference between winning and losing?
How fine is the line between making the playoffs and not?
What is the line that separates the expectation that goals will go in, that good things will happen, from simple relief that they do?
Those are the questions the Kings ponder as this most curious, most crucial of seasons unfolds for them.
The Kings want to be where evolving teams aspire to be: expecting to be in the playoffs, expecting to be a factor in the spring, expecting to be held to a higher standard.
Yet having arrived at this threshold, the Kings seem to have shrunk from those expectations this season.
On Thursday, they gave up a goal 24 seconds into the first period, another 1:25 into the second period and then fell short after a furious charge in the third period, losing 4-2 to the NHL-leading Minnesota Wild.
The loss was the Kings' third straight and dropped them below the playoff Mendoza Line in the Western Conference.
"Right now you kind of feel it's just kind of stuck," Lombardi told ESPN.com in an interview in his office at the team's practice facility before Thursday's game.
"I don't think anybody feels we're taking the step we need to take."
On the plus side of the ledger, the Kings have created a culture of defensive responsibility under head coach Terry Murray that had long been missing from the franchise. They were fourth overall in goals allowed and eighth on the penalty kill.
[+] Enlarge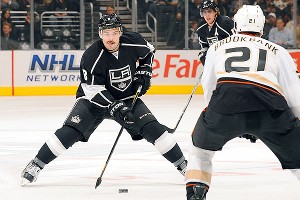 Noah Graham/Getty ImagesAfter signing an eight-year $56 million deal, Drew Doughty is facing perhaps the first real adversity of his career.
But as much as that part of the team's identity seems entrenched, the other, the offensive side, has regressed dramatically.
They are 30th overall in goals scored.
They are last in the league in 5-on-5 scoring.
Two years ago, the Kings had 241 goals. This year they are on pace for about 190.
With the addition of former Philadelphia captain Mike Richards during the offseason, the Kings looked to match up suitably against the big boys in the conference. They looked like a team that could play it any way the night dictated -- up-tempo run and gun or buttoned-down close-checking.
Now they look like a team that is offensively aimless.
"We are going to have to score some goals; it's as simple as that," said the team's leading point-getter, Anze Kopitar, who had one assist in Thursday's loss. "It doesn't matter how, deflections or rebounds; we need to pick the corner. Whatever it is, we are going to have to score more goals."
Richards leads the team with 11 goals but is out indefinitely after taking a hard hit from Sean Bergenheim.
Williams, twice a 30-goal scorer and Cup champion in Carolina, has four goals.
Dustin Penner, a Cup winner in Anaheim in his first NHL season, scored just his second goal of the season Thursday night, although he has two goals and an assist in his last three games.
Perhaps nowhere is the team's failure to evolve offensively more marked than in the play of former Norris Trophy candidate Drew Doughty. A dynamic young player who has excelled at every level, including the NHL, and who was among the best players for Canada at the Olympics in 2010. Now, Doughty is facing perhaps the first real adversity of his career.
He held out for a big contract -- he eventually signed an eight-year, $56 million deal -- but now he appears to be trying to do too much and in the end does too little. Maybe Doughty's trying to prove to his teammates he's worth the money, maybe it was the lost time in training camp, but regardless, he has just eight points in 22 games and just two goals. Two years ago he had 16 goals and 59 points.
Murray was talking before Thursday's loss about the need for the Kings' defensemen to get more pucks on net and help generate more offense. He didn't mention Doughty by name, but he didn't need to.
"You can't miss training camp," Murray told ESPN.com before Thursday's game. "Not in this game. You can't miss training camp. You can't miss the start of the year. That takes a big bite of everything away from you.
"Now you come in with expectations that are an incredible burden, incredible. With that kind of contract, and the only way a lot of people are going to look at him is to be a Norris trophy winner, finish first with the Presidents' Trophy and win the Stanley Cup.
"That's a tough billing. But you have to sort through that emotionally as a young player. We understand as an organization. We just want him to be a good player and be a consistent performer, and he's getting there."
So the challenge for Murray and Lombardi is not to change the Kings' game but to add to it, to make it complete.
"We push ourselves from within," Murray said. "We know we want to be a team that's playing deep into the playoffs and we're going to continue to work towards that. I think that's where we have a little bit of an issue with the scoring part of it, but on the checking part of the game, we're one of the best in the league, and you have to have that foundation to go deep into the playoffs and I feel real good about that being a part of our game that's strong."
Playing in Los Angeles
The Kings' play on the ice is just one part of the story of the franchise, though.
We are standing on an outdoor patio off a luxurious members-only club within the Staples Center looking over the LA Live entertainment district that surrounds the Kings' home. It is a vibrant mix of restaurants, theatres, condos and businesses. There is a skating rink set up for the holidays, a mini carnival with rides and a giant, brightly lit holiday tree.
On this day, the city is buzzing over the big trade involving the NBA's Lakers, which was later nullified, and the signing of Albert Pujols by the Anaheim Angels.
This is the big-time when it comes to sports and entertainment.
The Kings have shouldered their way into the mix with an aggressive marketing campaign that mirrors the team's youthful core and the promise of being contenders not just for a moment but every year.
"We've never had that here," Kings COO Chris McGowan told ESPN.com.
The president of business operations for the team is Hall of Famer Luc Robitaille. When Lombardi took over the team in April 2006, Robitaille and the rest of the business team went to the fan base and explained the plan for the team, how it was going to be built and sustained and how they were going to make the Kings a league power.
"We had to make sure they understood what was happening," Robitaille said in an interview.
The fans bought in.
They bought into the promise of Kopitar and Jack Johnson and Doughty, and when the team acquired Richards, it reinforced that they were right to buy in.
In the past two years, team revenue has jumped 30 percent and the Kings are expecting another big jump in revenues this season. They have sold out all but two home dates this season and are averaging 99.8 percent capacity at Staples Center.
"Things are moving forward," Robitaille said.
The Kings' vision isn't just important for the franchise; it is the kind of vision that has the power to change the profile of the entire league.
While they will never be like the iconic Lakers, perhaps the Kings have a chance to be something important in one of the cultural and media hubs of the United States.
That is the expectation.
It is something that's not lost on the players in the Kings' locker room.
Just getting there isn't enough now. Nor should it be.
"We've still got one of the youngest cores in the National Hockey League, so the expectations have grown very quickly here in a couple of years, and that's OK," Murray said. "That's a good thing. That's needed as an organization to push everybody to get to places where they never thought they could be before and that's where we want to be. We want to keep those expectations coming."
All of which imbues the Kings' struggles with even more urgency than might otherwise be the case.
Kopitar insisted the answers are right in front of them: "It's definitely here. It's definitely in this room. We've got to do it."
But the disappointing offensive showings have amped up calls among Kings' fans to make some sort of move, make a trade, fire the coach.
No different than in other any market. Except this is L.A.
"There's a mental growth that has to take place," Lombardi said of his team.
There may be a cap on talent, "but there's no cap on mental toughness," he added. "You have to be able to find that.
"That said, I've got a terrific group of people down there. I certainly believe in the players in that room. They're a good bunch of kids that want the right thing."
Now the question remains whether they can find it.
Scott Burnside covers the NHL for ESPN.com.
Hockey writer for ESPN.com
10 years at Toronto Sun, Windsor Star and National Post
Wrote best-selling true crime book "Deadly Innocence"
SPONSORED HEADLINES
MORE NHL HEADLINES
MOST SENT STORIES ON ESPN.COM
EDITORS' PICKS
Grantland: Wikipedia isn't always right, but it's always fun.
McIndoe »

Custance: The Islanders' offseason provides reason for real optimism.
Blog

#ESPNplayerNHL: Countless stars have played in Canada, but which ones are most important?
Cross Checks »