Hanukkah is an eight-day celebration that began Tuesday and runs until Dec. 28.
The Jewish celebration involves lighting candles on a candelabra, or menorah, over eight days to commemorate the victory of the Jews over the Hellenistic Syrians in 165 B.C. Check out the highlights on YouTube.
Hakan Loob is the greatest name in hockey history. If you are looking for a name for your pond hockey, street hockey, fantasy hockey or any other hockey team, it's tough to beat Hakan and the Loobs.
So, per tradition, we present our annual, slightly updated each year, "Happy Hakan-Hanukkah Song."
It must be sung to the tune of Adam Sandler's classic "The Chanukah Song." Refresh your memory or introduce yourself to that song before replacing Sandler's lyrics with mine. It will enhance your reading pleasure.
Happy holidays to all, and here is the 2011 version of the "Happy Hakan-Hanukkah Song."
---
This is a song that, uh ... there's a lot of Norwegian songs out there, but not too many about Hakan Loob and Swedish hockey players. So, I wrote a song for all those nice Swedish kids who don't get to hear any Swedish hockey songs. Here we go ...
Put on some ABBA-kah, here comes Hakan-Hanukkah!
So much Swedish-funukah,
To celebrate Hakan-Hanukkah!
Hakan-Hanukkah is a festival of ice
Instead of one night of hockey, we have 180 crazy nights
But, when you feel like the only kid in town without a Synergy,
Here's a list of people who are Swedish, like Magnus Paajarvi
ESPN's Stuart Scott likes to scream, "Boo-Ya"
I hope one day he says it after a goal by Johnny Oduya
Eating crayfish in Malmo will really, really fill ya
Whether you're Mattias Tedenby or Andrea Lilja
Nicklas Lidstrom's rookie card is something worth collectin'
So is Kent and Ulf Nilsson's and Pelle Eklund's
Swedish names are awesome, and Swedish names are fun,
There's a Nik Backstrom in Minny, and one in Washington! One's Finnish!
Put on your ABBA-kah,
It's time for Hakan-Hanukkah!
The twins on the Vancouver Canuck-anukkahs,
Celebrate Hakan-Hanukkah!
Ville Leino ... not a Swede!
But guess who is? Hakan's older brother Pete (he scored one goal in nine NHL games)
Peter Forsberg has bad feet, but he still likes a dancin',
So do Roger, Mathias, Calle and Andreas Johansson
Matt Carle's not from Sweden, nor Dainius Zubrus
But Linus Omark, Niklas Kronwall and Hakan Loob is!
So many Swedes are in the NHL
Defenseman Niklas Hjalmarsson?
Now that's announcer hell!
Tell your friend Per-onica, it's time for Hakan-Hanukkah!
I pray for new Graf-onikahs
On this lovely Hakan-Hanukkah!
So drink your cold Fal-connika
And golf 18 with Annika
If you really, really wannakah
Have a happy, happy, happy Hakan-Hanukkah!
Happy Hakan-Hanukkah!
---
Mother of All Mailbags
@Buccigross
How you think the "lazy" Penner will fare with Sutter?
@MattMiles2
Dustin Penner has played 41 games for the Los Angeles Kings since the trade with Edmonton and has scored four goals. All for $4.25 million. The Oilers have two assets from the Penner trade: Colten Teubert, a 21-year-old D-man, and Oscar Klefbom, an 18-year-old Swedish D-man (6-foot-2, 200 pounds) playing for Farjestads BK Karlstad. (The Great Loob's team. Shjon 'Podes' Podein's, too.)
The trade has obviously been a disaster for the Kings. Who knows whether Teubert and/or Klefbom will be difference-makers -- if they become such, the trade gets more depressing for Kings fans. Bad trades are even worse in the cap area because they become dead weight on the roster.
I don't see how or why things will get any better for Penner under Darryl Sutter. If they don't, the Kings have to trade his salary slot for more useful assets even if it means the AHL. This team can't score goals -- only the Islanders have scored fewer.
---
@Buccigross
Is Lindy on the hot seat in buff?
@joby524
Not quite yet. The Sabres have had a few injuries (who hasn't), have some new players (who doesn't) and have some young ones. Plus, they aren't getting great goaltending. But a coach's job is to get a group to play as a unit as devout followers of a proven system. That's what goes on in Detroit, Pittsburgh, Boston and Nashville, to name a few. They can deal with injuries and roster turnover pretty well because of the culture.
The Sabres play loose at times (coaching), and they still seem to lack that organizational anchor that a team/brand seeks (front office). They are entertaining to watch, but, at times, they seem to play without any definition or connection.
Maybe at some point a new coach AND GM will be necessary, but if Lindy Ruff and Darcy Regier can somehow figure out how to congeal all this good stuff in Buffalo and get great goaltending, the Sabres can be a dangerous playoff team. Right now, they are not a factor because they aren't really doing anything really well.
---
@Buccigross
Good show today! Only you can make my Christmas wish come true. What I really want is your chicken parm recipe. Please :)
@Emme624
I would put my Parm up against anybody. I have some sick oven mitts. What happens in my kitchen, stays in my kitchen.
---
Bucci --
Commentators are going crazy over Patrick Kane's shootout goal versus Nik Backstrom to beat the Wild last Wednesday. I know Kaner has some sick sauce (is that enough hockey-ese for you?), but wasn't that attempt illegal?
Brent Boyd
Los Angeles
Enough hockey-ese, you say? Kane is certainly a Head level, Chef de cuisine at Restaurant Sauce. But he is more renowned for being the Honorable Mayor of Dangle City. Kane resides on Snipe Street in Dangle City, but don't automatically connect the two. Not all Snipe Street residents can dangle. And not all residents in Dangle City can snipe. Kane can do both. What we can agree on is neither can be accomplished without Sick Mitts. I think Toe Blake, were he alive and 99 years old, would agree.
As far as shootout restrictions, I don't have an opinion because I feel anything should go. (I guess that's an opinion.) Put a monkey on the back of a dog and have him try to score. Shootouts are such a potluck variable, I say anything goes. And I'm in favor of them. Have you ever turned the channel during one? That's the entire focus of television executives these days. It's called time spent viewing. Get viewers to stay on your channel as long as possible. Shootouts accomplish this. And they don't affect the standings among the best teams in the league.
I do have an opinion on a couple of things, however.
1. In golf the phrase is, "He's a great ball striker." It's a player who catches the golf ball flush. It sounds different than most and flies different than most. If we could hit a ball like a great ball striker, like Tiger Woods, it would be like nothing we've felt before. There are hockey players who are great puck strikers. Thomas Vanek is a great puck striker. The puck sounds and looks different coming off his stick than most. There are others, but Vanek's purity struck me watching a Sabres game recently. There are plenty others.
2. If there is one rule that needs to go, that could give the game fewer whistles, a little more scoring, and less pressure on on-ice and replay officials, it's the playing the puck with a high stick call. I was watching a Sabres-Panthers game recently, and Derek Roy, while killing a penalty, knocked the puck out of the Sabres' zone when it had to be three feet above his head. His stick was perpendicular to the ice as he cleared the zone. Since a Florida Panther played the puck next, there was no whistle. Why? If the point of the call is for safety's sake, why does it matter who plays the puck next? The conditional high stick call has very little, if any, deterrent powers. In almost every situation, a player will instinctively play the puck with a high stick. I would change the rule and allow players to play pucks with high sticks. They do it anyway. It's a fast, instinctive game. If you strike an opponent with that high stick, it's a high sticking penalty. If you don't, play continues. The same goes for pucks tipped in for goals. As long as you don't strike an opponent and are reasonably careful with your stick, you can deflect in pucks that are slightly above your shoulders or crossbar -- those especially are safe plays. A player's stick is usually quite still when tipping in a puck, and if it is moving, it is almost always going in a downward motion. It saves on replay delays and will allow for a few more goals a year, and it really is a safe play. The current conditional "playing the puck with a high stick" play does nothing to deter playing the puck with a high stick. So let it go, unless an actual high stick occurs.
---
JB,
Something has got to be done to fix the game, and keep the best players on the ice. I don't think the context of the game should be changed (i.e. bringing the red line back or other modifications to the rules) ... I'm resigned to thinking it is helmet technology that is the issue, and I think the league needs to do more to determine how to reduce/eliminate concussions, because it is taking too much away from the game. Slaps on the wrist for precarious hits aren't the answer. Why can NFL'ers come back from concussions the following game or even during the same game?
Matt Miloszewski
Pittsburgh
A helmet's primary goal is to prevent skull fractures. Perhaps there is a helmet in the future that will be able to better cushion some of the force on head shots, but many concussions occur, we are told, because the brain slams against the inside of the skull following a high-speed collision.
As for why football players seem to come back more quickly? Well, it might seem that way because football plays once a week. Also, there is way more action in hockey than in football. Football is mostly standing around, waiting for the next five-second play. When the clock is going in hockey, there is action. All the time. Plus, hockey is played on rock-hard ice with walls.
But, let's face it, the brain and concussions are such a mysterious health issue. We can only hope major progress can be made in the prevention and treatment of the NHL's scourge.
---
View from the Hockeyverse
Here are some pictures you've sent me via email. You can also hit me up via Twitter at @buccigross.
Hi John,
The Canucks were quite mediocre for a while but [Cory] Schneider's recent play has brought some new hope.
Here's a pic of my daughter Eva showing her support.
Darrell Sampson
Saskatoon, Saskatchewan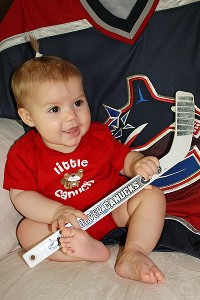 John,
What can you do when the old guy (Smyth) and the young guy (the 'Nuge) are filling the net?
Smile of course!
Jeff Edlund
Maplewood, N.J.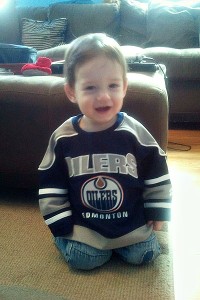 John Buccigross' email address -- for questions, comments or crosschecks -- is john.buccigross@espn.com.