Commentary
Take a seat at the draft table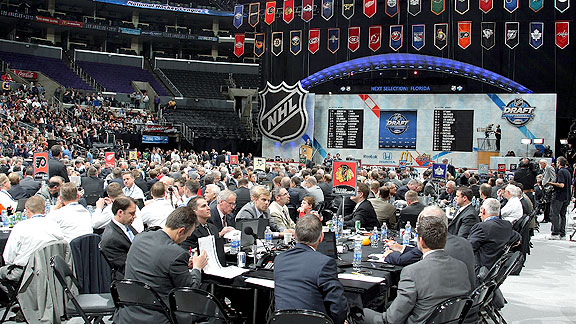 ave Sandford/NHLI/ Getty ImagesWhen you take a seat on the NHL draft floor, you better be prepared.
PITTSBURGH -- David Poile remembers vividly his first NHL draft.
He was on the floor at the Queen Elizabeth Hotel in downtown Montreal when the expansion Vancouver Canucks -- a team being led by Poile's father, Bud -- and their expansion brethren from Buffalo were about to find out who would get the first pick in the 1970 draft.
Then-commissioner Clarence Campbell spun a giant roulette wheel and announced the Canucks would have the first pick, one that was destined to go to future Hall of Famer Gilbert Perreault. But Sabres GM Punch Imlach took a closer look at the wheel and pointed out that the leather strap was still on the panel that said Buffalo Sabres.
And so it was that Perreault became a Sabre and Dale Tallon, now the GM of the Florida Panthers, would become a Vancouver Canuck.
Such are the vagaries of the draft.
A couple of years later, Dave Poile was sitting at the draft table of another expansion team, the Atlanta Flames, when a scout came up to GM Cliff Fletcher at the end of the draft. He praised Fletcher's selections, which left the GM beaming.
Now all you have to do is get rid of all those crummy players on your team and you'll be fine, the executive quipped before walking away.
Ah, the draft. A clean slate. A fresh start.
"I love draft day. It's a day of unbridled hope," Toronto GM Brian Burke told ESPN.com.
"It's almost like Christmas. Everybody's happy."
There will be 30 tables on the floor of the Consol Energy Center for the NHL draft Friday and Saturday.
Each one represents a team. Each one its own community, its own command center full of angst and intrigue and, yes, on occasion hurt feelings.
"My only rule on the floor is that you never change your list," Burke said.
You've spent so much time and money in compiling your list, picking the brains of your scouts, who have covered the far corners of the hockey world, that, in the end, the list has to be sacrosanct.
Or if you do deviate from the list, make sure you're right.
"If you do go off the list, there better be a really good reason or somebody's going to get canned," Burke said.
Take last year's draft in Minnesota.
The Leafs had OHL defenseman Stuart Percy ranked above collegiate winger Tyler Biggs on their list. Yet as the first round counted down, director of amateur scouting Dave Morrison approached Burke about swapping and taking Biggs with the Leafs' first first-round pick because he believed there was a better chance Percy would still be available when the Leafs got their second first-round pick three picks later.
Burke agreed, and while three picks isn't a lot, there were some anxious moments at the Leafs' table as they waited to find out whether their gambit would work.
"I would have been sick if we didn't get Percy. You're chewing your fingernails and waiting," Burke said. "It seemed like hours."
In the end, the swap worked and the Leafs got both players they wanted.
This year, the Leafs have the fifth overall pick.
Burke will be working the phones, discussing possible trades, while assistant GM Dave Nonis will work with Morrison and the rest of the scouting staff in preparing the Leafs' draft selections.
The model varies from table to table, but most teams put the running of the draft table in the hands of the director of amateur scouting and/or the assistant GM, while the GM takes a step back to let his troops conduct the business of restocking the prospect shelves.
Having a GM make selections based on seeing a young player perhaps once or twice as opposed to the 15 to 20 times an amateur scout will see the player "is the most dangerous scouting of all," St. Louis GM Doug Armstrong said.
Sometimes during draft day, Armstrong will refer back to a comment made by a scout during earlier meetings, but in general, he will let his staff -- led by director of amateur scouting Bill Armstrong -- run the show. "It's important to go to the table with a strategy. And that's something that's evolved over the years," Capitals GM George McPhee said.
"Things will come up at the draft tables that are unexpected."
But even with the unexpected, it's important not to stray too far from your plan.
"You can't go to the floor without a plan and hope to wing it. It doesn't work like that anymore," McPhee said.
For the Caps, one of the top drafting teams in recent years, the plan is a combination of the needs on the pro side and the needs on the amateur side. Depending on the year, it might mean identifying a weakness within the organization at one position.
"You really have to have your amateur side and your pro side engaged," McPhee said.
"In the first round, you'd better have sorted out what you'd like to do. ... You have to be confident in what your list is and what your year's work tells you."
Sometimes that means deciding not to make a pick at all.
Going to the floor last year, McPhee and his scouts looked at all their options drafting out of the 26th slot. They determined the players they really liked would be gone by the time they picked, and they were determined to get more grit and add more playoff experience after a disappointing end to the 2011 postseason.
So with his scouts' blessing, McPhee traded Washington's first-round pick to Chicago for Troy Brouwer.
Still, for three hours, McPhee and the Caps' scouting staff sweated, wondering whether a player they really liked would fall to where they might have had a shot at him.
"There's definitely some tension that goes with it because you want to be sharp and you want to make the right decisions," McPhee said.
In recent years, the Caps have been especially successful in drafting young netminders, as they have started three rookies the past three playoff seasons: Semyon Varlamov, Michal Neuvirth and Braden Holtby. McPhee was able to turn Varlamov into a first- and second-round draft pick last July in a trade with Colorado, while Holtby was sensational in leading the Capitals to a first-round upset of the defending Stanley Cup champion Boston Bruins this past April.
Scouting is the base of the spinal column of your team, McPhee explained.
"If it's out of whack, the whole back is out of whack," he said. "We've drafted really well the last six or eight years. I think it says something about the organization. When you're not drafting well, it's hard to improve and it's frustrating."
As the draft moves into the second day with rounds two through seven, the scouts' work becomes even more important. If a player who was ranked higher on a team's list is still available later in the draft, a team has to decide whether that represents a red flag or a missed opportunity by its colleagues.
You have to ask your staff, "Are you still comfortable with him?" Burke said.
The table also has to be a place where decisions are made at a moment's notice.
When Burke was the GM of the Hartford Whalers, he acquired the No. 2 pick in the 1993 draft as Ottawa was announcing its first pick. Burke and his staff were hand-writing the details of the trade, which included additional assets going to the San Jose Sharks if Viktor Kozlov wasn't available when the Sharks made their first pick -- he was -- and the Whalers went on to take Chris Pronger with the second overall pick.
Two years ago, St. Louis GM Armstrong was in regular discussion with Ottawa GM Bryan Murray about acquiring the Sens' first-round pick. But that depended on whether the player the Blues wanted, Vladimir Tarasenko, was still available. So the two sides waited until just before the Senators' pick arrived, and Armstrong sent defenseman David Rundblad, a first-round pick of the Blues from the previous year's draft, to the Senators, and the Blues took Tarasenko with the 16th overall pick.
Even after more than 40 years of draft days in various capacities, Poile gets excited by the process.
"It's always exciting. I still get butterflies, if you will," Poile said.
"It's getting your player, it's not getting your player. It's moving up to get your player, it's not moving up."
Sometimes it's about paying a debt you've incurred in making changes at the trade deadline, something the Predators did this past March.
In the days leading up to this year's draft, Poile tried to balance those scales by sending backup netminder Anders Lindback to Tampa for two second-round picks in this draft and a third-round pick in next year's draft. The Predators are one of those midmarket teams for which the draft has been pivotal to the franchise's success. At one point, they had four defensemen from the 2003 draft playing on the big league squad: Norris trophy nominee Shea Weber, Ryan Suter, Kevin Klein and Alexander Sulzer.
"I don't know if that's ever happened before," Poile said. "That was one of the defining moments for our franchise."
But there is rarely any pattern to the draft.
One year there might be a preponderance of picks from Europe or the major junior ranks or U.S. college hockey. Sometimes a scout might not see a player from his area of expertise drafted. That might be difficult for a scout who has spent his entire year watching kids in a specific geographic location or segment of the pre-draft hockey world but doesn't end up with one of "his" players on the team's draft sheet at the end of the day.
"One guy's happy; one guy's depressed," Poile said.
Do emotions boil over? Are guys really angry?
"Absolutely," Poile said.
Guys work 364 days a year, and the draft day is the only day on which their work will be transformed into something tangible for the team. But it can't all work out for everyone. There are 10 to 12 scouts, maybe seven picks.
"You're always going to have one or two guys that are going to have more influence [at any one draft]," Poile said.
Hockey writer for ESPN.com
10 years at Toronto Sun, Windsor Star and National Post
Wrote best-selling true crime book "Deadly Innocence"
EDITORS' PICKS
LeBrun: With a quarter of the season remaining, we predict the winners of the NHL's biggest awards.
Story »

Hockey Today: What's it like to be traded? Ben Lovejoy, formerly of the Ducks but currently of the Penguins, lets us in on it.
Podcast

Roberto Luongo went from a hospital to the ice on Tuesday, meaning Florida's goaltending coach didn't have to play.
Pucks Central »
MOST SENT STORIES ON ESPN.COM