Commentary
Don't blame Gary Bettman for lockout
Here are things that we're pretty sure never happen at an NHL board of governors meeting:
NHL commissioner Gary Bettman looks over at Philadelphia Flyers owner Ed Snider and says, "Yo, Snides, what were you thinking with that offer sheet for Weber? The Preds guys are all over me. And the deals for Simmonds and Hartnell, 12 years, $52 million? You're making me look bad. I'm sick of those deals. Five years and that's it, and they're lucky I'm not going after one-year limits. And get a coaster, will ya, that glass will leave a mark."
Likewise, we don't think the longtime NHL boss ever leans over and whispers to Geoffrey Molson, top man with the Montreal Canadiens, "I don't give a pile of poutine about your sellouts and your Hab Nation and your hockey is religion hooha. Boo hoo. We're going to make the players eat a pile of sawdust again and I don't care if it takes until Quebec gets its own national anthem and yanks itself into the St. Lawrence River to make it happen. And by the way, I've always been a Labatt guy."
[+] Enlarge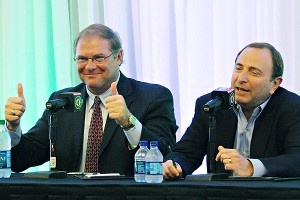 Dave Sandford/Getty ImagesUnlike eight years ago, owners like Minnesota's Craig Leipold are not better off if their teams are not playing.
No. That's not happening.
Now, the outside impression of Bettman, leader of the National Hockey League for two decades, is that these things are actually possible; that he is "the man," the first word and the last word when it comes to law and order within the closed little clique that is the group of owners.
To be sure, there is some of that.
But there has been more than a little mythology built up around both Bettman and his role, especially when it comes to negotiating with the players -- if that's what you can call what's happening now as the owners roll steadfastly toward a third lockout under the Bettman regime.
This perception of Bettman as the only thing standing between the fans and hockey utopia suits the public and many corners of the media nicely, especially in Canada, where Bettman is seen as the direct cause of all that ails hockey, not to mention being responsible for hard to clean spots on the rug and acid rain.
Let's be clear about one thing: Bettman may be driving the bus, but he's getting directions on where the bus is headed from the 30 owners who sit behind him on that bus.
That's why this lockout -- which will begin at 12:01 a.m. ET Sunday -- is all on the owners' shoulders even as many choose to heap the blame squarely at Bettman's feet.
At its most elemental there is this: If the owners didn't want their doors to be darkened for the second time in eight years, if they wanted to avoid looking hilariously hypocritical -- let's sign dozens of long-term deals this summer and then a few weeks later ask for players to give much of that back in escrow -- it wouldn't happen.
If Ted Leonsis and Eugene Melnyk and that new collection of shiny suits in Toronto that now run the Maple Leafs wanted to keep negotiating with the players as the players indicated they would be amenable to even if there wasn't a new deal in place by Sept. 15, it would be so.
In the blink of an eye it would be so.
Bettman isn't holding a gun to the heads of Snider, Molson and the others any more than NHLPA executive director Donald Fehr is holding a gun to the players' heads, saying: "Get your long johns on, this is going to be a frosty one."
The owners, of course, speak publicly with one voice when it comes to labor issues and that voice belongs to Bettman (and to a lesser extent deputy commissioner Bill Daly). But it was nonetheless interesting to see just a morsel of humanity from the ownership side over the weekend when the executive chairman of the New York Rangers, James Dolan, told ESPNNewYork.com's Katie Strang, "the only thing I can say is that I want us to play hockey."
Sounds almost like a fan of the game ... or, at the very least, someone who has something to lose.
And in the end that's what sets these negotiations apart from the last lockout, a stoppage that saw a league scuttle an entire season and playoffs for the first time in pro sports history -- the owners have much more to lose this time around.
If there has been a certain mythology about the power that Bettman wields, there is likewise a certain mythology about the owners' position in the waning hours of the current CBA.
It's often repeated as though it is gospel that some if not many owners would be happy not to have games early in the season, that a lockout would be less onerous for them in the early going.
[+] Enlarge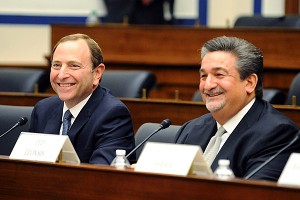 Mitchell Layton/NHLI/Getty ImagesGary Bettman is the lone voice of the NHL, but owners like Washington's Ted Leonsis are giving directions on what they want.
Ha.
Name one owner who really doesn't care if his team plays before Thanksgiving in the U.S. and we'll show you a team that should be ridden out of the league on a rail (and yes, we know, that's a debate for another day).
So, which teams actually believe that?
Think the Florida Panthers don't want to be on the ice in October trying to capitalize on their first playoff berth since 2000? They do.
What about the Los Angeles Kings, who won their first championship in June and now face the prospect of waiting weeks, maybe months, maybe an entire season to raise that banner and reap all of the goodwill, not to mention revenues, of their moment in the Cup sun?
It took the Tampa Bay Lightning two sets of owners and years to get over the kick in the shins of not being able to take immediate advantage of their Cup win in 2004. Speaking of the Lightning, under new owner Jeff Vinik, the Bolts are putting the finishing touches on $47 million in renovations to Tampa Bay Times Forum, including installation of the largest in-arena scoreboard in North America. We're guessing ownership didn't make that commitment hoping the doors would stay bolted shut until the end of the calendar year or longer.
Think Terry Pegula, the owner who re-energized the moribund Buffalo Sabres, wants to wait indefinitely for his team to atone for its multiple sins of last season?
The Carolina Hurricanes brought in Jordan Staal and signed Alexander Semin to buoy the nice work done late last season by new coach Kirk Muller, and we're guessing Peter Karmanos and the Canes would like nothing better than to be getting down to the business of getting back to the playoffs for the first time since a surprise run to the 2009 Eastern Conference finals.
The Phoenix Coyotes may actually have owners by the end of the month and will be looking to make up for lost time after three dark years of NHL stewardship. The franchise has squandered terrific on-ice performances, including a trip to the Western Conference finals last spring, while trying to find an owner, and the new group (led by Greg Jamison) will need to get to work proving hockey can play in the desert.
In St. Louis, the Blues have new ownership and are considered a threat to be the top team in the Western Conference. Think Tom Stillman, so happy at the NHL awards in Vegas with his revitalized Blues, bought the team hoping he'd be playing shinny with his pals at Scottrade Center? Uh, no.
What about the game's top revenue earners in New York or Montreal or Toronto?
Darkened rinks in those cities mean the silencing of the familiar sound of cash registers going off non-stop.
What about in Chicago, where the Blackhawks have enjoyed a stunning renaissance since the last lockout, including a Cup win in 2010. Think fan favorite Rocky Wirtz isn't going to miss the joyful, sold-out mayhem of the Madhouse on Madison in October?
There are still teams that need tweaks to the system in order to thrive. Regardless of whether those tweaks are the results of their own foibles or not, that's reality. But while many teams eight years ago were actually better off having the players locked out than playing the game, that simply isn't the case now.
Does it change how this plays out?
Just as few are questioning the resolve of the players at this stage, it would be foolhardy to question the desire of owners as a whole to reduce player costs regardless of how long it takes to get such a deal.
But the fact the stakes on both sides are significantly higher and the dynamic dramatically different than eight years ago is likewise indisputable.
Hockey writer for ESPN.com
10 years at Toronto Sun, Windsor Star and National Post
Wrote best-selling true crime book "Deadly Innocence"
EDITORS' PICKS
Part II: Which players figure to spend their entire careers with one team? Some answers might surprise you.
Buccigross »

Trade deadline: Why the Bruins and Leafs eased up heading toward the deadline.
LeBrun »

New additions helped lift the Blackhawks and Sharks after a trade deadline that saw several smart moves.
Inside the NHL
MOST SENT STORIES ON ESPN.COM