Commentary
Burke best man for USA Hockey
Not long after the Americans were denied the gold medal at the 2010 Vancouver Olympics by Sidney Crosby's overtime heroics, general manager Brian Burke was asked by USA Hockey officials about reprising his role four years later for the Sochi Games.
To his credit, the president and GM of the Toronto Maple Leafs told them that while he was flattered, he thought it best such a decision be made down the road.
Well, here we are, down the road.
A year from now, the management teams of the world's hockey nations will pore over stats and injury reports as they prepare their rosters for the 2014 Sochi Olympics in Russia.
In less than a year, teams will have hosted Olympic orientation camps, whetting the appetites of hockey fans around the world for what we assume will be another best-on-best tournament.
There are lots of balls in the Olympic air, of course.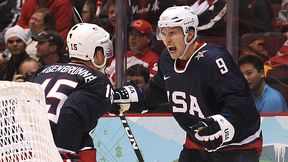 LUIS ACOSTA/AFP/Getty ImagesThe U.S., considered huge underdogs at the Vancouver Olympics, made it to the gold-medal game.
The participation of NHL players in what would be the fifth straight Winter Games has yet to be agreed upon by the league and its players, who are currently locked out. The sides are scheduled to meet Friday in New York to begin talks on non-core economic issues, including the Olympics.
Many connected to the game believe the NHL will put aside its concerns about time zones and travel and agree to renew its relationship with the Olympics because of the ultimate benefit of having its players at the Games.
The possibility of players, including stars such as Alex Ovechkin and Ilya Kovalchuk, going AWOL from their NHL clubs in order to participate in Sochi could lead to considerable embarrassment for the league.
And it's not just Russian players who would be tempted to ignore their contracts in order to play for their country, with Canada looking for a second straight gold, and the Americans so close the last time around.
That brings us back to USA Hockey and the decisions that confront the organization in selecting a management team for the 2014 Games.
Hockey Canada months ago announced that Steve Yzerman, Hall of Fame player and GM of the Tampa Bay Lightning, would return to his role as executive director. The theory is, if it ain't broke, why fix it? And it's hard to argue with Yzerman's handling of the team in Vancouver as the Canadians withstood enormous pressure to deliver their second gold medal in three Olympic Games, and on home soil, no less.
Not that USA Hockey should follow Canada's lead, but several top sources within the U.S. hockey community told ESPN.com they believe the Americans should stick with the Vancouver formula after the inspired play of the U.S. team in 2010.
Although Burke's Maple Leafs continue to struggle to find traction in rejoining the NHL's elite clubs -- they are the only team to have missed the playoffs every season since the previous lockout -- there is no disputing the masterful job Burke and his management team did in assembling the U.S. coaching staff and playing roster in Vancouver, then stickhandling them through the land mines en route to the emotionally charged gold-medal game.
But here's where it gets interesting for head of USA Hockey David Ogrean and top officials such as Jim Johannson, who is the assistant executive director of hockey operations. What's the goal for USA Hockey when it comes to best-on-best tournaments?
Is it about sharing the experience? Is it about making sure people such as Paul Holmgren, Ray Shero, Dean Lombardi, Stan Bowman, George McPhee, Dale Tallon and David Poile all get a turn?
Or is it about balancing that kind of "everyone on the bus" philosophy with consistency, and hoping that consistency yields success in those tournaments, which ultimately benefits everyone in a national body like USA Hockey?
The bottom line is that you can make a case for pretty much any of those GMs to lead the Americans in Sochi.
Lombardi is coming off a Stanley Cup win in Los Angeles. Shero has a Cup ring, as does Bowman. Tallon built the Chicago Blackhawks into a Cup winner. Holmgren's Flyers were finalists in 2010 and are perennial Cup contenders. Poile's Predators have made the playoffs in seven of the past eight seasons, and McPhee is the GM of the Capitals, who won the Presidents' Trophy in 2009-10 and were champions of the Southeast Division in each of the past four seasons.
What about New Jersey's Lou Lamoriello, who has a wealth of international experience to go with his three Cup wins and a trip to the 2012 finals?
Many have taken on various roles at the world championships and have given freely of their time to USA Hockey at various events.
It is, in a way, an embarrassment of riches for USA Hockey in terms of the kind of hockey minds at its disposal for these important international events, and stands in stark contrast to the dynamic that existed a couple of decades ago.
But when the dust clears from the current labor talks -- and USA Hockey is expected to make an announcement on the Sochi management team shortly thereafter -- look for Burke to return to his post as GM of the U.S. effort for Sochi.
He will take the job because, in a field that is awash in more than capable candidates, he is the best qualified. He's been there before and he knows how to get the job done. He possesses the kind of personality that is perfectly suited for fronting such an important operation.
In Vancouver, just weeks after the death of his son Brendan, Burke did not let his grief deter him, nor did he allow it to become a distraction to a U.S. team that entered the tournament as significant underdogs against high-powered teams from Canada, Russia, Sweden and the Czech Republic.
Picking Burke undoubtedly will draw some outside criticism.
Burke has feuded with the media in Toronto, and his future with the Leafs, who are under new ownership, has been the subject of much discussion.
Yet those who worked with him in building the 2010 Olympic team believe that Burke should be the guy to lead the charge for Sochi.
Those on the management team praised Burke's ability to build consensus in defining the type of team they wanted to build, and then building a roster that followed that plan.
Several GMs involved talked about how regular conference calls included frank discussions of each other's players. Burke didn't want the GMs to fear offending someone else on the call; he reminded them that, in that moment, they were working for USA Hockey, so true impressions needed to be shared to ultimately build a strong team.
Is it possible there will be hurt feelings among the group not named to the post?
Sure. These are intensely competitive men. But one common theme emerged in talking to those who took part four years ago: Getting the chance to help build a gold-medal team was a high honor and no place for ego.
Hockey writer for ESPN.com
10 years at Toronto Sun, Windsor Star and National Post
Wrote best-selling true crime book "Deadly Innocence"
EDITORS' PICKS
Player Power Rankings: Who's rising, who's falling and who's surprising the league this week.
Strang »

LeBrun: Now with the Blues, Olli Jokinen is motivated to get back to the top of the Central.
Cross Checks »

The violence that has engulfed Ukraine made it impossible for Ruslan Fedotenko to remain in his home country.
Story »
MOST SENT STORIES ON ESPN.COM