Commentary
Welcome to Sabres University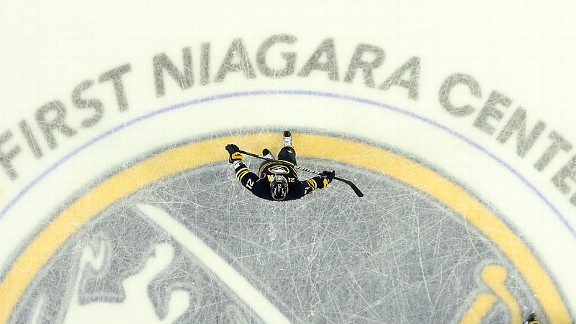 Bill Wippert/Getty ImagesIce making has become one of the most popular courses at Sabres University.
For most around the NHL, the ongoing lockout of players -- now in its third month -- is something to endure.
Most teams have tried to keep up charitable works and community outreach in their markets, but credit the Buffalo Sabres for trying to turn a lot of lockout lemon into a little lemonade with their innovative introduction of what is being dubbed Sabres University.
Under owner Terry Pegula, the successful businessman and devout hockey fan who bought the Sabres in February 2011, the team announced early on in the current labor dispute that it would not lay off staff or require employees to take pay cuts, unlike other teams and the NHL itself, which cut staff hours and pay.
But Pegula encouraged staff to take this time away from the normal routine to get better at its jobs and make the Sabres a more efficient organization.
Enter president Ted Black.
Black, who was part of a group that helped advise Pegula on his purchase of the Sabres, was talking to a team marketing executive who had just returned from a seminar on social media. Black suggested the executive report to a group of staffers about what he learned. Then, Black wondered aloud about making it so all employees could have an opportunity to learn about things like social media and a host of other topics related to the running of an NHL team.
Sabres University was the result, an opportunity for employees to listen to lectures given in more than 30 areas of team operation, including ice making, public speaking, coaching strategy, scouting, marketing and fitness and diet.
The unique program, which features classes twice a week, has been a terrific boon to staff morale, which can wax and wane during a lockout, Black told ESPN.com this week.
At the core of its success is a chance for employees to have a bird's-eye view of areas of the Sabres' operation that they might never otherwise have explored.
Ice making, for instance, has proved to be one of the most popular courses. Not even GM Darcy Regier knew how the ice was made, Black said.
"This has been really cool for everyone to learn how to do that," Black said.
The educational tool cuts both ways. Employees have been educated on unfamiliar topics, while those doing the teaching -- such as the ice makers -- enjoy a rare moment of being in the spotlight and explaining a critical job.
"It was really gratifying to see them empowered that way," Black said of those staffers charged with keeping the ice NHL ready.
There are a number of mandatory courses, including the history of the Sabres, and the staff gets binders as though it were real students headed to class.
The scouting lecture, for instance, is particularly interesting given that the Sabres under previous ownership faced significant criticism for cutting their scouting staff and trying to supplement with a heavy emphasis on video scouting. Under Pegula, the high-tech element of scouting remains, but the Sabres, which have 21 scouts on staff, now boast as many amateur scouts as any NHL team and have doubled the number of pro scouts they employ.
Regier stood in to present the scouting lecture recently, as the scouts were visiting the Sabres' AHL affiliate in Rochester to help implement a new iPad program that will allow players to see individual video of different situations in a more timely fashion.
The general manager outlined for his students how the team integrates video of players and situations such as power plays and penalty kills with the reports by the scouts in the field. The video explains how certain things happen on the ice and can help in discussion of schemes and systems, while the reports on individual players can be augmented by video, especially if a significant amount of time has passed from the time the scout made his report.
"You can have all sorts of discussions," Regier said.
Black said he encouraged the team's website and broadcasting personnel to take in the scouting class to see if there was a way it might make use of the video the scouting staff has access to in order to help its own multimedia efforts.
The Sabres University initiative has helped staff, often focused entirely on its own duties, to understand how others in the organization do their job, Regier said.
"It's been very positive," he said.
Sabres University isn't the only positive news coming out of Buffalo during the lockout. The Sabres are also involved in a significant construction development next to their downtown Buffalo facility that will include a new parking structure, double-pad ice facility, giant sports bar, major hotel presence and other retail outlets.
The $123 million facility will be financed entirely by Pegula and is modeled on the Kettler Iceplex in Arlington, Va., where the Washington Capitals have their practice facility.
The Caps' facility is so impressive that USA Hockey is contemplating using Kettler as its base for the pre-Olympic orientation camp next summer before the 2014 Sochi Games, assuming the NHL continues its involvement in the Olympic Games.
Like Kettler, the Buffalo facility will see the ice pads set on top of the parking structure -- about the same height off the ground as the Sabres' suite level next door.
The ice rinks are set to open in the fall of 2014 and, with some 28,000 people registered by USA Hockey in Western New York, are expected to become a major draw to hockey players and events throughout Western New York and the Golden Horseshoe area of Ontario just across the border.
"I'm hoping it will become that," Regier said. "I think it represents a tremendous opportunity, not just for the team but for the entire Buffalo area. I think it's going to be a tremendous facility."
Hockey writer for ESPN.com
10 years at Toronto Sun, Windsor Star and National Post
Wrote best-selling true crime book "Deadly Innocence"
SPONSORED HEADLINES
MORE NHL HEADLINES
MOST SENT STORIES ON ESPN.COM
EDITORS' PICKS
Burnside: Brian Burke's decision on the Flames' next GM will shape his future in Calgary.
Blog »

With one point separating them in the standings, the Wings and Bolts both try to avoid their third straight loss.
Hockey Today

Custance: Steve Mason is making a case to be the starter in Philly.
Story »
Reebok Youth Buffalo Sabres Custom Hockey Navy Hoodie Shop »