Commentary
12 things to miss about the NHL
1. The national anthem at the United Center in Chicago
Never fails to raise the hair on your arms. We don't even mind the playing of the Fratellis' ditty "Chelsea Dagger" after every Blackhawks goal and at the end of games.
Is there anything more completely hockey than the unruly mop that spills out from under Hartnell's helmet? We also miss the popular fund-raising effort centered on Hartnell's propensity for tumbling all over the ice called "Hartnell Down." One of the game's true characters.
[+] Enlarge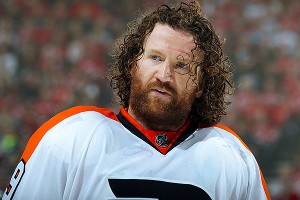 Bruce Bennett/Getty ImagesDoes anyone in the game have a better head of hair than Scott Hartnell?
3. HBO's "24/7: Road to the Winter Classic" reality series
For the past two years we've enjoyed HBO's unique peek inside the world of pro hockey as a lead-up to the Winter Classic. Often profane but just as often emotional and illuminating, here's hoping it comes back when hockey does to remind us of the machinery that is the game.
4. The Jagr Salute
Surefire Hall of Famer
Jaromir Jagr
returned to the NHL last season after a three-year self-imposed exile to the Kontinental Hockey League and became an instant favorite both in and out of the Philadelphia dressing room. This season he will, er, would have, delighted fans in Dallas with his trademark post-goal salute.
5. The raconteurs
There's one on every team. Whether it's
Mike Rupp
in New York or Max Talbot in Philadelphia or
Steve Ott
in Buffalo, they're the thoughtful, maybe irreverent guys to whom the reporters gravitate after morning skates, practices or games, the guys who understand it's a privilege to be a pro athlete and, at the end of the day, it's just a game.
Seriously. We've spent a lot of time bashing the NHL's Dean of Discipline, but he took the job forward with his video explanations of supplemental discipline and, well, we miss his regular Alfred Hitchcockian appearances that are a constant reminder of the element of mayhem that will always be part of the game.
7. The overachievers
Every season there's a team that shocks the heck out of everyone, including itself, to jump into the postseason fray. Last season, it was the
Florida Panthers
and
St. Louis Blues
winning unexpected division titles. Those teams are a treat to be around because there is giddiness in the dressing room that reinforces that all things are possible no matter what (most) experts think.
8. The playoffs
Nothing like it in sport. Sixteen teams in a grueling trail of tears to the most recognizable trophy in all of sport. Can't imagine another spring without the puck dropping on the first round and knowing that somewhere a No. 1 or 2 seed is about to get knocked out of the dance.
[+] Enlarge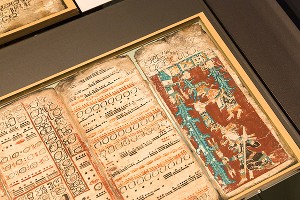 Joern Haufe/Getty ImagesThe Mayan calendar ends on Dec. 21, 2012. Hopefully, we will have a resolution to labor negotiations before then.
9. Press Boxes
OK, in part because of the snacks like the ice cream bars in Toronto or the hot dogs in Montreal or the cake cart in Boston, but really it's the unexpected collision of scouts and reporters and former players and coaches that NHL press boxes yield. One night you might bump into Scotty Bowman in Tampa or
Tom Kurvers
in Minnesota or maybe former NHLPA head Paul Kelly in Boston or, well, you get it. Every press box represents a different community but a community nonetheless.
Yeah, the former Vezina and Conn Smythe Trophy winner took it on the chin last season for his sometimes curious political/religious musings, but Thomas remains the gold standard for never give up, never take no for an answer. Who knew his stepping away from the game would coincide with the game stepping away from the game?
11. Coaches
Yeah, you can call up a coach during the lockout, but it's not the same as a coach when he's actually coaching. To sit in Dan Bylsma's office or hang out in a hallway after practice with Ken Hitchcock or Pete DeBoer or Bruce Boudreau is to be given a special window seat on the game. We miss also those coaches who are less tolerant of the media, guys like John Tortorella, Randy Carlyle and Darryl Sutter, because even in their occasional curtness there are stories to be told and lessons to be learned.
And every young player like him who takes the game by the suspenders, shakes it around a bit and says, "Hey, we're here." I remember talking about the eventual Norris Trophy winner from the
Ottawa Senators
with a scout who said what impressed him the most about Karlsson was that you had to watch him every shift because every shift he did something that raised your eyebrows. He's not the only one, but we miss them all.
Hockey writer for ESPN.com
10 years at Toronto Sun, Windsor Star and National Post
Wrote best-selling true crime book "Deadly Innocence"
EDITORS' PICKS
Boston dealt a blow to Florida, while other Eastern playoff contenders looked to keep pace.
Inside the NHL

While it's too late for this season, the Blue Jackets are getting healthy and showing how tough they will be moving forward.
LeBrun »

Marc-Andre Fleruy has to prove he can dominate in the playoffs before anyone will expect the Penguins to make noise this spring.
Inside the NHL
MOST SENT STORIES ON ESPN.COM