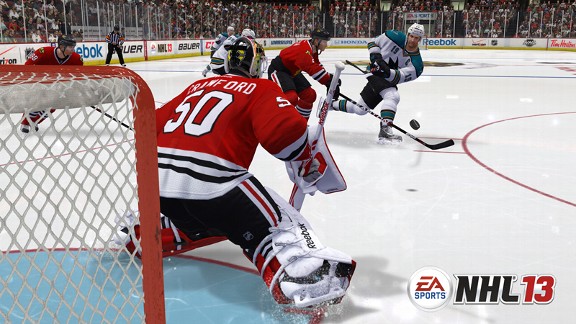 EA SPORTS
Early in the season, the San Jose Sharks were on fire, battling for first in the Western Conference. Now the Sharks' offensive punch -- fueled by Joe Thornton and Patrick Marleau -- has tapered off and they have lost six straight games. The Chicago Blackhawks on the other hand started the season flying and have yet to look back. The Blackhawks sit first in the NHL and have not lost a game in regulation. In their first meeting this season, the Blackhawks beat the Sharks 5-3.
Sharks' keys to the game

• Offensive rebirth: The Sharks must get their sputtering offense going, having being shut out twice and only scoring two goals in their past four games.
• Contain Kane: Talented winger Patrick Kane sits second in the NHL in scoring and has been dominant recently with nine points in his past five games.
Blackhawks' keys to the game

• Dominate defensively: Don't let the Sharks heat up. The Blackhawks are the third best defensive team in the NHL, only giving up 1.92 goals per game. They also have the second best penalty kill in the league at 91.5 percent.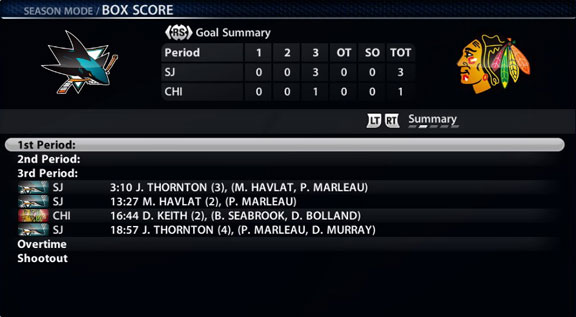 EA SPORTS
Three Stars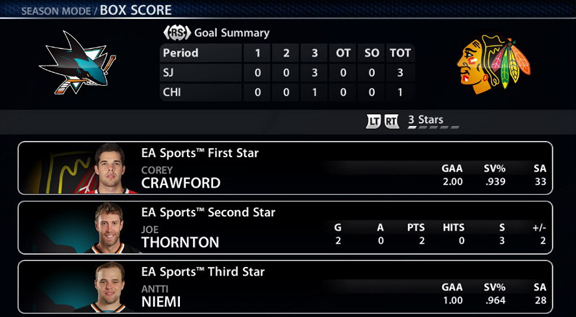 EA SPORTS
For more information about NHL '13, visit EA SPORTS.