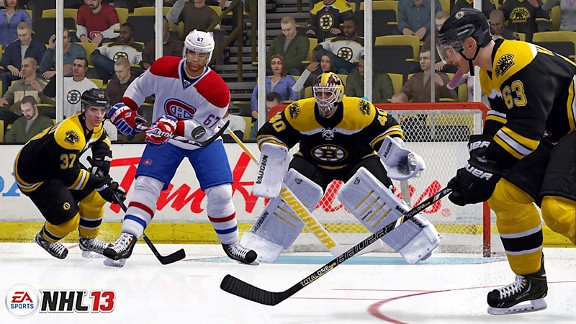 EA SPORTS
Wednesday's matchup against the Boston Bruins marks the second game of what could possibly be the toughest test all season for the Montreal Canadiens -- back-to-back games on the road against two of the top teams in the Eastern Conference. Tuesday night's tough 1-0 loss against the Pittsburgh Penguins showed once again that Montreal belongs near the top of the Eastern Conference, having exceeded the expectations of fans and media alike all season. The Habs and Bruins have played twice so far this year, with each team winning on the road. The two teams last met on March 3 with the Habs winning 4-3, courtesy of a two-goal David Desharnais performance that included the game-winner. With the Northeast Division lead up for grabs, there is a lot riding on this game between the two Original Six rivals.
Canadiens' keys to the game

• Battling Fatigue -- Fatigue factor is sure to be high for the Canadiens who faced the Penguins Tuesday night, while the Bruins cancelled practice to rest the team. The Habs need to gain the lead early and play a tighter, more conservative game if they hope to win.
• Scoring Catalyst -- The Canadiens have only scored one goal in their past two games, after scoring five against the New York Islanders on March 21. In seven games from February 27 to March 10, Montreal scored an average of 4.4 goals per game. Can the Habs regain their scoring prowess?
Bruins' keys to the game

Solving Price -- Carey Price held the Penguins to one-goal last night courtesy of Sidney Crosby. He's stopped 40 of the last 43 shots he's faced and has looked nothing but confident while doing it. Can the Bruins solve Price?
• Welcome Back Lucic? -- Milan Lucic has been in the lineup, but his scoring touch has not. He tallied his first goal in 16 games on Monday against the Toronto Maple Leafs. The Bruins have struggled somewhat of late and Lucic continuing to find the back of the net would be a step towards returning to form.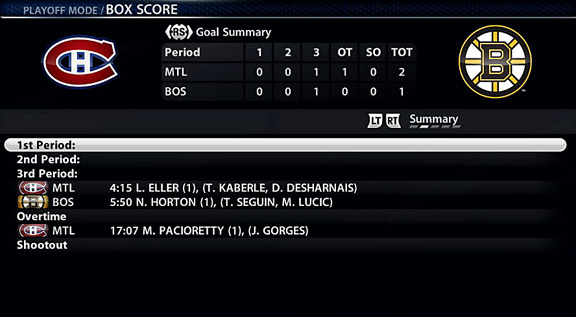 EA SPORTS
Three Stars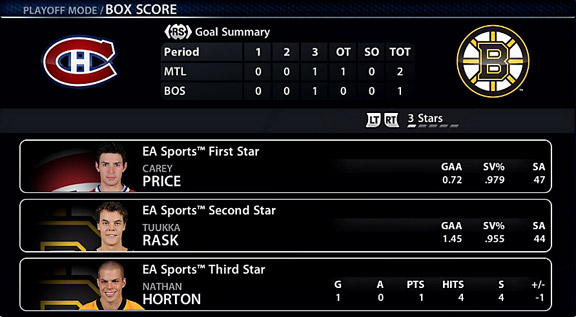 EA SPORTS
For more information about NHL '13, visit EA SPORTS.