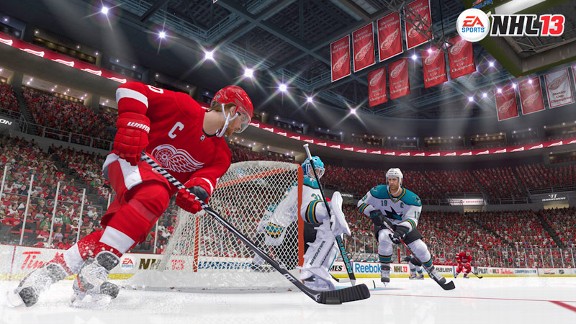 EA SPORTS
With the Red Wings sitting in an uncharacteristic eighth place in the West and ahead of Phoenix, Dallas and Columbus by two points or fewer, their 21-season playoff streak is in jeopardy. With a 1-3-1 record in their last five games at the Joe, they will need to turn the home-ice tide around, and quickly, in order to remain in the playoff picture. While the Sharks are the league's best team on home ice, they have struggled on the road, going just 6-11-2. The game will come down to which team can start fresh and buck the trend.
Sharks' keys to the game
•Success on the road: The Sharks have been shut out in two of their last three road games. They need to start having solid road games, with two more away games after the tilt in Detroit.
•Don't be complacent: Despite a cozy fifth-place standing, San Jose is only four points up on Detroit. Losing this game would make the Sharks' playoff picture a lot less secure, so they need to come out strong.
Red Wings' key to the game
•Solve Niemi: Anti Niemi has been a thorn in the Red Wings' side for a while now, with a 4-1-1 record and a 1.64 GAA in his last six games against Detroit. Despite this success, he's given up four goals in each of his last two games, so the Red Wings need to create traffic, get pucks on net and make it tough for Niemi to bounce back.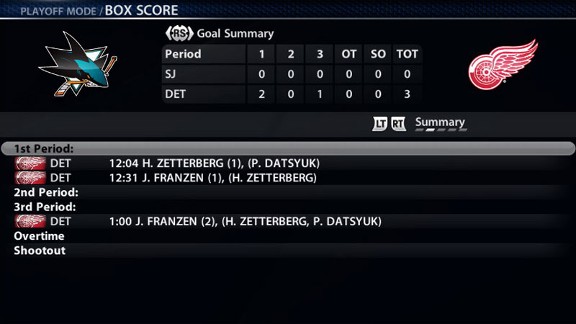 EA SPORTS
Three Stars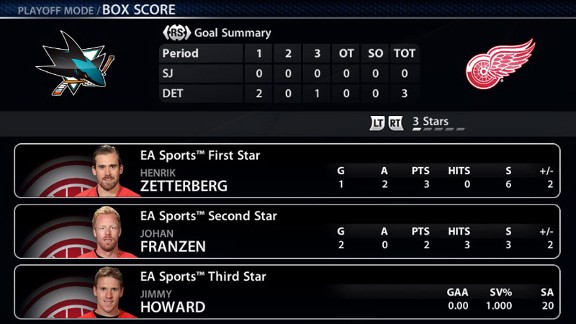 EA SPORTS
For more information about NHL '13, visit EA SPORTS.