Florida fires coach Kevin Dineen
Updated:
November 8, 2013, 12:07 PM ET
Associated Press
SUNRISE, Fla. -- In Kevin Dineen's first season with the Florida Panthers, the team won its first division title and ended a playoff skid that had lasted more than a decade. A year and a half removed from one of the franchise's highest points, Dineen was fired as coach.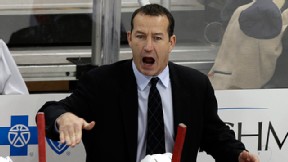 AP Photo/Gene J. PuskarThe Kevin Dineen-led Panthers had lost 10 of their past 11 games and allowed the most goals in the Eastern Conference with 57.
The Panthers dismissed him Friday, with the team off to a start that mirrored last season when Florida finished at the bottom of the NHL. The move comes one day after a 4-1 loss at Boston extended the Panthers' losing streak to seven games and left them 14th in the 16-team Eastern Conference.
General manager Dale Tallon called it the "first of many changes," adding "it's easier to fire a coach than it is to fire 23 players."
Tallon also said he has not given up hope for the team to make a playoff run this season.
"It was clear that our team needed a change in philosophy and direction," Tallon said. "We have not met the expectations that we set forth at training camp and it is my responsibility to make the necessary changes to ensure that our club performs at its maximum potential."
Tallon said Dineen worked hard, but that the coaching staff's message was not getting through to players -- and for that, he blamed those in the locker room.
"Our better players have to start playing better or we will get better players," said Tallon, who has been actively trying to reshape Florida's roster through trades in recent weeks, to no avail.
When the Panthers play at Ottawa on Saturday, it will be Peter Horachek -- the former coach of the team's AHL affiliate in San Antonio -- behind the bench. Former players Brian Skrudland and John Madden will serve as Horachek's assistant coaches.
"He's a no-nonsense guy," Tallon said of Horachek, who was told of the move Thursday night.
Rivalry Stakes Raised
One of the NHL's top rivalries was intense already, but when realignment put Pittsburgh and Washington together in the same division? Geez, Louise. "They just slammed that right on us, too, right?", Caps blue-liner John Carlson asked ESPN.com, chuckling. The Penguins and Capitals currently stand 1-2 in the Metropolitan Division, separated by only a point. A rivalry spurred on originally by the entry into the league in 2005-06 of dueling franchise players Sidney Crosby and Alex Ovechkin now has a real target on the line: the division crown. "It can't really get much more of a rivalry, but it's cool to see," Carlson said of both teams being lumped into the same division. "It's a good game to play, always, it's good for hockey to see those two teams go up all the time. It just sucks for all of us defensemen.: Pretty sure I heard a chuckle from Carlson on the phone line at the end of that line. I think. Caps-Pens, bring it on. -- Pierre LeBrun
Skrudland and Madden will replace Dineen's assistants, Gord Murphy and Craig Ramsay, who were also fired.
Tallon said he's been considering making a change "for a long time" and that the decision was not easy, emphasizing that the blame hardly falls entirely on Dineen. Florida has only three wins in 16 games. Already this season, 11 teams have at least 10 wins.
"It's embarrassing," Panthers forward Shawn Matthias said after Thursday's loss in Boston. "I can't remember the last time we won. There are no positives right now."
Florida has lost 10 of its past 11 games and is on its longest skid (0-3-4) since a 10-game slide in April 2011. The Panthers are 3-9-4 this season and have allowed the most goals in the Eastern Conference with 57.
"Unacceptable," Panthers defenseman Brian Campbell said Thursday night, describing the way the team is playing.
Dineen was 56-62-28 in parts of three seasons, leading the Panthers to the 2012 Southeast Division title and guiding the team into the playoffs for the first time since 2000. Tallon said Dineen was emotional and upset when told of his dismissal.
"He's been offered an opportunity to stay with our organization," Tallon said.
Dineen comes from a storied hockey family -- his father, Bill Dineen, played and coached in the NHL, and his brothers Gord and Peter also were NHL players. Kevin Dineen scored 355 goals in parts of 19 seasons with the Hartford/Carolina franchise, Philadelphia, Ottawa and Columbus. The Florida job was his first as an NHL head coach.
It's already been an eventful year for the Panthers, who made a splashy signing by adding goaltender Tim Thomas, and also have gone through an ownership change with Vincent Viola paying $250 million to buy the franchise in September.
Viola demands excellence, Tallon said, and he's clearly not getting it yet.
"If players don't respond to this, they won't be Panthers for very long," Tallon said.

Copyright 2013 by The Associated Press
SPONSORED HEADLINES
MORE NHL HEADLINES
MOST SENT STORIES ON ESPN.COM
EDITORS' PICKS
Can the Blackhawks deliver another blow to the sinking Red Wings?
Playoff matchups »

Francis Bouillon OT goal gives the Canadiens a dramatic win over the Senators.
Recap »

Allen: Be glad if you can grab Ales Hemsky off the fantasy waiver wire this week.
Fantasy Forecaster »
Antigua Women's Florida Panthers Blue Spark Polo Shop »