May, 1, 2013
May 1
11:42
AM ET
In the early 1990s, snowboarder Chris Klug was diagnosed with primary sclerosing cholangitis, a life-threatening disease that led to the death of his boyhood hero, Walter Payton. But it took years for Klug to finally receive the liver transplant that saved his life.
"I was on a waiting list six years, and in critical stage for three months," Klug recalled. "It was the most difficult part of my life -- being on a waiting list, hoping and praying and not knowing what would happen.
"I was just hanging on. It was such a tough place to be. Each week and month that passes, you're weaker and weaker. I hadn't given up hope, but I was thinking, 'Will I die on this waiting list?'"
Klug did not die. He received a transplant in July of 2000 and recovered so quickly he was back on a bike within a week. Even more impressively, he won a bronze medal in snowboarding less than two years later at the 2002 Winter Olympics in Salt Lake City. Today, he says, he is healthier and stronger than he ever was.
Unfortunately, not everyone who needs an organ transplant is so fortunate. There are more than 115,000 people currently awaiting transplants in the United States, according to David Fleming, the CEO of Donate Life America. And approximately 6,500 will die each year while waiting for the transplant that will never come.
"We just don't have organs available,'' Fleming said.
Klug wants to help change that, so he's working to get the word out. April was national organ donor awareness month, and Klug and Fleming want to get more people on the donor list. The more on the list, the more organs that will become available and the more people who will live. Fleming says the majority of Americans support organ donation but that not all of them take the necessary step of signing themselves up as potential donors.
"Support is very high -- the challenge is that a lot of people postpone their decision to donate an organ,'' he said. "A lot of people think you need a driver's license. You don't. Just go to donatelife.net.''
Klug competed in three Olympics -- 1998 in Nagano, 2002 in Salt Lake and 2010 in Vancouver, where he finished seventh. He retired after the 2010 Games.
"My story speaks to the fact that transplants are mainstream,'' Klug said. "I had a pretty speedy recovery. Obviously, I'm alive today because of an organ donor that said yes. They're the real heroes of my progress.''
March, 16, 2013
Mar 16
11:26
PM ET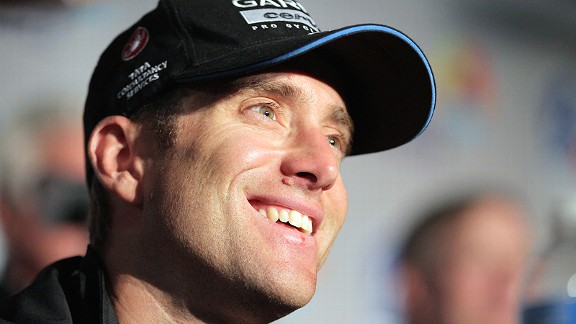 Doug Pensinger/Getty ImagesChristian Vande Velde races this week for the first time since serving a doping suspension that was reduced to six months in exchange for cooperation with the USADA's case against Lance Armstrong.
Veteran Christian Vande Velde is one of three Garmin-Sharp riders who will start this week's Tour of Catalunya in Spain, their first race since serving doping suspensions that were reduced in exchange for cooperation with the U.S. Anti-Doping Agency's case against Lance Armstrong. Vande Velde, 36, of Lemont, Ill., signed with the U.S. Postal Service team before the 1998 season and rode in support of Armstrong at the Tour de France in 1999 and 2001. He subsequently competed for two European-based teams before joining the Garmin organization in 2008, and finished fourth at that year's Tour.
In 2010, Vande Velde was among numerous witnesses interviewed by federal investigators then gathering evidence in a criminal investigation of organized doping on the Postal team. Last year, he and 10 other former Postal riders gave sworn testimony, including their own admissions to performance-enhancing drug use, that collectively formed a crucial and compelling part of USADA's case.
The five riders who were active at the time received six-month suspensions and had some past results nullified. Armstrong's longtime teammate George Hincapie has retired. Levi Leipheimer was fired by his Omega-Pharma-Quick Step team and remains unsigned. Vande Velde, David Zabriskie and Tom Danielson, whose suspensions ended March 1, will compete at Cataluyna this week. It marks the beginning of what Vande Velde says will be his final professional season. His tentative schedule includes the Giro d'Italia, the Tour de France and the USA Pro Cycling Challenge in Colorado, a race he won last year in dramatic fashion in a time trial on the last day.
Vande Velde spent much of his suspension in suburban Chicago with wife Leah and daughters Uma, 5, and Madeline, 4. He also trained by himself (and occasionally with Zabriskie) in Southern California, where he struggled emotionally. "It finally dawned on me that I really enjoy this, and I'm really thankful I have my health and have the opportunity to race at the highest level cycling has to offer,'" he told ESPN.com in a telephone interview Saturday from Girona, Spain.
"I don't want pity from anyone. That's my biggest fear of saying these kinds of things, and that is the farthest thing from the truth. I'm just saying what I was going through. There were plenty of times when I questioned what I was doing at this stage of my career and why I was doing this. I definitely stumbled for a while there."
The following are excerpts from Vande Velde's conversation with ESPN.com.
What have the last six months been like?
[+] Enlarge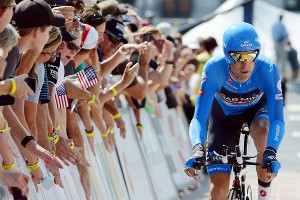 Garrett W. Ellwood/Getty ImagesVande Velde considered retiring after winning last year's USA Pro Cycling Challenge but "didn't want to go away and hide after everything that came out."
It's been hard. I'm not going to lie. And I didn't foresee a lot of the things that would be hard. Like, for example, a training camp in November-December that a lot of times I didn't want to go to. I've been at a training camp at that point in time for the last 20 years of my life. Having that gaping hole there and not being retired, it blindsided me. I know I'm going to race this year, that'll come, and I wasn't freaking out about that. But it was definitely being away from the team, having that communication like I always have, that was hard, much more than I thought it would be.
I put myself out there and did quite a few public speaking [engagements] and it was all met really well. I was happy to do it, too, because there aren't too many questions I get asked now that I can't answer honestly.
[Editor's note: USADA still has pending cases against former Postal director Johan Bruyneel and other staff members that could involve evidence from riders.]
I enjoyed it, and I think most of the people I spoke to enjoyed it too. That was a different side that I didn't foresee being so positive.
I spoke to the Challenged Athletes Foundation [charity ride] three or four days after [USADA's evidence] was announced. That was one that I was pretty scared about, in all honesty. Of course people threw some hard questions out there and I addressed them. I definitely made it so that I wasn't that elephant in the room: "Come up and ask me, I don't want you to be avoiding me.'"
March, 15, 2013
Mar 15
6:25
PM ET
LONDON, Ontario -- American pairs skaters are surely tired of being asked when U.S. pairs are going to pull out of their long tailspin on the international scene -- a slide at least partly attributable to the musical-chairs transiency among teams in recent years.
Friday, after making a notably strong statement for a new tandem at the world championships, Alexa Scimeca had an equally strong answer about the staying power she expects of herself and partner Chris Knierim.
"We're in it forever," said Scimeca. "You can quote me on that."
Scimeca and Knierim, together for less than a year, earned a personal best score of 117.78 points for their free skate, set to music from the soundtrack of "Life is Beautiful." Their total score of 173.51 placed them ninth, and that finish, combined with a 13th place from Boston-based Marissa Castelli and Simon Shnapir, guaranteed the United States two entries in the discipline at next year's Olympic Games. (Combined placement of 28 or better was required.)
Scimeca two-footed her landing on an early throw triple-flip jump, but the pair received high marks for their opening triple-twist lift and other elements, including the dramatic death spiral.
"We got everything we went for," Knierim said. "We felt really good out there -- calm, relaxed, another day at the office."
Scimeca and Knierim are both skilled skaters who are well-matched physically on the ice and exude chemistry that appears to be nourished by their romantic relationship outside the rink. He gently kissed her forehead before releasing her from their program-ending clutch, and she made sure she'd wiped the last trace of lipstick from his cheek before they faced reporters and cameras in the bowels of the Budweiser Gardens arena.
Knierim said they haven't had any problems making sure what happens at home stays at home, and Scimeca added that their open channel of communication complements their training. "We can say to each other, 'I'm not feeling good today, don't take it personally.'"
Their coach Dalilah Sappenfield also works with U.S. pair Caydee Denney and John Coughlin, who are in their second season together and opted out of worlds as Coughlin continues to recover from hip surgery.
"Teams want quick success without [putting in] the time behind it," said Sappenfield, whose training group works in Colorado Springs. "It takes a good team three or four years to jell, and my teams are finally understanding that concept."
Castelli and Shnapir, skating first out of 16 pairs Friday, weren't crazy about their free skate score of 108.32, well under their season's best of 117.04. But they, too, said they're committed to the long haul after nearly breaking up a year ago. Their coach Bobby Martin told icenetwork.com earlier this month it was only the latest of "at least nine times, and maybe more, that one or the other was standing on a cliff, ready to jump."
Shnapir said longevity is going to be the key to any eventual U.S. renaissance in pairs -- "Decades [together], not single digits."
Kyoko Ina and John Zimmerman's bronze medal in 2002 was the last podium appearance for a U.S. team at the world championships. Jenni Meno and Todd Sand won a world silver and two bronze medals in the mid-to-late '90s, and Americans have been shut out of Olympic medals in the discipline since 1988, when Jill Watson and Peter Oppegard finished third.
March, 14, 2013
Mar 14
11:03
PM ET
LONDON, Ontario -- The gap that opened up between the world's top two ice dancing teams Thursday night is more like an abyss. Credit near-flawless execution by the U.S. team of Meryl Davis and Charlie White on a night when Canada's favorite son and daughter Scott Moir and Tessa Virtue were not completely in synch.
The Ann Arbor, Michigan-based Davis and White whirled through a precise, dynamic short dance that White called "one of those dream skates." They earned a whopping 77.12 points, tops in the short three-year history of the short dance, an amalgam of the former compulsory dance and original dance competitions.
Canada's defending Olympic and world champions Moir and Virtue, performing not only in their home country but also their hometown, were undone by a botched twizzle (side by side traveling spins) and a couple of other missteps and will be 3.25 points behind going into Saturday's free dance -- a margin that is fair to call insurmountable unless something strange happens.
"That was not only our season's best result, we felt it was our season's best skate," said a clearly elated White, half of the tandem paired in childhood that won the 2010 Olympic silver medal and 2011 world title. "We feel different than we did two years ago, in a good way. Our confidence is as high as it's ever been."
Excellence has become routine for both of these teams, so it was interesting to see Davis and White exceed their own high standard and jarring to watch Virtue go badly off course during the twizzle -- prompting an audible gasp from the section of seats where teams from several countries were watching following their own programs. (All of the teams competed to some combination of polka and waltz music, with some, including Davis and White, adding a march segment.)
Moir and Virtue wore brave faces afterwards, but it would have been hard for them to convince anyone they were in the vicinity of satisfied. "We find ourselves in a little bit of a hole, but hopefully it's not over yet," said Moir, who was quick to shoulder some of the responsibility for their score of 73.87. "It wasn't just the twizzle, although that's the easiest thing to point to. The way we do our twizzle, it's tricky. We cover a lot of ice. It takes a millisecond to get out of control."
The Canadians certainly are accustomed to home pressure, having endured the highest form of it at the 2010 Vancouver Games. But the intimate confines of Budweiser Gardens presented a different kind of stress. Both Moir and Virtue were born in London and first trained together in nearby Ilderton. Asked if they could recognize faces in the seats, Moir said, "We try not to. We could recognize a face in every row if we wanted to."
March, 13, 2013
Mar 13
5:15
PM ET
LONDON, Ontario -- Dizzying best describes the past year for U.S. pair Alexa Scimeca and Chris Knierim, whose impressive unison spins helped them keep their equilibrium in the short program at the world figure skating championships Wednesday. They finished 12th out of 18 pairs in their worlds debut with a score of 55.73 points. Fellow Americans Marissa Castelli and Simon Shnapir are just behind them with 55.68 points.
Scimeca, 21, of Addison, Ill., and Knierim, 25, who grew up in San Diego, are an upstart team who began working together just 11 months ago, matched up by coach Dalilah Sappenfield at the Colorado Springs World Arena. The athletic partnership quickly blossomed into a romantic one, as well.
"I don't really recommend it, but they are [an off-ice couple]," Sappenfield told reporters, laughing. "They're adults, they're not little kids, so I have no problem with it ... what happens in the rink, they don't take it home. They're very good about that."
Their bond may have worked to their advantage in the intense environment of a world championships -- a trip that was far from a sure thing after their second-place finish at nationals in January. "I told them to stay focused and connected with each other, because they find comfort in each other," Sappenfield said.
Boston-based Castelli, 22, and Shnapir, 25 won in Omaha to secure a spot on the world team. 2012 U.S. champions Caydee Denney and John Coughlin, who are also part of Sappenfield's Colorado Springs group, did not compete at nationals as Coughlin was still recovering from hip surgery, but successfully petitioned to be named to the world team based on past results.
However, in mid-February, Denney and Coughlin elected not to go to worlds so Coughlin can "heal correctly," in Sappenfield's words, and focus on an Olympic bid in 2014.
Scimeca and Knierim said they trained all along as if they were sure things rather than first alternates. They've drilled spin technique, a previous weak link, in four sessions with specialty coach Janet Champion over the past few weeks.
"It's paying off really well," Scimeca said. "She's given us both different things that we've never really looked at before. We try really hard to match each other's fly and sit positions. We were both shocked by how different things were."
Scimeca said she has had to "train smart" because of a bone bruise and tendonitis in her right foot that forced the pair to withdraw from last month's Four Continents event, but the condition has largely cleared up in the past two weeks.
Castelli and Shnapir recovered well from Shnapir's fall on side-by-side triple Salchows when he launched her into a huge throw triple Salchow.
"It wasn't our best. I definitely think we can do better and we will do better," Castelli said of the program, also their first at a world championships.
Both stressed they're competing here for experience and trying not to dwell too much on placement. "We know it's worlds, but we do our best to ignore the signs," Shnapir said, gesturing toward the hard-to-miss championship logo-laden backdrop behind him.