Discussion
LeBron sits out scrimmage but ankle getting better
Updated:
July 24, 2008, 12:31 PM ET
ESPN.com news services
LAS VEGAS -- LeBron James guaranteed a gold medal for the Americans at the Olympics in Beijing, but he'll have to get healthy to complete the task.
James likely will miss Friday's exhibition against Canada as he recovers from a mild right ankle sprain.
James shot baskets on the sidelines but was held out of a scrimmage at Valley High School on Wednesday.
"If the gold medal game was tomorrow, he'd play," coach Mike Krzyzewski said. "But we're not ...
Read full story
Team USA: Going For Gold In Beijing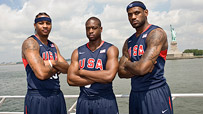 Team USA aims for the gold medal at the Beijing Games, playing its opening game against host China on Aug. 10.
Roster
|
Schedule
|
TV
News
•
Kobe & Co. arrive to heroes' welcome in Beijing
Pre-Olympic Tour
•
Jackson: Team USA will miss Amare
•
Sheridan: Flaws exposed against Aussies
•
Sheridan: Point-guard change?
•
Sheridan: D-Wade is back
•
Sheridan: Meet the Doberman
•
Sheridan: King James mastering FIBA rules
•
Jackson: Melo aiming for gold and more
Video
•
Watch: Best internationals in action
SportsNation
•
Who would you have picked?
MORE OLYMPIC BASKETBALL HEADLINES