Discussion
Team USA to get 'sizable' test against Turkey
Originally Published:
July 30, 2008
By
Chris Sheridan
| ESPN.com
MACAU -- Four years ago, the U.S. Olympic team went into Istanbul half-expecting a cakewalk against a Turkish team that hadn't even qualified for the Olympics.
By the midpoint of the fourth quarter, the Americans were fighting -- successfully, it turned out -- to salvage their fifth and final pre-Olympic exhibition.
Well, the Turks are on Team USA's radar again. And again, it is a Turkish team that will not be competing in the Olympics. The teams will face off Thursday ...

Read full story
Team USA: Going For Gold In Beijing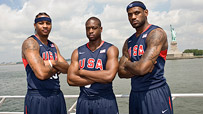 Team USA aims for the gold medal at the Beijing Games, playing its opening game against host China on Aug. 10.
Roster
|
Schedule
|
TV
News
•
Kobe & Co. arrive to heroes' welcome in Beijing
Pre-Olympic Tour
•
Jackson: Team USA will miss Amare
•
Sheridan: Flaws exposed against Aussies
•
Sheridan: Point-guard change?
•
Sheridan: D-Wade is back
•
Sheridan: Meet the Doberman
•
Sheridan: King James mastering FIBA rules
•
Jackson: Melo aiming for gold and more
Video
•
Watch: Best internationals in action
SportsNation
•
Who would you have picked?
MORE OLYMPIC BASKETBALL HEADLINES