Discussion
Hockey embedded in Canada's psyche
Updated:
February 12, 2009, 3:43 PM ET
By
Damien Cox
| Special to ESPN.com
It's open to argument whether there is any other country in the world so closely associated with a single sport as Canada is with hockey.
Perhaps Brazil and soccer. China and table tennis. Pakistan and cricket. Norway and cross-country skiing.
So, there are parallels, but few of them.
For Canada, the national focus on hockey goes beyond passion into obsession, to the point where you could argue the country's psyche is affected by the successes and failures of its hockey players ...

Read full story
COUNTDOWN TO 2010 OLYMPICS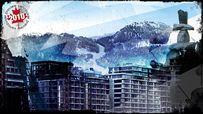 The 2010 Vancouver Olympics are one year away. We're counting down until the torch is lit on Feb. 12, 2010 as our experts give you a preview of what to expect.
THE CITY
Sorry, Innsbruck and St. Moritz and Salt Lake City. The combination of mountain vistas and sea views of Vancouver sets the bar higher for future Winter Games hosts. Jim Caple
Few countries, if any, have the connection Canada has with the sport of hockey. Which is why the expectations of its Olympic teams will spill over beyond obsession. Damien Cox
WHO/WHAT TO WATCH
What would Dan have been without Dave? Nancy without Tonya? Rivalries are what make the Olympics, and a few already are brewing. Amy Rosewater
Vonn, Bode, Ohno and more. A list of athletes to remember as we count down to Vancouver. Amy Rosewater
HOCKEY
They filled out the lineups before the start of the NHL season. Now, Scott Burnside, E.J. Hradek and Pierre LeBrun are back with new rosters for Team USA and Team Canada. Rosters
One man is charged with picking the perfect roster to bring Olympic gold back to Canada ... on home soil. The other is trying to field a squad for a team many consider to be an underdog. Our scribes check in with Olympic GMs Steve Yzerman and Brian Burke.
Burnside: Yzerman | LeBrun: Burke