Discussion
WADA: MLB should toughen on cheats
Updated:
January 12, 2010, 4:01 PM ET
Associated Press
LONDON -- The president of the World Anti-Doping Agency says Mark McGwire's admission of steroid use should spur baseball to get tougher on drug cheats.
WADA president John Fahey said Tuesday that despite "incremental progress" baseball's drug program still falls short of the "universally accepted standards" of the international code on doping.
After years of denying he took performance-enhancing drugs, a tearful McGwire apologized Monday. He said he used steroids and human growth ...

Read full story
MARK MCGWIRE COMES CLEAN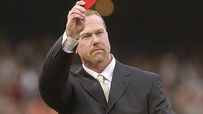 Mark McGwire admitted Jan. 11 that he used steroids on and off for nearly a decade, including during the 1998 season when he broke the then single-season home run record.
NEWS
ANALYSIS
VIDEO
AUDIO
SPORTSNATION
PAST LINKS