Discussion
Haves and have-nots share same stage
Updated:
February 3, 2010, 5:10 PM ET
By
Howard Bryant
| ESPN.com
When the U.S. Olympic team marches into the opening ceremony next week in Vancouver, American athletes will have the same starting point and will seek glories enveloped by the comforting fabric of Old Glory.
They will be one, will be perceived as one, will win and lose as one, all aligned with the Olympic spirit, as it should be.
But the road to the Olympics is a different story.
In class or resources, equipment or sponsorship, the U.S. Olympic delegation ...

Read full story
COUNTDOWN TO VANCOUVER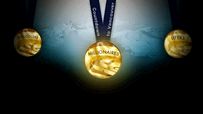 The path to the Games can be a battle, physically and financially. But once you get there, the goal is the same: win gold. We look at three different groups of Olympians who are trying to fulfill that dream:
THE MILLIONAIRES
Howard Bryant: When Team USA marches into the opening ceremony next week in Vancouver, American athletes will have the same starting point. But how they got there is a different story. Story
THE STRUGGLERS
Jim Caple: Some Olympians can land triple toe-double axel combinations or slide down mountains at 80 miles per hour and live to tell about it. But often the real Olympic skill is just paying the bills. Story
THE LIFERS