Discussion
Tim Morehouse strips down
The fencer talks about his experience posing nude for the 2012 Body Issue
Updated:
July 11, 2012, 10:36 AM ET
By
Morty Ain
| Photographs: Peter Hapak
Why did you decide to pose for the Body Issue? TM: People don't realize how athletic fencers are. There's a misconception that we are not great athletes, so the opportunity to show the world we are was too good to pass up.
What makes fencing so athletic? TM: When people watch fencing, the first thing they say is, "Wow, that's so fast!" because we move at an incredible rate. Blocking someone who is lunging at you with a saber requires incredibly fast movement.
Part ...

Read full story
ESPN The Magazine: July 23, 2012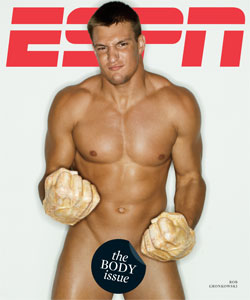 THE BODY ISSUE FEATURES

COLUMNS

MORE FROM THE BODY ISSUE