Track and Field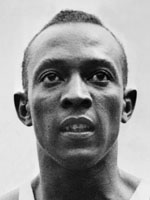 Jesse Owens
Date of birth

1913-09-12
Birthplace

Danville (Alabama)
Height

180 cm
Weight

72.0 kg
Discipline

100m, 200m, 4x100m relay, long jump
World records

8 (long jump, 100m, 200m, 100 yards, 220 yards hurdles, 4x100m relay)
Olympic Games (4 medals - 4 gold)
100m: 1st (1936)
200m: 1st (1936)
4x100m relay: 1st (1936)
Long jump: 1st (1936)
Too fast for German propaganda
The German head of state had done everything in its power to leave a taste of Nazi propaganda in the mouths of all the competing nations at the 1936 Olympic Games.
Jesse Owens, born the son of a slave in 1913 in segregated Alabama, however, left his own mark which would turn Adolf Hitler's theory of racial supremacy on its head.
Owens' competitive period began in 1928 in Cleveland where his father sought work in order to feed his family of 11 children.
The young James, known as Jesse, was first spotted by Charles Paddock, the Olympic 100m champion in Antwerp in 1920, then by a coach at the University of Ohio.
Given a place thanks to his athletic attributes, the adolescent standing 1.80m tall and weighing 72kg, who would pay for his studies working as a petrol pump attendant, soon exploded onto the athletics scene.
In 1935, disadvantaged by a fall only days beforehand on a staircase, he practically had to be carried to the Ann Arbor stadium.
Five world records in one hour
That day, miraculously, he beat five world records in the space of an hour, and equalled a sixth: the 100 yards (9.4 - record equalled), long jump (8.13m), 220 yards/straight track (20.3, world 200m record during race), and 220 yards/hurdles (22.6, world 200m record during race).
A talent of almost unseen proportions, Owens's long jump record stood for 25 years, his 100m record (10.2 on 20/6/36) for 20 years.
In Berlin, the new 100m world record-holder was keen to prove the equality of all human races. But as part of a 66-man American team which contained 10 black athletes, Owens proceeded to turn this act of moral justice around by proving his own superiority.
The 100m, 200m, long jump (ahead of the "aryan" German Lutz Long, who would later become a close friend!) and 4x100m relay titles would all prophetically fall into Owens' hands in the space of six days.
Yet, after humiliating the Nazis, it was his own countrymen who caused him concern.
At first suspended for complaining about the American athletes' conditions, he was then banned for life for having turned "professional".
The "Black Pearl", as he was affectionately known, was only 24 years old. His exploits in life, ultimately, would be much less rewarding than those he received from the track.
Paradoxically, in 1968 he criticised the attitude of the "Black Power" athletes in the Mexico Games - even if he was to lower the tone of his critique later.
A few months before his death from cancer in 1980, he fought against the boycott of the Moscow Games, claiming that "political errors" should not be to the detriment of athletes.
Copyright 2008 Agence France-Presse.